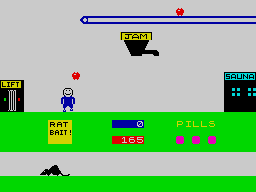 APPLE JAM
DK'TRONICS / £5.95
An original arcade game in which you have to eat as much jam and apples as you can without getting into trouble with wandering rats and bees.
Peter Most of the displays are pretty impressive and colourful, but that's not to say they couldn't have been improved upon. Overall, pretty good.
Stewart Particularly impressive are the man and rats, who grow in size the more apple and jam they eat. For a 16K program, this package contains an amusingly different theme and has some great features. For instance, lift journeys can be quite fun, especially if you judge its descent so that you squash a rat!
Stephen Play starts off very slowly, and gradually increases as progress is made. I would have liked it a bit better if the initial speed of the game had been set a little faster. That said, the game makes good use of colour and sound, and is certainly original.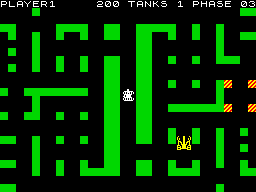 BRAIN DAMAGE
SILVERSOFT / £5.95
This is an arcade game set in a maze, in which the idea is to shoot your opponent before you are yourself get blasted. Your opponents are the Electron Panzers, the Centurion and the Marauder.
Stewart Yet another maze game, this time with you in a tank that's being pursued by baddies who must be shot. Unfortunately, they shoot back - usually, and perhaps a little unfairly, with greater effect. Graphics are unexciting and use of colour average, but it does get progressively faster.
Peter Another arcade game that's similar to the 'Tanks' level of Tron, and one which I'm afraid got a little boring after 15 minutes or so.
Corrie Excellent, and with very professional graphics. I especially like the gun turret which can be turned to fire in any direction. Brain Damage is an excellent game with brilliant graphics and good sound.



ALIEN SWOOP / DOMAIN
SPACE AGE SOFTWARE / £5.95
Alien Swoop is a Galaxians-type game where you must shoot the aliens in their ranks, and also the ones that peel off and swoop down towards you. Domain is a version of the old chestnut, Kingdoms. You take the place of a country's king, and try to run the surrounding realm successfully.
Peter The use of graphics in Alien Swoop is very poor, while in Domain they're not too bad. Speed and use of colour, however, leave a lot to be desired in both games.
Stewart Alien Swoop is an extremely poor Galaxian simulation which is painfully boring. Domain, on the other hand, is a little better. It's a classic strategy game where you must rule a Norfolk village for 10 years, guarding against floods, brigands and starvation.
Ryan It's nice to see one arcade and one strategy game on the same tape, but there's plenty of room for improvement in both of them.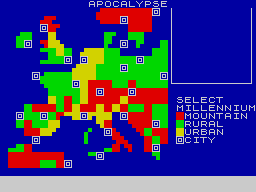 APOCALYPSE
RED SHIFT / £9.95
A strategic wargame, based upon an original board game under licence. The plot centres around four opponents attempting world domination.
Stewart A cross between a computer- assisted wargame and a sort of graphical strategy that uses block graphics. The game requires at least two players and could, in theory, last for years! I'd say it has only limited appeal.
Peter Very colourful, with cleverly-used block graphics, although it would have been nice to have seen more detailed pictures thrown in for good measure.
Stephen Unimpressive graphics, with the use of colour reaching the same mediocre standards.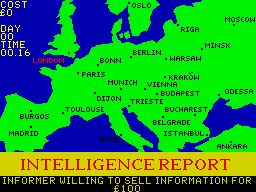 SPECIAL AGENT
HEINEMAN-FIVE WAYS / £9.00
This is an educational adventure where players travel around Europe gathering clues and information. Its main aim is to teach geography to the 8-12 year old age group.
Peter There's a hi-res map of Europe which is very good, with the other displays also being very well laid out. It's professional and well presented.
Stewart There's a good map of Europe, and the various tables are clearly laid out - which all helps to make this a highly professional package in both presentation and program content.
Ryan The speed of the game is rather slow, but this is only to be expected in an educational adventure.



PAINT BOX
PRINT 'N' PLOTTER PRODUCTS / £7.50
Paintbox is a graphics utility which enables the user to create user-defined graphics and SCREEN$, allowing hi-res sketching with your UDGs.
Peter The presentation of this program is very good, and the demonstration pictures are excellent. It's very quick to respond, and one of the most outstanding programs I've seen this year.
Stewart A very impressive graphics utility program which enables quite stunning hi-res pictures to be drawn, saved and used within your own programs.
Stephen The demonstration contains the best graphics I've ever seen on the Spectrum. To be recommended.