From the maker's point of view, there's often a lot to be said for announcing new products some time before they're due to be launched; it helps get the 'buzz' going around. But this can sometimes be taken a little too far, a trap that some believe Melbourne House fell into back in the autumn of last year.
At the launch of Terror-Daktil 4D last October, the over-excited Melbourne House management proved quite unable to contain itself and decided to tell the world about its next great new game - Sherlock Holmes. Since then, having whetted our appetites with claims that this would be the hottest property since The Hobbit, everything's gone quiet. So, YS hit the trail to find out what's happening.
We spoke to MH publicity manager, Paula Byrne: "It should be available some time in May", she hazarded, stressing that people need not worry because "we never cash cheques until the order is about to be despatched". In fact, "because Hurg was late, this made us wary about announcing firm release dates". Often, it seems the problems really lie with the programmers. They become overoptimistic and give unrealistic completion dates, and that's when it all starts to hit the fan. Confirming this, Ms Byrne said "we just let the programmers get on with it". Of course, the upshot of working this way is that it gives them the extra time necessary to come up with a truly professional and highly polished program.
Details are still fairly sketchy, but we're told it's an adventure game which includes both graphics and text, and one that's been developed from The Hobbit. If that's true, then at a cost of £14.95, MH might well have another winner on its hands.


SCARFACE MEETS SPECTRUM
Another new game, and the latest from the MH stables, is a combined adventure/strategy game called Mugsy. It has an assortment of gangsters with their respective molls, and all these hoods have to be 'talked' to in their own vernacular or they refuse to understand your commands. Mugsy, priced at £6.95, includes some "very good graphics", claims Ms Byrne; "you can even see the expressions on the characters' faces". Sound's great ... I can hardly wait!
MORE HYPE FROM VIRGIN
New software houses seem to spring up overnight, and one that 'sprang' over the course of last year - albeit a little shakily to begin with - was Virgin Games.
The company's just announced a new game called Hype, and strange to say it's not a computer game but, in fact, an old fashioned, common or garden board game. The idea is to get into the record business and promote your band (something which Virgin ought to know a thing or two about). But why, we asked Virgin's managing director, Nick Alexander, the move towards more traditional games? Was Virgin going to stop producing computer games?
Denying rumours that he was also going into the business of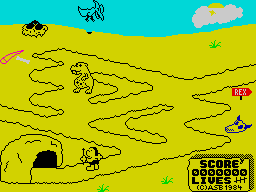 A sneak preview of the prehistoric pandemonium in Ugh! - one of the new games to be launched from Softek.

manufacturing fluffy toys, he said "It was just a series of coincidences. Since we started to produce computer games, we have constantly been on the look-out for new ideas. And one source of these ideas came from people who had designed board games that had never actually been marketed. So we looked at these suggestions, and found that while some of them could be successfully transferred to computer, others were better off left in their original form".
However, decision taken, the reality of it apparently proved rather more of a problem. Says Nick, "The whole thing was much more difficult than we first thought For example, Hype should have been in the shops before Christmas, but due to immense production problems, we found we couldn't get it out until now". He went on, "board games certainly have more value, socially, than computer games". And to back up this conviction, he plans to
continue producing them throughout the year. At the same time he assures all Virgin computer games enthusiasts that efforts in producing new software will be maintained.


BACKING OCEAN'S HUNCH
After the success of its Hunchback program, Ocean has decided to produce a sequel which is to be called Quasimodo's Revenge, and it will be launched at the Your Computer fair later this year. Ocean's managing director, David Ward, says "the new program will have a dozen different screens - and will be the most fantastic thing of all time". Which may even be true, especially if it's anything like the original.
Ocean is continuing in its prolific way with at least four other new titles in the pipeline, though some are as far away as six months from general release. The first, to look for is Cavalon, a true arcade game in the sense that it has been licensed from the arcade original. It's based on the story of the court of King Arthur, where the player has to rescue the distressed damsel, and at the same time pick up the eight pieces of a door. There are knights trying to hinder your progress, but help is at hand in the form of Arthur's trusty sword, Excalibur. Should you manage to pick this up, you'll be protected; for about 20 seconds!
The second title is Gilligan's Gold. Here you play the part of Gilligan and the idea is to collect sacks of the yellow stuff; you are equipped with a wheelbarrow to speed things up a little. It also features a scrolling maze, and plays the old Laurel and Hardy song 'Trail of the Lonesome Pine'.
Details on two other games were less forthcoming, but one is to be called Chinese Juggler. It was concocted, unlikely as it seems, in Hungary and Ocean is even reported to have sent some machines out there to get the program written. The finished product, according to David Waid, "offers some truly outstanding graphics". And in hushed tones added, "it's all very top secret at the moment". But if you want a sneak preview, try taking a look at the version that's been around for ages for the CBM64 ...
And finally, one more for the pot, a suntanned Sandy White has confirmed to us that he expects his Ant Attack follow-up to be ready for Christmas.