Supplying the Mythical with the Hypothetical

In the race to produce hardware add-ons for the as yet unseen Sinclair QL and, of course, gain the distinct commercial advantage of being first, manufacturers are still falling over each other trying to get their hands on either a machine, or a detailed technical specification. And interestingly enough, lack of information hasn't stopped at least two companies from advertising their hypothetical wares.
The first of these is Miracle Systems of Cambridge, which is planning to supply the QL owner with a parallel printer interface. "But", we asked Mr Honeyball, "how can you produce such a device without the necessary
technical details?".
"Well, actually" he said "it's not In production yet. But it'll only take us three or four days to tailor the interface after the first batch of QLs become available". Anyway, for £49 the purchaser gets an interface that plugs into the serial port, and one that doesn't require any software to drive it. With any luck it should be available some time in April. More details on 0223 312886.
Xcom (Services) Ltd, of London, has started advertising a QL compatible floppy disk drive, and this will be supplied with a controller that plugs straight into the expansion slot. But until Xcom can get a QL to play with, customers will have to make do with an RS232 interface, says the company's Mr John Seaman.
There is, however, one company claiming to have a
'friend' at Sinclair Research who has been able to supply not only information, but QLs for limited periods of time. This has apparently enabled the company to copy the ROM, disassemble it, work out what's going on and design add-ons accordingly. But sad to say, all this effort has so far come almost to naught. Each different machine popped through the back-door has been modified to overcome certain inherent problems. All of which, says our source, suggests that Sinclair Research is still changing the hardware. Our Cambridge mole is also able to confirm rumours that the Basic is so full of 'bugs' that it keeps crashing, and that the manual still hasn't been completed. Were all this to be true, we might be seeing delivery dates nearer to Christmas than Spring!
Ron Smith
The Great QL Accumulator

The latest official news from the Sinclair Research camp would seem to indicate that QLs will not have been despatched until the end of March has gone. The company had originally scheduled delivery of the first machines to customers for the end of February, but due to delays "caused by the final stages of development taking longer than planned", the opening date has been put back a month.
Attempts to discover the reason for the switch from "phenomenal demand" to "development problems" to explain away the delay were met with frosty replies that amounted to little more than "no comment". Also parried were questions on current rumours that suggest the company has no QLs in stock (at time of writing) and that the SuperBasic ROM was still in the design stage when the device was launched.
Sinclair Research has already sent out letters to all who've staked their claim for one of the wonder machines, explaining the delay and informing them (roughly) when to expect delivery. For those who ordered their machine at the launch, the letter proclaims hopefully that "we expect to be able to deliver your QL not later than the end of May". However, the grapevine would seem to suggest that orders were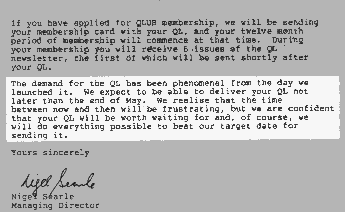 Part of the original 'dear John' letter sent out by Sinclair Research.
placed in a very large hat and picked out at random - something which has not pleased many of the software houses who biked over their orders to Sinclair Research HQ, even before the dust had settled from the launch.
Although Sinclair Research is being fairly tight- lipped about the state of play, the word is that the company's Camberley offices are receiving about 500 orders a day - which works out at something like a staggering £200,000 daily!
Assurances have been made by Sinclair Research that none of your precious money will be frittered away while you're sitting there awaiting the postman's knock. The cash is reported to be stashed away in a trust
fund so no-one can get their hands on it - but just who will reap the benefits of the interest is anyone's guess. The only consolation for those who've shelled out handfuls of the green folding stuff is that Sinclair Research is thinking of giving the late receivers a 'free' gift to compensate for the wait - although according to a Sinclair Research spokesperson, "we don't know what it will be - that has yet to be arranged". Sounds interesting!
So, if you'd like to enter your name in the QL 'tombola', you'll probably get a free something or other. However, if you want to hang on to your money until your QL is despatched, you'd be better advised to order via a credit card - that way no money will change hands until delivery is due.