HACKING
AWAY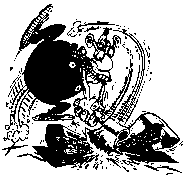 The column with the infinite POKEs. Send your hacking hints to Andrew Pennell, Hacking Away, Your Spectrum, 14 Rathbone Place, London W1P 1DE.
You'll notice that this month the POKEs are getting trickier and trickier as programmers become more and more devious. But they still can't keep a good hacker out. First off the mark is Adrian Askins with infinite lives on Pyjamarama. [see issue 18] The hyperloader makes things a little tricky here, so a small program [note] is required to get round it:

10 CLEAR 29999: RESTORE 70
20 FOR n=1 TO 14
30 READ a: PRINT n+29999,a
40 NEXT n
50 PAUSE 0
60 RANDOMIZE USR 30000
70 DATA 221, 33, ?9, 127, 17, 216, 1, 62, 255, 55, 205, 86, 5, 201
Run this and then start playing the tape at the first data block (not the program header) and press any key to load it. Stop the tape as soon as it's in, then use these POKEs:


80 POKE 32844,207: POKE 32845,26: POKE 32828,251: POKE 32829,201: POKE 32789,243: POKE 32921,0: POKE 33000,0


Next, to Hyperload it, enter RANDOMIZE USR 32789 and re-start the tape. If a loading error occurs rewind and try again. When it loads, it will not start, so for 'x' lives enter POKE 43883,x. Then use RANDOMIZE USR 64649 and away you go. You're now ready to make a right Wally of yourself.
Now it's reach for the sky time - for anyone having difficulty with Sky Ranger from Microsphere, Paul Ryan has come to the rescue. He has found the access codes which allow you to reach the higher levels: 1 - ENTER, 2 - MAGIC, 3 - PILOT, 4 - STOMP, 5 - PARIS and 6 - EVENT.
Mark Gibson would like to do a swop. He's offering the infinite lives POKEs for River Rescue - try POKE 33420,0 for player 1 and POKE 33452,0 for player 2. In exchange he'd like the POKEs for Pinball Wizard and Cyber Zone, so get cracking you lot.
Now on to a couple of goodies from Karl Hampson, starting with Starzone's Zaxxon. For 255 lives use POKE 48825,255. Melbourne House's Sir Lancelot is a bit trickier. For a lot of lives you'll need the following program:
1 REM Sir Lancelot 'x' lives
10 FOR a=50000 TO 50024
20 READ n: POKE a,n: NEXT a
30 DATA 49, 125, 91, 221, 33, 128, 91, 17, 128, 36, 62, 103, 55, 205, 86, 5,243, 62, x, 50, 38, 92, 195, 8, 92
40 PRINT AT 1,3;"Load Main Headerless Block"
50 RANDOMIZE USR 50000


The 'x' in line 30 should be replaced with the number of lives you want - Karl tells me that he's not sure how high you can go but he knows that anything up to 127 works. Forward the tape to the main block of code, after the SCREEN$, run the program and then play the tape. I'm coming Guinevere!
Barry Costas has been on an exploratory mission in Zombie Zombie and returned with the news of a lost city. Yes, there are two cities in the game! To get to the other one, you must load the game as usual, go to the main menu without playing it, then press P followed by CAPS, and an input prompt will appear at the bottom of the screen. Enter (in upper case) SPACEMAN, then press ENTER. In lower case type in xchg and you are ready to do battle with another city-full of the undead (keep an eye open for Troubleshootin 'Pete! - Ed.).
You may remember that some months ago I gave the infinite lives for Bug-Byte's version of Manic Miner. So that those of you with the Software Project's version don't feel left out, A J Bull has sent in POKE 35142,0 which does the same.