Welcome to Tomschoice Limousins
James & Sarah Cooper. Dacre, Harrogate, N. Yorkshire. HG3 4AF
Telephone: 01423 780366 Mobile: 07770960549 Email jmcooper@globalnet.co.uk and james@rsf.co.uk
---
NELBC Herd Competition 1st Prize Winners 2008, 2009, 2010, 2011, 2012, 2013, 2015, 2016

Reserve Champion Herd 40th Anniversary BLCS National Herd Competition 2011

---

Find us on Facebook for all News and Videos
The home of Kaprico Eravelle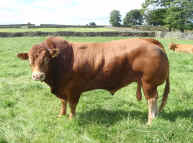 ---
Tomschoice Limousins are a pedigree herd of Limousin cattle; owned and managed by James and Sarah Cooper with their son and daughter, Ben & Laura on hill grassland on the side of the beautiful Nidderdale valley in North Yorkshire, England.
Tomschoice Limousins are members of the SAC Herd Health Care Scheme and are accredited free of BVD and IBR and have been Level 1 (accredited free) for Johnes disease since 2004, are performance recorded and a member of the Farm Assured British Beef & Lamb Scheme.
The herd was started in 1996 with the purchase of one in-calf cow and the herd name comes from this purchase, she was the pick of our friend Tom, who has since sadly passed away, 'Tom's choice'.
---
Visitors are most welcome by appointment.
Copyright ©: Tomschoice Limousins 2012 All Rights Reserved.