---
If you have a recipe from the Simpsons send it to tony@jobmtkk.globalnet.co.uk
---
Warning: If you actually make one of these recipes this could happen to you.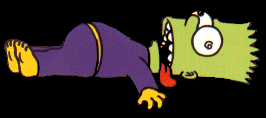 Food Recipes
Bart's America Balls
Ingredients:
2 cans of dog food, any brand (do not substitute dry dog food)
Instructions:
roll the dog food into 1 1/2 inch balls and place them on a serving tray
garnish with tiny american flags on toothpics
makes 24 servings
---
Chief Wiggum's Chilli
Ingredients:
5 gallons of water
quesosakatenango chili peppers from Guatamala (to taste)
Instructions:
combine ingredients in a large pot
cook until boiling
serve immediately
makes 5 gallons
---
Milhouse's Vaseline on Toast
Ingredients:
2 slices of bread
3 tbsp. of vaseline
Instructions:
toast the bread to desired darkness
spread vaseline evenly on each piece of toast
makes 2 servings
---
Homer's Space Age(out of this world) Moon Waffles
Ingredients:

1 package of caramel squares
2 cups waffle batter
1 bottle liqiud smoke
1 stick of butter

Instuctions:

place caramel in the waffle iron
pour on waffle batter
add liquid smoke to taste
cook thoroughly
take the stick of butter and wrap the moon waffle around it
place it on a toothpic and serve
makes 1 unfortunate serving
---
Ned's "Nachos Flanders Style"
Ingredients:

3 sliced cucumbers
1 cup cottage cheese
Instructions:

spread cottage cheese on ONE SIDE of each cucumber slice and place on a serving tray
makes approx. 24 servings
---
Patty and Selma's Tongue Sandwich
Ingredients:

2 slices of bread
1 tongue

Instructions:

place the tongue matter between the two pieces of bread
makes 1 repulsive serving
---
Marge's edible ear plugs
Ingredients:

1 cup flour
1/4 tsp salt
1/4 tsp ground cumin (Marge says 'what the hell'?)
1/2 cup water

Instructions:

mix flour, salt and cumin in a bowl
slowly work in the water, kneading the dough as you go
form into small shapes that can fit in your ear
cook in the oven until the timer dings
serves 12 people
---
Marge's Patented Happy Cracker Snack Platter
Ingredients:

1 dozen Ritz crackers
1 can Cheese Whiz
1 jar of olives
1 jar of pimentos

Instructions:

place crackers on a serving tray
use olives as happy face eyes
use pimentos as happy face noses
create smiley mouths with spray cheese
makes 12 servings
---
Beverage's
Flaming Moe
Ingredients:

1 shot Tequila
1 shot Schnapps
1 shot Creme De Menthe,
1 tbl. Krusty brand Cough Syrup

Instructions:

mix tequila, schnapps, and creme de menthe, then add cough syrup
set on fire, pause briefly, then extinguish the flame
makes 1 serving
---
Homer's Lawn Mower
Ingredients:

2oz. vodka
1 bunch wheatgrass

Instructions:

place wheatgrass in a juicer to yield 6oz.
mix wheatgrass juice with 2oz. vodka
makes 1 8oz. serving
---
SkittleBrau
Ingredients:

2 pkg. Skittles
1 6pk. Duffenbrau

Instructions:

add Skittles candies evenly to 6 12oz. cans of Duffenbrau
chill briefly
makes 6 servings
---
Marge's Homemade Pepsi
Ingredients:

2 1/2 cups chilled brewed coffee
5 tbl. confectioners' sugar
5 cups chopped ice

Instructions:

Combine coffee, sugar, and ice, then blend
it may turn out a little thick, but the price is right!
makes ~1 gallon
---
This page is designed and upheld by Tony Job Click here to visit his home page