PROOF THAT SCHUMACHER USED ILLEGAL STUFF ON HIS CAR!!

We all remember when Scum-macher was at Benetton, and those two awful years when the FIA allowed him to win his two Championships. Remember the persistent rumours that Scum-macher was driving with illegal electronic driver aids such as traction control? The only problem was that the FIA could not prove that Scum-macher was cheating because they could never catch him red-handed.

The 1998 season sees Scum-macher and his old Benetton friends back together, this time at Ferrari - Ross Brawn, Rory Byrne and Scum-macher. Well, there is one more ex-Benetton engineer who is now at Ferrari Ė a low-profile Polish electronics engineer named TAD CZAPSKI. Tadís specialty is ENGINE MAPPING Ė in other words Ė TRACTION CONTROL, which is banned by the FIA.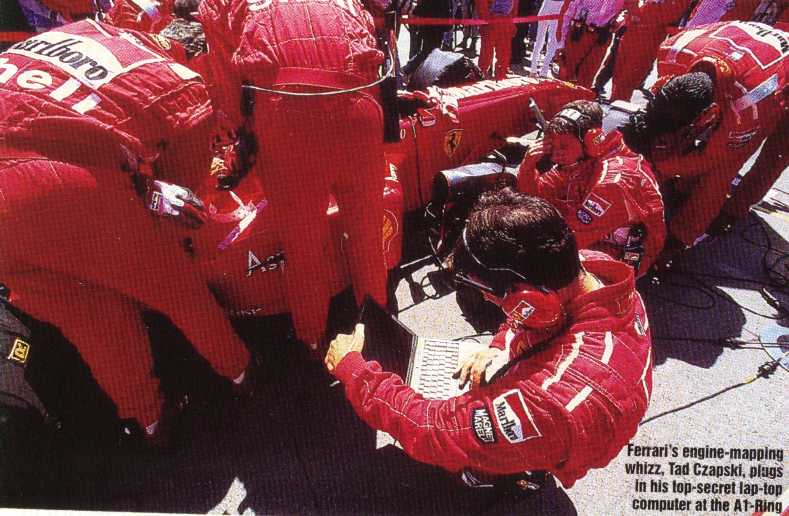 Back to your old tricks Scum-i? You are living proof that you canít teach an old dog new tricks.

According to F1 Racing, Tad works ONLY for Scum-macher, and not Eddie Irvine. Tadís secret laptop computer is apparently off limits to all but a few Ferrari team members...WHY?

In Austria, Ron Dennis informed Ferrari that he intended to protest to the FIA about the legality of Scum-macherís F300 following three straight wins in Canada, France and Britain.

What a surprise, in the next race Scum-macher was UNCOMPETITIVE at Hockenheim, his home GP!!!!! Furthermore, Tad Czapski was MYSTERIOUSLY ABSENT ... [either: 1. we had better call Mulder and Scully, or 2. Scum-macher has been cheating.]

Most of us saw the picture of Scum-macherís Ferrari with the rear right brake disc glowing by itself (in June 1998 F1 Racing). McLarenís brake system was banned, but Scum-macher is so arrogant that he thinks the rules donít apply to him.

All of this proves that Scum-macher is simply a bad looser. When he cannot win, he cheats by ramming his opponents off the track at critical moments (Damon Hill, Adelaide 1994, Jacques Villeneuve, Jerez 1997) and then COMPLAINS that it is ALWAYS SOMEONE ELSEíS FAULT.

If this is not bad enough, many people have accused Scum-macher of CHEATING by using traction control and illegal braking systems.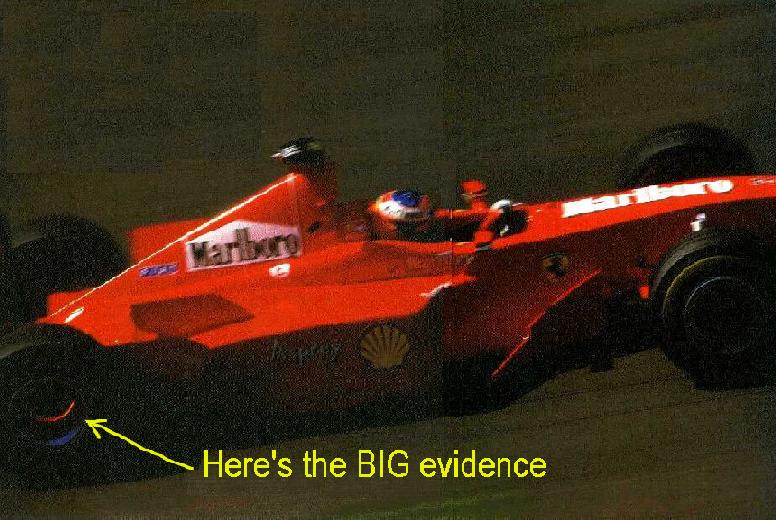 As you can see at his rear tire, it's glowing on a part of the track where it SHOULDN'T glow! So it's TRACTION CONTROL. That's illegal.

It is time for Scum-macher to come clean and drive a legal car like everyone else. And I predict he never will do that!