| | |
| --- | --- |
| | CHAPTER 4: THE CHURCHMEN |
---
Contents of chapter
---
Introduction
Churchmen are often village leaders. Cranham has had many clergymen, and, at last, one clergywoman. The central concern of good clergymen has always been the welfare of the parishioners. This role, down the centuries, has always involved spiritual leadership.
At various periods the inhabitants' welfare has meant that the clergy had to supervise poor relief, or act as Parish Council members or Chairmen, or any one of many unrewarded duties. These various duties, in their many aspects, are described at various places in later chapters of this book. The churchmen themselves deserve their own chapter. Many rectors and curates at Cranham were very good; one or two could be described as at least questionable.
Cranham was in the Diocese of London from before Domesday until 1846. Until 1877, it was then the Diocese of Rochester (Kent). St.Alban's was next, until the new Diocese of Chelmsford was created in 1914, where the parish remains today. Our rectors have been the sub-ordinates of the rural deans, archdeacons and bishops of these dioceses, although on occasion, rural deans themselves.
There is an unbroken list of Rectors for All Saints' from 1310. Father Page is 44th in this list. We know the names of one or two before 1310, but we cannot date their tenures accurately.
The Dictionary of National Biography aims to record all significant historical Britons; two of our rectors appear in it (31, 47). This is above the average for an obscure, rural, small Essex parish, and. For example, Upminster has only one rector in the dictionary, Dr.Derham.
Over the last 682 years the average tenure of a rector at Cranham has been about 16 years and a quarter. This average is helped by two rectors who both lived in the parish for more than half a century. Tenures are shorter these days: the twentieth century has already seen 12 rectors, compared to five men in the sixteenth, eighteenth, and nineteenth centuries, and seven rectors in the fifteenth and seventeenth centuries. Lists of rectors, divided between before and after the restoration appear below (29).
A small glossary may be of use here: a study of the clergy involves various technical terms which need to be explained (9, 28):
The Advowson is the right to nominate the new rector upon the death or resignation of the previous one. The owner of the advowson was known as the Patron. The advowson was a piece of property which could be sold, bequeathed or donated. The right to nominate the next rector does not reside with the bishop at All Saints'; when bishops own advowsons, they appoint vicars. Under certain circumstances (for example the lack of an appropriate education) the bishop can object to the nomination of a rector, however.
The Benefice is the living, see below.
The Chancel is the eastern part of a church building, which is not occupied by the congregation's pews. At Cranham, the chancel contains the high altar, choir, organ, sanctuary and sacrament house. It was usually the rector's or the vicar's responsibility to maintain the fabric of the chancel.
A Clergyman is a rector, vicar or curate (all of which see below).
A Curate is a priest employed as a substitute by a Rector or Vicar to conduct services and parish work during his absence. A curate was typically salaried by the Rector, but today, for example at St.Luke's, the volume of parish work is so great that the curate acts as the assistant to the resident vicar, and they are both salaried by the Diocese.
The Glebe was the land, outhouses, buildings and ground from which the Rector would, in times past, derive his living. This was usually farmed, either by the Rector himself, a curate (in lieu of salary), or by those paying a cash rent to the Rector.
The Living comprises the rights to receive tithes, some offerings and to occupy the Glebe. The living was held by the Rector for the duration of his tenure in the parish. This term does not include the parish church or churchyard, which are consecrated grounds. Colloquially, this was sometimes called "the Parson's Freehold".
The Nave is the part of the church occupied by pews for the congregation. It was the congregation's responsibility to keep up the nave.
Parson: parish clergyman, but not usually a curate.
Patron: owner of the advowson (see above). At Cranham, the patron was usually the Lord of the Manor of Wocheduna Episcopi / Cranham Hall, up until 1785. A patron is said to "present" a new Rector to the living (see above).
Rector: Clergyman appointed by the patron to the living. The Rector's income typically consisted of the living plus any private means that he may have. One third of the tithe was supposed to be for the use of the poor, and was administered by the Rector and/or the Vestry. The Rector had to pay for the upkeep of the chancel, church ornaments and books, and the rectory. The Rector paid taxes, like any other resident, and was theoretically responsible for hospitality offered to travellers. In the early days, few rectors were graduates.
Tithe: originally a proportion of the produce from each field in the parish, payable annually by the farmers to the Rector. Often cash was paid in lieu, and in 1840 the tithes were converted into an wholly cash-based system. Etymologically, the origin of the word "tithe" is from the word "tenth", but by the late mediaeval era this proportion varied widely from field to field, and estate to estate.
Vicar: clergyman appointed to a living by the Diocese rather than by a private patron.
EARLY TIMES UNTIL 1612
Reaney (63) has found evidence for 5 rectors at "Ockendon" before 1310. At this time Cranham was known as Bishop's Ockendon. The records for these early rectors do not distinguish between North, South and Bishop's Ockendons, but one or more of these rectors could have been at Cranham:
| | |
| --- | --- |
| 1197-1232 | "Johanna Persona de Wokydon" (i.e. John) |
| 1230 | "Robertus Persona de Wukendone" (i.e. Robert) |
| 1260 | "Michael Persona de Wkdona" |
| c.1260 | "Radulfo Persona de Wkdona" (i.e. Ralph) |
| 1261 | Geoffrey le Gros |
The last of this group, Geoffrey le Gros, was a Professor of Civil Law, as well as "Rector of Ockendon". Professor le Gros received a dispensation from the Pope, at the request of Edward, Prince of Wales, to hold three other livings, worth a total of 40 marks (a mark was worth 6/8d.). Since some of these dates overlap for this early group of rectors, it is possible that one or more of these men was at Cranham. However, there is no other documentation from before 1310, so we cannot say with certainty whether any of these men looked after the chancel at Cranham.
There is no evidence about exactly who owned the advowson during these early times. Commonly, the patron was a descendant of the person who had originally given the land for the church building and/or rectory. Often, giving this land and building these buildings were to expiate some sin, or comprised a penance. It is important to observe that All Saints' parish church is next door to the manorial hall; this conspicuous site has been occupied by the Lord of the Manor, since before Alvric lived there in 1066 (see Chapter 2). It is likely that the Lord of the Manor gave the land and built the church, thereby reserving the advowson for himself, and that our church today has evolved from a private chapel on the estate of Cranham Hall.
These private chapels were operated not only for the convenience of the owner, but also could have made him some money. At the expense of hiring a journeyman priest, the Lord of the Manor could then charge fees for the use of the church. Additionally, the Lord could then require that his feudal peasants worship at his chapel, rather than travel to another church.
North Ockendon, too, has its parish church next door to the manor house, and this pattern is very common in Essex.
In 1310, the Rector of All Saints' was a certain John de Wokydon. As we saw in Chapters 2 and Chapter 3, "de Wokydon" indicated more of an address than a family name, distinguishing this John from many other priests of the same name in the county. John also held Chadwell St.Mary, near Tilbury. Holding two parishes gave the rector two incomes, and if he could not serve both churches, then he accepted the expense of employing a curate, usually for a relatively small salary, to work at the less desirable church (40). Technically, the Church did not permit a priest to hold two livings, but in 1311 John received a papal dispensation, allowing him to do so. This was one of the ways that the papacy filled its coffers, because these dispensations had to be paid for.
About 1315 (29), John was replaced by Henry "de Wokydon". Henry then exchanged All Saints' for North Ockendon. North Ockendon was known as Wokydon Seetfauntynes (or Seven Fountains) at this time. Bartholomew Baldwyn came from North Ockendon to Cranham with this exchange. The term "exchange" is quite common at this time, and it is hard to understand why these two men should exchange parishes if we take the term in its exact modern meaning. It may have been that one parish was viewed as more valuable than the other, and that one man could raise some cash by selling his living, in part exchange, for the living of a less wealthy parish.
At an unknown date, Thomas Dersington replaced Baldwyn, and he "exchanged" the living with John Sauvage in 1347.
Of the next ten rectors, we only know their names (see list at the end of the chapter). Nicholas Walwyn (tenure 1492 to 1545) served the parish for more than 50 years, an outstanding event in an era of rampant plague and epidemic, but yet no other notice of his work at Cranham has survived.
John Colbourne came to Cranham in 1545 or 1546. He was the first Rector to use the prayer book in English instead of Latin; the reforms of Henry VIII and Archbishop Cranmer, for the first time, made English church services different from any other European, Roman Catholic mass. It is unlikely that the predominantly illiterate agricultural population of Cranham would have understood the services until they were first transacted in their own, English language by Colbourne.
Cranham's oldest surviving church register is a burial register, begun by Revd.Halton, Colbourne's successor. This remarkable document has, as its first entry:
"1558 John Colbourne, late Parson of Cranham, Maie 20".
John Goldring succeeded Halton. Goldring, amongst rectors at Cranham, is a man with a dubious distinction: he is the only Rector who was also a convicted criminal. Another pluralist, from 1579 he held both Cranham and Laindon. In 1579, there was an unusually early snowstorm, and Goldring herded his sheep into the nave of Laindon church, sheltering them there for two days. Afterwards, Goldring hired two men to clean up the mess, and swore them both to secrecy. Unfortunately for Goldring, the clean-up crew did not keep their word. On October 6th, Goldring was tried in the Archdeacon's court. He was convicted, fined 6/8d. (given to the poor of Laindon), had to do penance, and received a stern warning (64). Whilst its may seem amusing to us today, the Rector had violated the people's part of the church, and then attempted to conceal the truth. We cannot estimate today how seriously the people would have been disturbed by the Rector's actions. In any case, this episode clearly demonstrates that at least this sixteenth century Rector earnt his living by farming the glebe himself.
Goldring employed Cranham's first recorded curate, doubtless so that he could spend more time at Laindon. The curate's name was Thomas Brain. Brain worked at Cranham part-time, because he was also the Vicar of Great Chesterford. Brain married a local girl, Hellw (sic) Maskell of North Ockendon, with a licence dated August 8th, 1580 (42).
Thomas Crosby, A.M. (= master of arts) was presented to the living by Sir John Petre, the Lord of the Manor, on June 29, 1590. Crosby was Cranham's first rector who had actually graduated from a university. Crosby was also Rector of Thaxted, and employed three curates to look after Cranham for him. William Maister or Masters was curate from 1590 to 1604, and was himself buried in our churchyard. Josiah Churche followed from 1604 to 1611. Philip Sanders or Saunders (B.A., Sidney College Cambridge, 1606) took over in 1611; Sanders outlived Crosby, who died in 1612, and was buried at Thaxted (30, 42).
ADAM HARSNETT
Adam Harsnett, A.M., was presented to the living by Lord Petre on September 8th, 1612. Harsnett is one of Cranham's most notable rectors, and one of the Cranham entries Dictionary of National Biography (47). Other accounts of Harsnett have been published (35, 36, 37), but they are not easily available. The following account is a summary of the three biographies.
Adam Harsnett was born in Colchester between 1575 and 1580; his father (also called Adam Harsnett) was a joiner. The Rector's mother was called Mary. The family name Harsnett was an alteration of "Halsnoth", suggesting and ancient Scandinavian origin (92). Nothing is known of the Rector's childhood.
In 1597, Adam Harsnett entered (matriculated) into Pembroke Hall College, Oxford. This might have been a remarkable feat for an ordinary joiner's son, but this was probably not the typical tradesman family: a cousin, Samuel Harsnett was already a graduate from Oxford University and was a Vicar at Hutton. Samuel ended up as Archbishop of York. Adam was not the son of an average Colchester joiner.
Adam Harsnett graduated B.A., at Oxford, in 1601. In 1604 he was promoted to M.A. at St.John's College, Oxford. In those days (and still today), the M.A. degree at Oxford could be either earnt or bought, and it is not known which was the case for our Rector. It may be just co-incidence that this Rector was at the same college which, two centuries later, was to possess the advowson to the living at Cranham. In 1612, just before his appointment at Cranham, Adam Harsnett graduated B.D. (Bachelor of Divinity); this was an earned degree and probably regarded as that which qualified him as a clergyman.
Adam Harsnett was an academic theologian and was described as a "moderate puritan". It must be said that "moderate puritan" is a relative term; by whom he was described as moderate is unknown (31). Harsnett published three theological pamphlets, all with long tedious titles, between 1630 and 1640 (32, 33, 34). These pamphlets are hard to judge today; we cannot tell whether these pamphlets are consistent with moderate Puritanism.
Harsnett appears to have served Cranham himself. Philip Sanders was the only curate during his tenure at Cranham. This curate had stayed on after the death of the previous rector, from 1611 to 1619 (see above). There is only a single person's handwriting in the registers for the rest of Harsnett's tenure at Cranham, a 20 year period. It is likely that this is Harsnett's own handwriting, and this is clear evidence that, in spite of his academic pursuits, Harsnett served the parish himself during this long period. It is also the most beautiful handwriting in all of the registers.
The curate, Phillip Sanders had an interesting career after leaving Cranham. First, he went to Hutton from 1622 to 1634, again as a curate, and probably by some connexion through the Harsnett family (Adam Harsnett's cousin had been the Vicar there). Sanders was then expelled from Hutton for non-conformity. Evidently he mended his ways quickly, because he was installed as a reliable puritan, and promoted to Vicar, at Magdelen Laver in 1644. Essex lost about 40% of its priests during the puritan upheavals. Sanders is a good example of a poor man who made use of the turmoil of the times, and the sequestration process, for his own progression (211). Sanders died in 1652, and is buried in his parish, at Magdelen Laver.
Adam Harsnett's first wife was called Mary. She was the widow of William Jenkins, a puritan minister at Sudbury, Suffolk, and daughter of Richard Rogers, a puritan minister at Weathersfield, in Essex. Mary was clearly very familiar with the life of the wife of a rural priest. Mary died in 1639, and was buried at All Saints'.
One might suppose great sadness as Harsnett buried his own wife in the churchyard and wrote her name into the register himself. However, such sadness, if any, was short-lived: Harsnett promptly re-married, having been a widower for just two months. The second wife was also called Mary, the widow of one John Dawson, of whom we know nothing.
The marriage was short-lived. Revd.Harsnett himself died on August 27, 1639, three months after his second wedding. The first new handwriting in the burial register for 20 years notes the Rector's burial in his own churchyard (30). We may speculate whether the rapidity of Harsnett's second marriage was after an indecently short period of mourning, or whether, being ill himself, this was a manoeuvre to provide for Mary Dawson after his death. If the latter, then we may speculate why the welfare of this woman was so signficant to the Rector.
Harsnett's grave is now untraceable. In his will, proved September 16, 1639 (92), Harsnett left 20 shillings for the poor of Cranham. In addition, the Rector's children were to share all his ornaments and plate equally. Harsnett specifically left all his books to a son named Ezekiel "but if not a scholar, they to be sold to apprentice him". The Rector's executors were John Pope, a salter, and Samuel Harsnett, a grocer, both of London.
THE LAST PURITAN RECTORS AT CRANHAM
Ignatius Jordan or Jourdaine was appointed to Cranham within three days of Harsnett's death. Sir Simon Baskerville, physician of Oxford was the patron of the living at this time, and Jordan was his nephew (sister's son).
Jordan matriculated at Wadham College, Oxford in 1622 (42); there is no evidence that he ever graduated. During his tenure at Cranham, Jordan employed only a single curate, the famous Ralph Josselin, of which more below, during the years 1640 - 41.
These were the troubled years of the civil war (1642 to 1651); with no curate recorded, we must assume that Jordan was actually resident at Cranham during this period. The registers, though, show signs of the troubles: from 1641 to 1644 there are gaps left, suggesting that somebody left space for their completion at some time after the relevant baptisms, marriages and burials had taken place. There were fewer names to enter than expected when the Rector did return (44).
We can only surmise that the Rector was absent, perhaps for his own safety, for prolonged periods during the civil unrest (44). It is known, for example, that in about 1645 a certain Revd. George Bond was at Cranham. Bond, a decidedly puritan minister (M.A. and Fellow, Trinity College, Cambridge), married his second wife at All Saints'; she was called Esther Duckfield, and was the daughter of the Vicar of Childerditch. Bond eventually moved on to the Vicarage at Shenfield, from where, many years later (1660) he was ejected because Puritanism had lost its popularity. Bond does not appear in official lists of clergymen at Cranham; perhaps he was a sort of latter day, priestly, squatter.
In about 1645, Jordan was expelled from Cranham: parliament was clearly getting the upper hand, and our Rector was apparently not a good enough puritan. This expulsion was not legally completed until 1652 (see below), but it is clear that the Rector was already gone in 1645. As we saw for Sanders above, the Essex parishes were rich pickings for poor men who were politically correct (211). The Committee for Plundered Ministries appointed Robert Watson to the parish. The rights of the Patron (Nathan Wright) were simply ignored when Watson was appointed (211, 212, 246).
When all the troubles were over, in 1660, Jordan petitioned to return to Cranham. This was denied (211, 212), and apart from being mentioned in Dame Katherine Baskerville's will in 1670, we do not know what happened to the only Rector to be forcibly ejected from our parish.
Watson served at Cranham from 1646 to 1652. He probably obtained the living by some connexion with Ralph Josselin (see below) because both men were good friends of one of the local farmers, a man called Gaunt. Furthermore, Josselin's uncles Joseph and Ralph lived at Cranham until at least 1648, during Watson's tenure of the parish (246).
In 1646, Watson distinguished himself because he "had gotten with child one of Mr.Thurgood's daughters" (246). Thurgood was another Cranham farmer. This indiscretion was elevated to the status of a scandal when it was discovered that the Rector already had a fiancee, and this fiancee was not Miss Thurgood. Even Josselin did not approve, writing in his diary that he thought this "act was foule especially from a minister" (246).
In 1651 another scandal surrounded Watson. We do not know the details, but Josselin wrote that "Lord in mercy watch over mee that no [such] corruption of mine bee too hard for mee" (a coy, seventeenth century, equivalent of "there but for the grace of God go I"). Meanwhile, Watson was enjoying an income of £16 from the house and glebe, and another £60 from the tithes.
In 1652 Cromwell was established as Lord Protector. Laws were passed, and Cranham was legally sequestered from its rightful Rector, Ignatius Jordan (see above). They used the opportunity to get rid of Watson, as well. Like Bond, the official lists of Cranham clergy do not include Watson because he never legally had the living.
Sometimes wrongly referred to as "Yardley"(43), John Hardly was the next Rector of Cranham, and a reliable puritan. This Rector was also Vicar of Sheering in Kent, although we do not know what provisions were made to serve Cranham whilst he was away. Sheering was probably a much richer living, and it is likely that the Rector would have spent more time south of the river than in our parish.
RALPH JOSSELIN
The tide eventually turned on these puritans, however, and in 1662 Hardly was himself ejected from both Cranham and Sheering. Cranham was at last free of the puritan influence, and we can hope that the residents could, once again, participate in the "sports and pastimes which they wonted to enjoy", as Josselin wrote in his diary.
Josselin was at Cranham at the very beginning of all this puritan trouble. He left an extensive diary, giving us one man's detailed view of seventeenth century life. Even though ostensibly at Cranham for less than two years (1640-41), and merely a curate, Josselin was still juror within the parish in 1651, maintained contacts with the parish, and may have had relatives at Cranham for many years before and after this brief period. Here is one of the few first hand accounts of seventeenth century Cranham.
Our curate was born on January 23, 1616. His childhood was spent at Bishop's Stortford and Steeple Bumpstead. He went to school at about the age of 12, at Dean in Bedfordshire, being taught by John Barradale (B.A., Cambridge). Whilst at school, he worked for 2 ½ years as an "usher" over the younger children.
Josselin was ordained as a deacon by the Bishop of Peterborough in December 1639. These were days when a clergyman was either a puritan or not; there was no in-between, and Josselin was a decided puritan. He graduated M.A. at Cambridge, and proceeded to the ministry in February 1640, being ordained by the same Bishop and six other clergy. Josselin noted in his diary that, during this ceremony: "I would not bowe to the altar as others did, and some followed my example". Apparently, bowing to the altar was a decidedly non-puritan thing to do.
Now qualified, Josselin accepted a position as curate at Cranham in 1640; the salary was £44 per annum, being £24 from the Rector (Jordan), £10 from the parishioners and £10 from his uncle. In October 28, 1640, with this reasonable living, he married Jane Constable in her parish church, at Olney. They lived with his uncle, who had a house at Cranham. Money was important to Josselin, and he taught school at Upminster (somewhat reluctantly) to supplement his pay.
Whilst living at Cranham, Josselin was often sick. He made many notes in his diary of his ailments. He had a remittent and relapsing disease, whose symptoms were "Looseness of ye bowells", aches, pains and fevers. There are many diagnoses that could explain this combination of complaints. Most likely, given the conditions of the seventeenth century, might be intestinal infestation, or conceivably something similar to Crohn's disease. Although malaria was probably endemic in Essex at this time, it does not usually present with diarrhoea.
Josselin resigned Cranham in 1641, in order to take the Rectory at Earl's Colne, believing that the "ayres" further north in the County would be good for his health. He had rejected a definite offer from Hornchurch at £80 per annum, and a less well-defined offer at Upminster, in order to take Earl's Colne. When he took the Living, Josselin was promised £80 per year (£40 from tithes, £25 from the priory, and £15 from the parishioners of Earl's Colne). However, Josselin rarely got more than £60 each year because the parishioners withheld the tithes; he described them as "recalcitrant".
Josselin refused several offers to move to other parishes, even though these would have paid more. The Lord of the Manor at Earl's Colne was Colonel Harlackenden. Josselin was able to supplement his income by 10/=d per day when serving as chaplain to the Colonel's Regiment, a parliamentary unit operating in and around the Colchester area. In addition, over the next few years, Josselin bought a small-holding which he gradually enlarged; he was a yeoman farmer as well as the Rector. His health also improved at Earl's Colne.
Josselin was probably a sincere priest and a decent man. He preached to parliamentary troops at Halstead, Saffron Walden, Great Chesterford, and Royston during the early war years. On June 29, 1646 he publicly debated Samuel Oates, an anabaptist. Harlackenden was County Sherriff in 1646, and on August 5th, Josselin was asked to preach the Assize sermon. Clearly, the Colonel and the Rector were good friends: his diary mentions several dinners at which Harlackenden was the priest's host.
Many diary entries illustrate Josselin's Puritanism, and how he encouraged the Essex church to adopt the new ways. Josselin had a poor opinion of Archbishop Laud, who was executed on January 10, 1645. As far as the Essex priest was concerned this was good riddance of a man who was addicted to "pompe", and an "enemy of power". On Christmas day, 1647 he wrote: "People hanker after the sports and pastimes which they were wonted to enjoy, but they are, in many families, weaned from them". On March 31, 1647 he sat on the committee at Colchester to decide upon the Presbyterian system for running the Church in Essex. In the spring of 1648 Josselin was again in public debate, defending the Presbyterian innovation. Josselin was at the centre of the local politic that was converting the Church in Essex to the puritan system.
After moving to Earl's Colne, Josselin remained an important figure at Cranham. In 1648, the Essex Classis recorded that he was both minister at Earl's Colne, as well as one of the two elders for Cranham. This was whilst Watson was the minister and John Gaunt the other elder at Cranham (258).
June 1648 was a busy month for Josselin. On the 6th he was present at the siege at Colchester. On the 10th he "exchanged" the living of Earl's Colne with that of Rev.Clapton at Markeshall. This "exchange" did not apparently involve his giving up Earl's Colne, and this action probably represents him taking over the living of a minister with less politically correct views. On the 12th he was involved in the military defence of Earl's Colne and Halstead against the Royalists, he was personally involved in a few skirmishes, and had his house "plundered" by the enemy. Then on the June 14, 1648, possibly for their safety, he moved his whole family to his new parish. It was 10 weeks before the family again visited their home town, although Josselin himself was back and preaching in Earl's Colne within a fortnight.
Though a puritan, Josselin was not a radical. He wrote, on the day of regicide, (February 4, 1649): "I was much troubled with the black providence of putting the King to death. My tears were not restrained at the passages about his death." However, on December 19, 1649, Josselin became the thirteenth man, and the first minister in Essex to sign the covenant; he wrote: "my faithfulness is not to create any troubles, but to seek the good of the Commonwealth".
In the 1650s, Josselin struck up a friendship with a certain Crane family of Colchester. On September 7, 1650 he writes "Mrs.Crane gave mee a payre of gloves which she ought [owed] me about a wager when her husband was prisoner with the cavaliers". The same event is remembered August 27, 1655: "I was with Mr.Crane; they kept their day of thanks for their delivery from Colchester, three of the nine dead and six alive: Mr.Crane, Smith, Ayloff, Eden, Bernardiston" (these five men were held during the siege, and Sir William Rowe was the sixth). Presumably, during the siege, Josselin had bet Mrs.Crane a pair of gloves that her husband would escape with his life.
In 1651, Josselin had his first communion since 1642; Puritanism was softening, although there was considerable debate about precisely who was qualified to receive the host. He preached widely during the next 7 years, and the Lord Mayor of London was in his audience on one occasion. On February 10, 1655 Josselin watched for the first time: "a great noise of people called Quakers; divers have fits about us, and thereby come to be able to speak".
Josselin recorded the restoration of King Charles II, peacefully in 1660: "the nacion runneth into the King as Israel bring back David, lord make him a like blessing to our England". On May 11, 1660, Josselin preached at Greenwich and "prayed by name for King Charles", and on June 6, 1660 he rode to Colchester to pledge his loyalty to the Crown and "to laye claim to the King's pardon before the Maior". Together with his sadness at the regicide, this confirms that Josselin was probably not of the most radical type of puritan.
Josselin's diary contain many medical tid-bits. However, in 1665, Josselin merely noted the numbers dying of the London plague, without comment.
By 1671 it is clear that Josselin was despised by the parishioners of Markeshall, but he hung on, even when the parishioners withheld his tithes and salary. In 1672, Josselin buried his only grandson, and in 1673 his only son. His daughters Ann and Jane were to be the only ones to survive him.
Josselin's last diary entry shows some mellowing of the puritanical zeal of his youth: "17 Maie 1680: Rid to court..the matter is the surplice, which I see no sin to use, and shall endeavour to live quietly as may be to the end of my race".
Josselin's diary has been published. Whilst only tangentially involved at Cranham, here was a capable, earnest man, doing what he saw as right in bad times.
LIST OF RECTORS TO THE RESTORATION (2, 29, 212, 246)
The restoration provides a convenient dividing point, in that roughly half of Cranham's rectors served before 1652. In view of the dubious legality of some puritans who served the parish, the criterion for inclusion here is evidence that the clergyman actually served Cranham, rather than any official appointment.
Table 2. Churchmen at Cranham before the restoration
RECTORS
c. 1310
John de Wokydon
Resigned
c.1315
Henry de Wokydon
Resigned
1329
Bartholomew Baldwyn
unknown
c.1330
Thomas Dersington
Resigned
1347
John Sauvage
( ? )
c.1360
John Clerke
Resigned
1371
John Abberbury
( ? )
1409
Thomas Paulton
Resigned
1449
John Turke
Died
1463
John Winter
Resigned
1467
Edmund Fish
Resigned
1468
Humphrey Nowell
Died
1487
John Walshe
Died
1492
Nicholas Walwyn
Died
1546
John Colbourne
Died
1559
Jervaise Halton
( ? )
1571
John Goldring
Died
1590
Thomas Crosby, M.A.
Died
1612
Adam Harsnett, A.M., B.D.
Died
1639
Ignatius Jordan, A.M. (also called Jourdaine)
Evicted c.1645, Sequestered 1652, ejected 1660, and effectively resigned 1662.
1645
George Bond, M.A.
Probably not properly appointed
1645-1652
Robert Watson
Evicted
1652
Johnathan Hardly
Ejected
1662
Jonathan Devereux, A.M.
Restoration Rector
CURATES KNOWN TO BE ACTIVE
1580
Thomas Braine
Died
1590-1604
William Masters
Died
1604-1611
Josiahe Churche
Resigned
1611-1619
Philip Sanders or Saunders
( ? )
1640-1641
Ralph Josselin
Resigned
List of rectors to present day
CHURCHMEN SINCE THE RESTORATION
There have been 20 rectors at Cranham since the restoration. For some of these men, only their names are known.
In 1660, King Charles II regained the throne. A law of 1662 entitled rectors who had been ejected at the beginning of the puritan take-over to recover their livings, if they so chose. There is no doubt that Ignatius Jordan was still alive, and indeed he had tried once before, in 1660, to regain his rectory at Cranham. Yet now, two years later, Jourdan did not avail himself of the new law. A certain Jonathan Devereux was appointed to Cranham. It is possible that Jordan actually confirmed Devereux to the living himself. We know nothing more about Devereux. Perhaps Jordan had found more attractive employment than Cranham during those first two years after the restoration.
Edward Herbert, M.A. was Rector, for almost thirty years, from 1669 to 1697. The first Bishop's Visitation at Cranham was conducted during Herbert's tenure, in 1683. This visitation involved making an inventory of the church possessions, and we shall return to this in later chapters about All Saints' church.
Herbert was involved in a very rare event in 1687 when he presented John Stedman to the living at Great Warley (68). Herbert did not actually own the advowson. This right was in the possession of a former Rector at Great Warley, the Revd.Jenner, who had moved to Wiltshire. The legal validity and details of this transaction are not recorded. A curate, Reverend John Digby, was noted to be employed at Cranham during this period; we may conclude that Herbert was not resident in the parish, and that this presentation was not simply because Herbert was the man on the spot. Usually, unlike this case, the only reason for substitute patrons was that the owner of the advowson was a recusant catholic.
Edward Harby was Rector at Cranham for a short period, 1730-1733; the exact date of his installation is unclear, but it was either September or December (29). Harby was another absentee Rector, employing John Kennedy as curate. The circumstances by which this Rector left the parish are unclear. Newcourt (29) uses the term "Ceded" instead of the usual "resigned", and so there is some suggestion here of an extraordinary type of resignation (29).
Overall, in the seventeenth century, we are left with the impression that the parish of Cranham was a small, unattractive living; there were many curates, and most of the rectors resigned or were displaced for political reasons. There was little reward for an ambitious priest in serving the small agricultural community, and turning a profit, by giving the curate a smaller salary than the living provided to themselves was about the best that could be extracted from this parish. Salaried curates would often have little interest in the parish beyond providing basic services, and (for example, Josselin) would attempt school teaching or small-holding, again renting the glebe at a profit from the rector. This was not a system that encouraged respect by the inhabitants, and leadership of the community by one of its few educated residents.
STABILITY
By 1734, Cranham had had four rectors in as many years, as well as one or two curates. Then there followed a remarkable series of rectors who were largely resident in the parish. These four remarkable men served Cranham, between them, for the next century and a half.
John Woodroofe, M.A., B.D.
John Woodroofe came to Cranham in 1734. He graduated M.A. and B.D. from Oxford. He died, in office, some 51 years later.
Village leadership must have been in some sort of crisis in the years before Woodroofe. Not only had there been so many clergymen, but there was also little stability at the Manor. The deaths of Sir Nathan Wright in 1727, his son in 1737, Samuel Wright in the same year, Abigail Wright in 1741, and Elizabeth Wright's short tenure until 1744, were all in relatively quick succession. Clearly, Woodroofe became a local pillar, especially in the decade before Oglethorpe arrived.
Woodroofe's principal practical problem appears to have been the maintenance of the church building. His vestry notes constantly refer to this problem. We shall return to this topic in the chapter on the church fabric. Beyond this, and other routine business in the vestry minutes, there is little extraordinary to say about Woodroofe. It is his devotion to the ordinary business of the parish, and in the context of a prolonged period of previous instability, that Woodroofe emerges as a remarkable man.
Woodroofe employed only a single curate, and this was only in his last, geriatric years. Rector near the end of his life. William Herringham was Curate at Cranham in 1785. Herringham was as a well-educated, clergyman and a rare example of a "pluralist curate", working also at South Weald, Ingatestone, and Chipping Ongar (46). Herringham also married one of Woodroofe's daughters. Woodroofe himself officiated at the wedding at All Saints'. At Cranham, we have an authentic, eighteenth century, example of the old conundrum: a man can marry his own daughter !
Woodroofe died in 1786. He is the first of Cranham's Rectors whose grave we can find. He is buried, with his family, beneath the large memorial to the left of the path from The Chase to the church door. This memorial is interesting, being about four feet square, standing 6 feet high, and protected by an iron railing. Previously overgrown, the ivy was removed in the autumn of 1985, revealing inscriptions in Latin on its south and west sides, and in English on the other two sides. These texts are badly eroded, that on the north being best preserved because it has been protected from the weather by a holly bush. The west side commemorates the Rector and his wife Catherine, who died three years before him; like Harsnett, Woodroofe had buried his own wife. The south side appears to remember the Rector's siblings: Thomas Woodroofe, A.M., rector of Linton, Cambridgeshire, buried, aged 46 years, in 1766 (perhaps a younger brother), William Woodroofe (Rector of Balsham), Elizabeth Woodroofe, and Robert Woodroofe. The east side of the memorial then commemorates another branch of the family, naming William (d. September 10, 1758, age 56), and his two sons, William (d. December 10, 1760, age 28), and Thomas (hosier at Cheapside, d. October 1771, age 37). Thomas was married to Martha (maiden name indecipherable) and had four children called Nathaniel, George, John and Martha. The eldest, Nathaniel, was also a hosier in London, and appears on the north side of the monument, having died unmarried May 27, 1759, aged 59. Nathaniel's younger sister Elizabeth (who does not appear on the east side) died February 3, 1764, aged 58. It is stated on the north side that, being unmarried, Nathaniel left his fortune to his family and to charity. Not all these people are recorded in the registers, suggesting that this monument is designed to be a memorial rather than truly a grave marker. Since the Rector died last, it is reasonable to assume that John Woodroofe built this memorial himself, and added to it as time passed during the last third of his tenure at Cranham; its design is typically late Georgian. Erosion of the inscriptions on this, the best of all the graveyard memorials at Cranham, prevents us from sorting out many of the family relationships amongst these Woodroofes.
George Strahan, D.D.
The second of these four, remarkably long-tenured rectors was Dr.George Strahan, D.D. (Doctor of Divinity, a higher degree than M.A. or B.D.). Strahan came to Cranham May 3, 1786.
Strahan was of Scottish stock (48), and his surname is a derivative of Strachan, a village in Kincardineshire. Whilst there are people who still use the original form of the name, the guttural "ch" sound (which also appears in modern-day German) is hard for the English. There are many examples of Scots who simplified their surnames when they moved south, in this case from Strachan to Strahan (51).
George Strahan's father was well-connected. William Strahan was a London printer and publisher and had married Margaret Elphinstone, the daughter of an Edinburgh clergyman. The printers were recognised to be of the upper middle class in eighteenth century London. Of all tradesmen, their equipment and raw materials (especially hand-made paper) required the largest investment before a penny could be earnt. William Strahan was a member of the Stationers' company of the City of London, and its master in 1744; his portrait by Sir Joshua Reynolds still hangs in Stationers' Hall. In that same year he was elected M.P. for Malmesbury, Somerset and was described as "Publisher, banker, advisor and/or agent at some time to Hume, Blackstone, Adam Smith, Dr.Johnston, Gibbon, Robertson, Blackstone and Blair" (47). In 1787, to considerable criticism from the London newspapers, William published a collection of Johnson's writings (49). Nonetheless, Johnson left all his Greek and Latin bibles to the publisher (see Figure 13).
Our Rector, George Strahan, matriculated at University College, Oxford, on November 13, 1764, at the age of 20 years. He graduated B.A. in 1768, and M.A. in 1771. In 1773 he was appointed Vicar at St.Mary's, Islington, and in 1778 he married Margaret Robertson. It was her second marriage, and she was 27 years old.
William Strahan, Oglethorpe, Johnson, Blair, and others were members of a vigourous social circle in London, and doubtless their personal connexions must have played a part in many transactions. One was on May 27, 1783, when General and Mrs. Oglethorpe sold the advowson of Cranham to William Strahan for £2500 (230); the absence of any offspring to inherit from Oglethorpe made his decision to sell the advowson quite logical. The advowson was inherited by his son, clergyman George Strahan in 1785, but, even had William survived, there is no doubt that his purchase was intended to provide employment for the son George. Woodroofe, the rector was obviously very old in 1785, having to hire a curate, and doubtless, therefore increasing the value of the advowson on the basis that it could soon be exercised. As expected, Woodroofe died in the following year, 1786. George Strahan then presented himself to the living at Cranham on May 3, 1786 (29).
Diversity of profession amongst sons in a well-connected Georgian family was the rule. The Rector's brother followed in his father's footsteps, also becoming a printer, and examples of his work exist in the Cranham registers, which were kept at this period in pro forma books printed by George Eyre and Andrew Strahan.
It is clear that Strahan had a view of the world which extended well beyond the boundaries of Cranham. For example, on March 4, 1798 the vestry's minutes note that they "refused to contribute to a subscription set on foot by the Rev. Geo. Strahan for the defence of the country"(53). This was nine years after the French revolution, during the Napoleonic threat; however, but clearly the vestry knew of no specific reason for alarm at Cranham.
A man interested in world affairs was naturally often absent from his parish; the parish registers provide the clear evidence. Strahan appointed four curates during his incumbency, although each served only for short periods. But the Cranham registers frequently bear the signatures of clergy of nearby parishes, including Holden at Upminster. One curate, James Bearblock, though serving Cranham as curate, actually lived at Hornchurch Hall (194). Presumably the rectory was rented out during these years.
In 1805, Strahan was made prebendary of Rochester. Technically, a prebend is a fee for taking part in the governance of a cathedral or diocese. Holders of prebends are also known as Canons of a cathedral. Strahan therefore was taking a hand in the governance of the Kentish diocese, and had a seat on the cathedral chapter. This was before Cranham was in the diocese of Rochester, once again Strahan's wider view of the world.
In 1807, Strahan graduated both B.D. and D.D. from University College, Oxford. There is no record of a thesis which would have justified the award of the latter. It is possible that these were honorary degrees.
Strahan resigned Cranham in 1818, at the age of 73 years. But for Strahan, this was not a move towards retirement because he subsequently took the vicarage at Sutton-in-Hone, Kent, and furthermore, in 1820, he was presented to the living at Kingsdown, Kent. With his interests in the Rochester diocese, and his advancing years, it was probably easier not to have to cross the Thames to attend at Cranham from time to time.
Dr.George Strahan died in 1824, aged 80. His wife died, at the same age, on April 2, 1831. They are buried together in Kent.
Thomas Ludbey, M.A.
There was clearly a plan for succession before Strahan retired from Cranham. On March 18, 1818 he had sold the advowson to Thomas Ludbey esq., of Chalfont St.Peter, for £8800 (231). Revd.Thomas Ludbey was then presented to the living by his father, less than five months later, on August 11, 1818.
The new Rector never owned the advowson himself. When his father died, it was inherited by his sister Jane on July 16, 1819 (232). Jane married Revd.Winter, President of St.John's College, Oxford, and sold her advowson for Cranham to the College (232). To this day, St.John's holds the advowson of All Saints', and this has largely been used as employment for its graduates. The old rectory at the top of The Chase used to display the coat of arms of St.John's in recognition of this patronage.
Revd. Ludbey is not notable, like Strahan, for any national significance or wider view of the world; he was not from an eminent family, nor was he an erudite theologian. Ludbey claims our attention because he made his home at Cranham for 41 years, and because he became a vigourous leader of village life.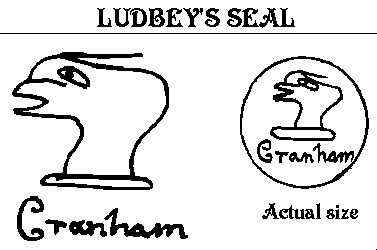 Nothing is known about Ludbey's childhood. He graduated M.A. at Oxford in about 1815, ten years after Trafalgar. During his early years at Cranham, Ludbey was married, and had four daughters. He officiated at the weddings of all four daughters, all held at All Saints, and is a nineteenth century example of how a man can legally marry all four of his own daughters! He also had a son who joined the Army; the son has descendants who today live in Australia (54).
Ludbey may be regarded as the first historian of the parish. At a time when they were not very highly valued (1), Ludbey took great care in keeping the registers accurately. In addition, Ludbey created the first confirmation register, a duty which was not required by law. In these registers he made lots of other notes, for example, on the construction of the rectory fireplace (which he thought curious), the course of drains from the rectory, and queries about the Land Tax (and we shall return to these notes in later chapters). Ludbey used a seal that refers to the name of the parish rather than to himself (57; Figure 16), and a surviving impression graces a letter to C.G.Parker, esq., of Springfield (near Chelmsford), dated at the Cranham Rectory on December 6, 1829. This may be the only example that has survived (56), and its design probably related to the imagined connexion between the name of the parish and the Essex term for a heron, namely a "crane", which Morant had suggested fifty years before. Regardless of this historical inaccuracy (Chapter 3), this is significant evidence that Ludbey associated himself personally with the parish, and Ludbey's probable familiarity with Morant's book is further evidence of his interest in local history.
In 1835, Ludbey was writing scathing letters in the Chelmsford Chronicle about Macarthy, the wine trader at Romford. The dispute was over the privileged position of the clergy, pluralism and absentee rectors. Macarthy held a low opinion of established churchmen, and especially objected that they were held in "awe". Non-conformist ministers, according to the vintner, were simply loved, and regarded as peers of the common people; for Macarthy, pluralism was also something to be scorned. Ludbey's position was that Macarthy had "expressed opinions destructive to the Church establishment, and casting aspersions on the clergy as a whole". Macarthy gave as good as he got in the face of Ludbey's attacks. All this acrimony was collected by Wilson of Upminster in his famous scrapbooks (58), who annotated the clippings, succinctly, "Paper Warfare".
Nobody could accuse Ludbey of absenteeism from his parish. But for a scattered dozen entries, Ludbey signed for every baptism, confirmation, marriage and burial at Cranham for 41 years. No curate was ever employed during Ludbey's tenure.
The diocese recognised Ludbey's work and qualities. In 1840, Ludbey was made rural dean for Chafford Hundred. This involved some supervisory duties for the 15 Rectors and Vicars, as well as their curates. Typically, this duty and honour was given to the senior and most reputable clergyman in the deanery.
Thomas Ludbey, M.A. was buried in his own churchyard on May 24, 1859. He lies just outside the east window of the chancel, beneath a marble slab which is in a very good state of preservation. The Rev.English, of Brentwood, performed the service (55). We are left with the impression of a man genuinely interested in the life of the parish, when its Lords of the Manor often saw Cranham simply as a commercial venture, and were frequently absent. A Rector not afraid to vigourously defend his own opinions.
Charles Rew, B.D.
Charles Rew was the last in this series of four remarkable Rectors, serving Cranham from 1859 to 1884. Resident for more than a quarter of a century, his daughter married Champion Edward Branfill of Upminster Hall, and his grandson Champion Andrew was born in 1860 (60). Rev.Rew saw through the rebuilding of All Saints', and employed the last curate, Rev G.H.Mason. Rew is not buried at Cranham.
RECENT RECTORS
The twentieth century has seen twelve rectors (to 1996). Cranham may have returned to the Georgian status of a small parish, suitable for the training of good clergy who are then promoted elsewhere.
Rew's second successor was Charles John Rashleigh Cooke, at Cranham from 1889 to 1905, and an M.A. from Oriel College, Oxford. Cooke was of the Ludbey mould, for example chairing the parish council from 1894 to 1897 (61). His interest in the parish documents is shown by his purchase of the first safe to protect them (he bought it on February 21, 1896 at a cost of £9). Here are hints of village leadership and, again, an interest in local history.
Rew was transferred to a larger parish in 1905. At the farewell service he dedicated a much-vaunted stain glass window memorial to Mrs.Bunter (see below). Even in 1918 the parish had affection for Rew, and a local newspaper noted the bravery of the rector's son, Rev.Cooke, jr., in ministering to the wounded in No Man's Land during the war. Cooke, jr., won the Military Cross.
Cooke's fourth successor was Dr.Leslie St.Aubyn Wright. Dr.Wright held the D.D. from Oxford, and served Cranham from 1923 to 1951, during both the great economic depression and the Second World War. This was the era of massive expansion of the parish (which we shall see in later chapters), and the conversion of the church to modern economic principles. As part of the latter, Dr.Wright declared the old rectory too large, and arranged for its replacement at the top of the Chase.
Once again, Wright had the Ludbey spirit. Dr.Wright had firm opinions about the May Day Society in 1926 (see a later chapter), which resulted in a public meeting to "call the Rector to book" for some comments he made to the local Press (61). In 1929 the Rector was proven correct, when the society was voluntarily wound up after another meeting at the Mason's Arms. On another occasion Dr.Wright was criticised for keeping the church locked. He replied shrewdly that "the sudden zeal for the church to be open all day for prayer and rest was most cheering. If they [the Parish Council] liked to provide two pounds per week to pay a verger, he would appoint one and the church would be left open."(61). Clearly, fears of vandalism are not of modern origin.
Recent Rectors have all been very fine men, albeit serving for shorter periods of time than in previous centuries. With the creation of St.Luke's parish (see a later chapter), it is fair to say that All Saints' has provided a fairly conservative form of Church of England pastoral care. Joyce Skipper was appointed as the first deaconess at Cranham, and its first clergywoman, in 1986.
The churchmen of Cranham continue to provide a foundation to parish life.
Table 3. Churchmen at Cranham since the restoration
(2, 29, 213)
RECTORS
1662
Jonathan Devereux, A.M
Died
1669
Edward Herbert
Died
1697
Thomas Whetham
Died
1730
Edward Harby, LL.D
"Ced." (ceded?)
1733
William Walter, A.M.
Died
1734
John Woodroofe, B.D., M.A.
Died
1786
George Strahan, M.A., D.D.
Resigned
1818
Thomas Ludbey, M.A.
Died
1859
Charles Rew, B.D
Died
1884
Lancelot Lambert Sharpe, B.D.
Resigned
1889
Charles John Rashleigh Cooke, M.A.
Resigned
1905
James T.Nance, B.D.
Resigned
1909
Thomas W.Gibson, M.A.
Resigned
1920
William C.Cluff, M.A.
Resigned
1923
Leslie St.Aubyn Wright, D.D.
Resigned
1951
Brian F.Dupre, M.A.
Resigned
1956
Harold W.Sparling, B.D.
Resigned
1961
Vincent Paul Bowen, M.A.
Resigned
1973
Kenneth D.Archer, M.A
Resigned
1982
Alan Duff Barnes
Resigned
1992
Paul Brophy S.S.C., M.A.
Resigned
1993
Thomas Page
Incumbent
CURATES
1683
John Digby
1730
John Kennedy
1785
William Herringham
1795-98
Thomas Ebbutt
1807-14
James Bearblock
1816
Edward Thurlow
1816-18
George Brown
1880-84
George Mason
DEACONESS
1986
Joyce Skipper