More Aurora Borealis - The Northern Lights
With the sun seeming to have a double peak of activity over the last couple of years, there has been several auroral displays visible in the UK. Whilst not all have been visible down as far south as I usually am, we did get the great display in April 2000. We also observed an enjoyable display on the main night of The Equinox Star Party in Thetford, that being September the 7th / 8th 2002.
Here are some images, and a couple of animations of that display.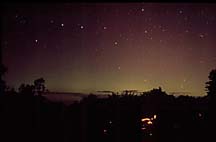 ..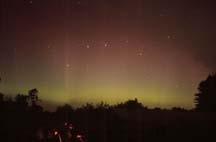 ..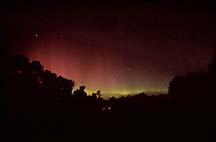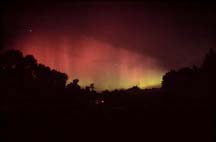 ..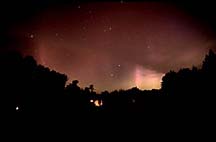 These images were captured using an Olympus OM1 camera with both a 16mm & 35mm lens. Exposure was approximately 20 secs n the bright conditions and 40 in the darker conditions.
The film was Fuji Sensia 400, and the images were scanned using a Polaroid Sprintscan 4000. They were then tweaked in Adobe Photoshop.
As I managed a few shots in a small sequence I have managed to generate a couple of small animations of the event. See below, it will take a little time to load I am afraid.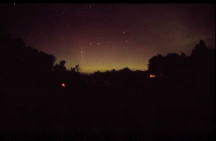 ....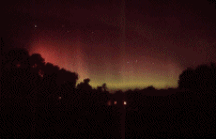 The scanned images were aligned in Maxim DL, and animated using JASC Animation
Astronomy Home ..Aurora Main ... Home Page