On Ye Bike
Ever since I was a small child I always rode a bike. As years went on I got into Motorbikes, and forgot all about cycling. As I got older and have become a bit of an unfit fat B*****D, I thought it would help give the old ticker a bit of a run, and maybe stretch the lungs a little etc. Maybe build up a little bit of general all round fitness. Ho Ho Ho!
As I also like the countryside I bought a mountain bike, these didn't exist when I was a kid, but I do recall building something similar for going over the fields. It was great fun.
Well 25+ years gone, and not a No Fear T-Shirt to be seen. I went out and tried to find a bike. Well blow me what a selection, and what a lot of dosh. In the end I plumped for something which was a lot more than I intended to pay. It did have a good gear set, it did have full shocks, and it really felt right - it just sort of fitted. Also for a cool factor it had a carbon fibre rear which also reduced weight, very handy when having to lift the bike over gates when coming back from the pub across country :-)
Anyway this is the beast. Could this be my salvation to a healthy lifestyle? It's not looking too promising at the moment - but I will do better - Promise.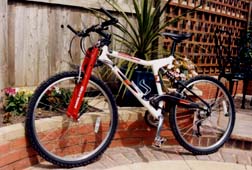 .....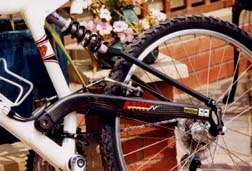 It is actually amazingly fast compared to what I remember from my childhood, and with 24 gears it even keeps your hands busy. As for brakes, they seem good, but I guess a few more rides before I dare go and get the No Fear T-Shirt.
I have also discovered that seriously fast and furious cycling minutes after getting up following a rather heavy liquid dinner party is not good for your health. I made a short 2 mile journey at an amazing rate, only to have to lie down when I got there. See I am learning, a little bit at a time me thinks.
Wish me luck.
General Main.. Astronomy Main.. Home