Hawkwind
As long as I can remember I have always been a Hawkwind fan. From the early days of Hurry on Sundown, through all the great times of In Search of Space, Hall of the Mountain Grill - Space Ritual and Warrior On The Edge Of Time. These albums are true classics, and give me great pleasure. Even the spell as the Hawklords was an interesting period with the late Bob Calvert at his best.
In the early years I did not get to see them live, but in the mid seventies I started attending gigs, primarily at the Demontfort Hall in Leicester. It was always quite interesting as you would never know if a tour would end with the same members of the band as it started with, and what the stage set would be like.
Sometimes old friends like Bob Calvert and Michael Moorcock would just turn up and do a stint. Brilliant to see the other members turn up and have a jam. Even Ginger Baker had a spell as the bands drummer, as did Paul Rudolph of the Pink Fairies on bass. Also don't forget Lemmy. So you could say it was a variable line up over the years.
As I became more into the band I followed them further - Bristol, St Albans, Sheffield, Pontypridd, Bradford, Oxford, and became a regular at the gigs, and managed to get into the rehearsals and backstage afterwards.
It was in the early eighties that I approached Dave Brock with the idea of taking videos of the gigs. I had no equipment so I went and bought a portable Ferguson Home Movie kit and a portable Television. I hadn't got transport then, but there was always a mate who fancied lending a hand, allowing them to meet the band and a free gig. Eventually I bought a Z1000 Kawasaki, and put a sidecar on it to take the video gear. This allowed me to ride the damn thing legally, as I hadn't passed my bike test. Just seemed more fun than a car - it was :-).
The video gear was just small enough to fit in my Z1000 with side car. So there I was Video gear - transport, and permission to film. I managed a few of the above mentioned gigs, and also the Stonehenge festivals in 1983 & 1984. Previously I had seen them at Glastonbury, along with Tim Blake. I suppose my best weekend was when I joined the band for rehearsals for the Motorcycle Action Group gig at Cricket St Thomas. We joined the band at Rockfield Recording studios at the Mill House, and did a little bit of filming using a single light bulb as illumination. I hope Dave still has the tapes as I never managed a copy of them. Then off to the MAG gig, turning up in a white 1300 Escort did raise a few looks, but no problems. Thanks for that Pat, good lift. A pity Pat didn't see the gig he passed out beforehand as he fell off the back of the lorry, and didn't come round till the morning. Must have been something he ate :-)
If you need info about the band there are several sites, and numerous discographies about. Instead I will just show you a few of the images clipped from those early video tapes. I hope they are of interest.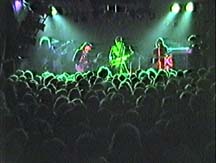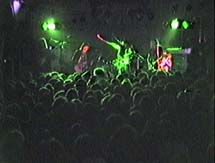 Hawkwind - Stonehenge 1983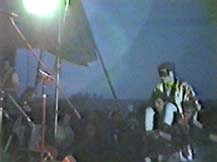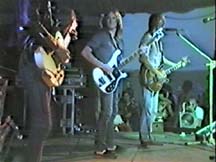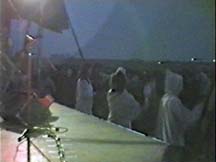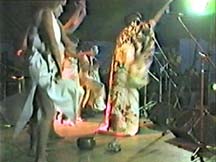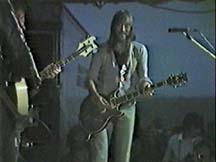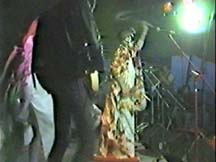 Hawkwind - Stonehenge 1984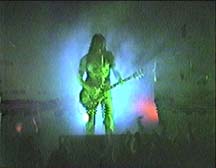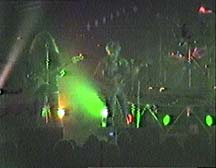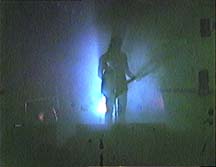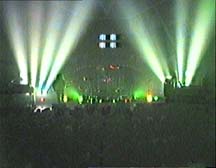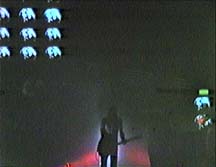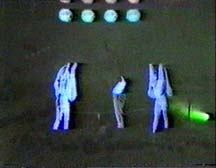 Hawkwind - Leicester Demontfort Hall 1984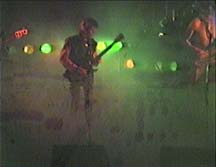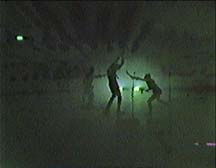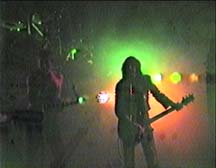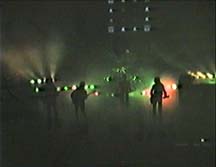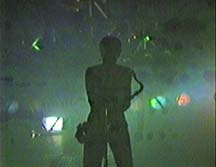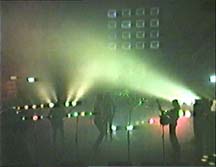 Hawkwind - Oxford 1982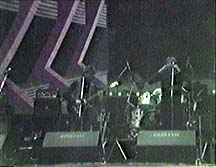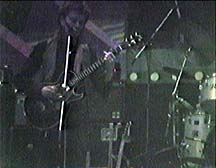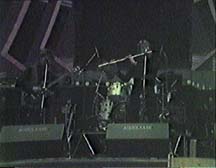 Hawkwind - Bradford - Rehearsals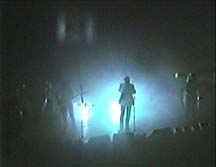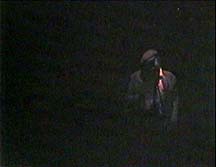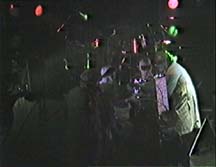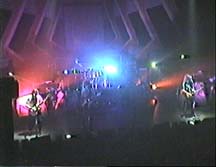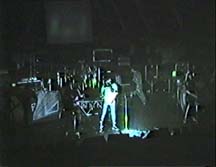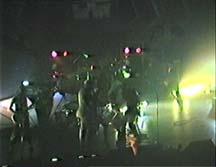 Hawkwind - Hammersmith Odeon
The images do not do the gigs any justice, but the videos are a great reminder of the events, and I guess not bad for a late seventies home movie kit. At least the gigs are preserved for posterity. You may not be surprised to find that the sound isn't great on them either, but they are more than a little watchable if you were there at the time.
So thanks you guys for a lifetime of great music, your friendship, and for the opportunities you gave to a very grateful fan. We will meet again. I have been off the scene for a while, but I'm coming back.
And Dave if you still have the tapes from Rockfield / Hull I would love a copy. From memory one should include Nik as he developed 'Phone Home Elliot'.
For further information contact
http://www.hawkwind.com
Another great link is http://www.starfarer.net
Bye for now fellow Space Cadets!
Hawkwind Northants Main General Main... Astronomy Main.. Home