Hi Fi
I have always enjoyed listening to my music, and whilst I have had a basic Hi Fi, it was always lacking in quality. With my ex wife not exactly appeciating my taste in music, and the level I liked to play it at, I basically gave up listening to music apart from in the car.
With our seperation came the opportunity to start to listen to my music again. I had a problem with my original Ariston RD80 turntable, and I whilst I did like my Aura amp, a compromise upgrade last time, I wanted a little extra.
So in a fit of stupidity and genuine depression I decided to change my front room round, and cheer myself up. This of course meant reevaluating everything in there including the Hi Fi, and the surround sound system. The latter being quite dated.
Anyway as stupid as it was I decided to go out and upgrade the gear, so at least I coild be depressed in some comfort. The result was a complete change apart from the speakers.
The turntable was was upgraded to a Clear Audio Solution with a Moth RB300 arm and a basic Grado MM cartridge. The yellow vinyl is my dust cover!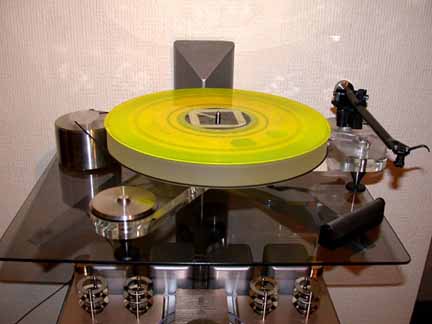 The Shanling CD player was a 'just had to have it' buy after I was sent a picture from Nick & Bobby at The Emporium near Eye. If you are looking for Hi Fi give them a call, a great couple.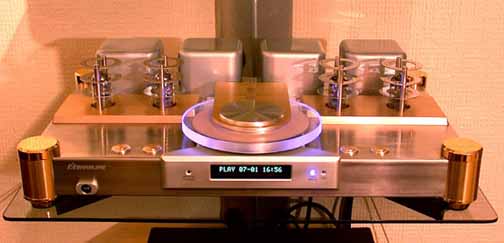 I bought a Linn Kairn Pre amp as I wanted remote operation, which seemed to be frowned at by most people I spoke with. Being an Audio Palestine rather than an Audio phile - I don't care :-)
For my amps I have gone for a pair of Audion Silver Nights 300B's, they are lovely to the ear, and pretty to look at. They also put out a fair bit of heat, so the damaged central heating system is not such a problem as long as I live in the front room in winter.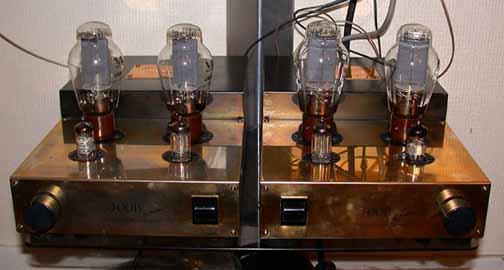 Sorry about the wires - this was in the testing phase. I also have new covers to fit as well. Will do some pics after that.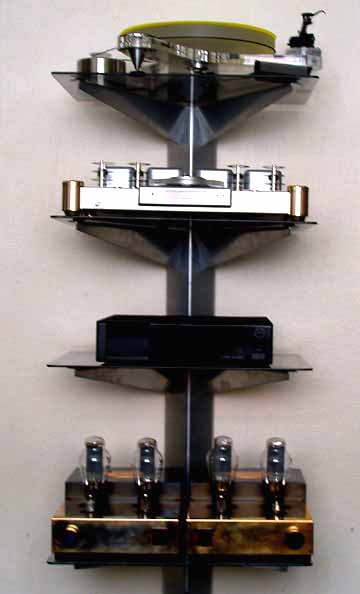 Thats the Hi Fi done. For the AV side I had a Harmon Kardon multi region DVD player, and a Sony 1080 surround sound receiver. These really work well together. The capsule crash in Planet of the Apes is amazing. It feels like a jumbo is landing in your kitchen - I jest not!!
One further addition to the Hi Fi will be a Tandburg 4 track reel to reel unit, something I have always fancied for a no reason at all. I did a swap for my enlarger with Dave, and that should be here soon. It already has a place marked out for it.
Now all I have to do is work out what I am going to use it for :-)
So that's where we are now. All I have to do is pay for it.
I am so pleased to be able to listen to music again, and the alterations to the front room, have been a great boost in difficult times. The new pictures, and lighting have changed everything. So much so, it is actually nice to stay in more often.
Astronomy Main. ...... Home .........General Interest Main