Hi, I'm Sandy

My name is Sandy, and Kevin is my new Human.
I was found wandering around a park in Wellingborough on Boxing Day 2003. I was caught, and not having a collar or microchip I was placed in kennels. An older couple came soon to give me a home, but it appears that I was a bit of a handful, and they brought me back.
Evidently I am about a year old, and called Sandy because that's what the kennels called me. It appears that I am starting to remember that as well. Not bad hey!
Shortly afterwards Kevin came and found me at the kennels. I did the usual - 'you are my human thing', and it worked, as despite the behavior of an unguided missile he seemed to like me, and I liked him.
So I went off home with him on January 15th 2004. Quite scary really as though I didn't know it at the time it was exactly 2 years to the day in fact almost the minute that my human had lost his last dog, and great friend Zak.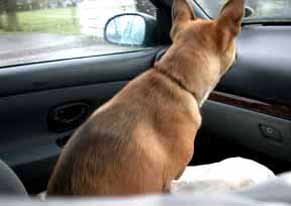 .................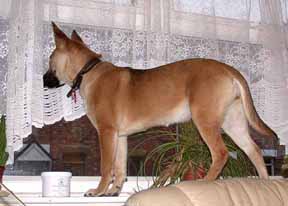 This is me leaving from the kennels, and not really knowing what was to happen, and also a shot of me in my new house. Kevin has fortunately placed a chair by the window so I can see what is going on outside. He doesn't seem too impressed about this, but so far I have got away with it.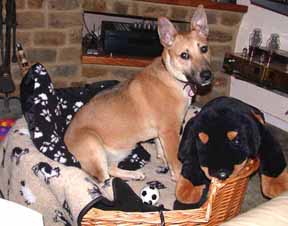 ...............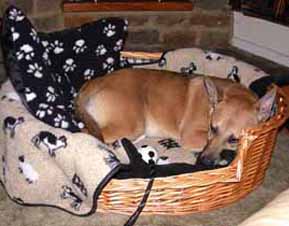 My new human has given me a brand new basket, some nice fleeces, and auntie Kim has given me a new Rottie for chewing. Very comfy, and I feel rather spoilt.
*Update by human, basket is now half demolished by ungrateful hound sulking whilst I had to go out. Rottie is now destroyed, and forty tons+ of Kapok, and plastic beads from wee Rottie have been collected from previously various , and unexplored areas of the house, and dumped!
.........
I now also have a new Kong which is a great chewy toy which stores treats, and keeps me busy for a few minutes. It appears my human likes this as it gives him a minute for him to do things for himself.
Update from human - Kong has disappeared. Do not believe it has been digested, but god knows where it has gone. So much for time for myself!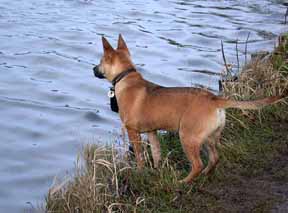 I am quite lucky as it appears my human has a friend who also has very well trained humans also. Her name is Fiddle, and we get taken out every Sunday to the local reservoir for a run. It appears that my new chum Fiddle, also a dog, but larger and easy to wind up, loves to jump in and swim. I myself just stand and watch. I will have to think on this further. My human seems quite pleased that I don't jump in, can't think why, but that's humans I guess. Mind you I can still get very muddy, and wet!!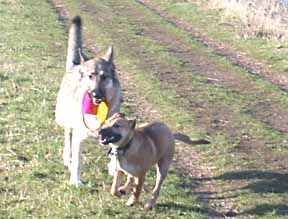 This is my friend Fiddle, her humans are called Kim & Dave. She is very friendly dog, and I do love winding her up. Running underneath her, and biting her ankles really does the trick. I have to stop sometimes, as she can get a bit moody over it.
This is us playing at the reservoir chasing fiddles favourite toy. We have endless hours of fun with this. I did start killing this, but have been reprimanded now :-(
After a trip to the reservoir we are made to dry off in Fiddles Disco, whilst the humans go into a funny shaped stone building, and come out giggling and smelling of beer, Hmmm - I think I am missing out here. I know the smell of good beer, as my human takes me to the local club.
This is usually followed up with a good lunch, and we always get some special bits so I am not complaining.
I will post more when my human lets me on to the PC again, but until then have fun - I am. I will get him trained. He isn't doing too bad for a beginner. :-)
---------------------------------------------------------------------------------------------
Well it is now March, and I am settling in. My human has been very good in letting me go to work with him. Sometimes his customers come out to say hello.
I have made a couple of friemds when running about the woods, but also have ended up in a couple of small fights. Took a serious gnashing from George, but we still speak. Bubbles seems incredibly barky, and didn't like it when I threw her around by the collar. Best I sort this out as my human doesn't seem too impressed. It wasn't all my fault though.
Update from human - wounds healing up nicely, the ability to return when called is improving, though selective deafness is still a problem. She is doing quite well though for an unguided missile.
My human has also had me spayed - whatever that means, he seemed to think it was a good idea, but didn't seem to like the cost though. Mind you managed a few treats off Celia at the vets - she is nice - she spoils me.
Oh yes one other thing, in a bit of stupidity when my human left me outside in the car at his office, I chewed half his car seat - he really was unimpressed, me thinks I better not do that again - he was proper cross, and I had to send an email to his boss and apologise. Actually it really looks a mess, and my human still isn't impressed by it, and constantly reminds me of it.
Update from human - very unimpressed with car seat - new seat being searched for, and seat covers on order. Company took it better than I did. Spiteful sulky dog move which could cause problems later. So if you have a drivers side front seat for a Peugeot 406 HDI estate. Greyish in colour - car is silver, I would be interested in obtaining one.
Anyway will write more soon. It appears we are off camping in mid March to a Star Party whatever that is. My human seems pretty keen, and looking forward to it, so I guess it will keep him happy for a while.
---------------------------------------------------------------------------------------------
Well still not off to the star party, but we have managed a few things. Started to get a few more trips to the local club. Here I usually get a few crumbs and bits. There are also many people who fuss me there. Beer seems good as well. Not that I know of course!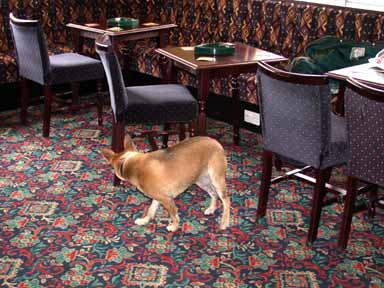 This me trying to get the lead from off the table, unfortunately my human came back before I managed to drag the table all the way over to the bar. Fussy humans aren't they.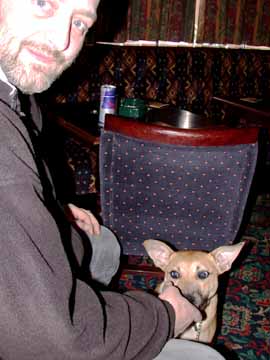 Here is one of my friends from the club. His name is Ken. Ken likes to play, and he allows me more playing in there than my human does.
*Update from Humna - what she means is Ken winds her up just before he leaves!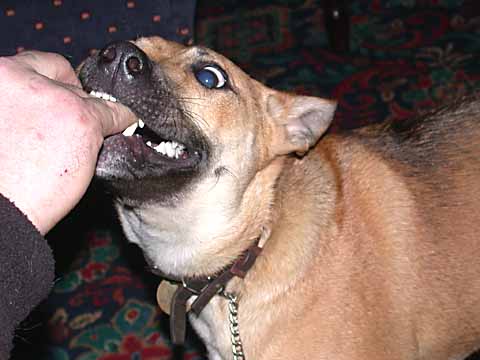 Here is a nice shot of his hand disappearing down my throat. Good mate is Ken.
I have started to explore the local area a bit more now. There is a nice old railway bank where I can collect, and shread loads of sticks. I like sticks, great for clipping my human on the back of the legs when he isn't really with it! Like most mornings!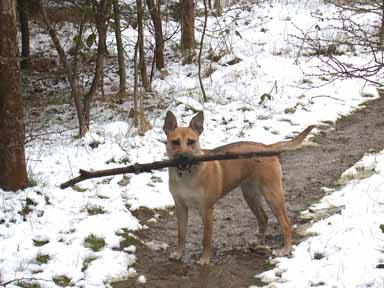 ,,,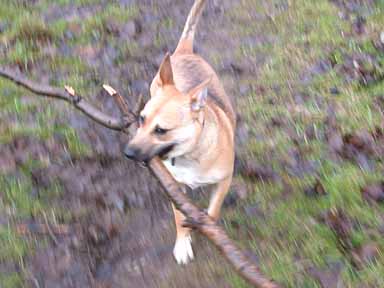 This is also a good meeting place for some of my doggy friends. Here is Glen, Max, and George. We had a bit of an extra run round in the snow that day. Glen and Max are very nice, but George seems to want to rip my face off. Not sure why, but my first wound is healing.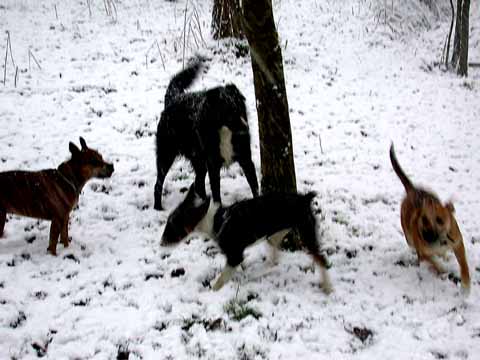 My human hgas decided to make the front room slightly different than other front rooms. He has installed a smoke machine for his lasers, and whilst he tries to keep me away, I do occasional manage to get in a quick attack in. He has also installed a really cool bubble machine for me - that's great fun. Here I am on one of my best attacks.
*Update from human. Try desperately to keep here away from the smoke machine. She barks madly at it as it ihisses into the room. Sometimes I miss holding her coller, but she really doesn't want to breath it in. Try telling that to an unguided missile. The come heres however are improving. Still selectively deaf though. Bubbly machine is amazing, she goes wappy at it!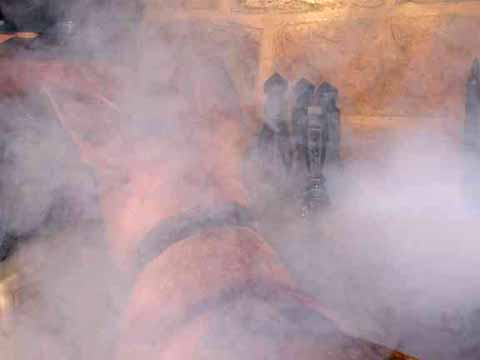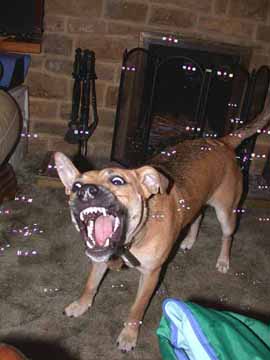 So things are pretty interesting at the moment. Made some new friends, and seen more countryside. My human has fixed the car seat, and it looks that nice in there now, I am just wondering if I will be allowed in again. Never seen it so clean.
I have also found my human very good for falling sleep on :-)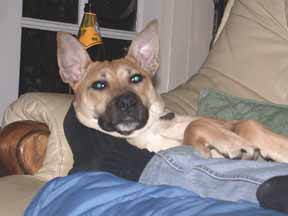 Will type more when I can.
-----------------------------------------------------------------------------------------------
Astronomy Main. ...... Home .........General Interest Main