Bolsover Castle
Bolsover Castle is in the east of Derbyshire and close to the Derbyshire, Nottinghamshire border. It was built by the Cavendish family, the most important aristocratic family in the county.
The castle is a few miles north of Hardwick Hall and lies on the same ridge with a spectacular view over the countryside. The Little Castle, the main keep at Bolsover, was built by Sir Charles Cavendish and added to by his son who ultimately became the Duke of Newcastle.
There are records of an earlier castle dating from the 12th century, and it is likely that Sir Charles had to organise the demolition of these remains before his building programme could start.
The accounts begin in 1612, building starting in 1613 and with the work managed by Robert Smythson. The little castle is so called because it is small by the standards of grand houses being built at that time, but is a charming building, perched on the ridge.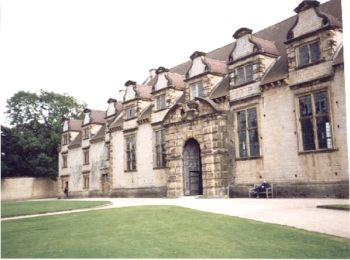 The next Cavendish generation was William Cavendish, who became Duke of Newcastle and as a young man traveled to the court of the Duke of Savoy. He was fond of music, patronised Van Dyke and Ben Jonson and was a friend of Hobbs and Descartes. The castle was added to around 1630 and became the edifice we see today.
A high point in the life of the castle was the entertaining of King Charles I in 1633/34. The internal structure of part of the castle was destroyed in the English Civil War. However, the Little Castle remains intact and the whole site is now an active tourist site and is undergoing some renovation.
Bolsover Castle is a place of great charm. Visiting it, we can experience a sense of earlier times and the evolving life of the Cavendish family.
PICTURE SHOWS THE RIDING SCHOOL OF THE DUKE OF NEWCASTLE built by Huntingdon Smithson (the grandson of Robert) . He died a few years after the end of the English Civil War, and is buried in Bolsover Church.
The site is under the care of English Heritage.
YOU MAY ALSO BE INTERESTED IN THE INFORMATION ON HARDWICK HALL. ANOTHER SMYTHSON HOUSE OF SLIGHTLY EARLIER PERIOD.
click here for Hardwick Hall
---
© Kogan Communications Ltd.