www.ENGLAND-CENTRAL.co.uk
| CLICK HERE FOR FULL FRAMED HOME PAGE |
Sir John Soane's Museum, 12 and 13 Lincoln's Inn Fields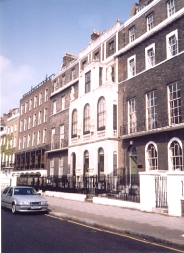 This museum is located in a quiet square in the centre of London. The external facade gives little indication of the museum. It is somewhat ornate compare to its neighboring houses but the surprise comes when you enter this building.
Sir John set up the museum to display the collection of unusual paintings, particularly Hogarth and classical artifact collected during his life and the museum displays them in a way you have never seen before.
The basement rooms are arranged reminiscent of a Roman catacomb he first visited during his travels and the whole house is festooned with his treasures. He was one of the most influential architects of his time and is regaining influence today.
Go and visit the museum if you get the opportunity. An unforgettable experience.
The museum is maintained by the Trustees of Sir John Soane's Museum
BOOKS FROM OUR BOOKSHOP on Sir John Soane and his times

SIR JOHN SOANE, ARCHITECT by STROUD DOROTHY Paperback £18.99

SIR JOHN SOANE : ROYAL ACADEMY by WATKIN DAVID Hardback £50.00

SIR JOHN SOANE : ROYAL ACADEMY by WATKIN DAVID Paperback £16.95

For Sir John Soane books, click here.

The following are covered in our book lists:

British History and various books on London.
If you do not see what you want email us.
Also email if you want a selection list.
England-Central, the site with a personal touch.
---
Advertising: please e-mail using the information to the left.
© Kogan Communications Ltd.