Classical Music
Exceptional CD recordings
by Roland Herrera, Jan 2001
I am going to list the most highly recommended recordings that I have ever come across. Out of 4000-5000 classical recordings (many LPs are now on CD ) I have only included the very best. Often a great musician will specialize in a particular composer or style, and here I list typical instances, only naming recordings which have become widely respected and regarded by musicians throughout the world. In other words, these are the best recordings available, and though other fine editions may exist, readers are well advised to seek out and order these gems before they disappear. So many recordings are made, nowadays, but "any" recording of a piece just will not do. There is a huge difference between one performance and another, and we are not just talking about DDD versus AAD ! Here is my recommendation for your listening enjoyment and experience. The list is especially important for young listeners and music students. Leave your mouse on the CD covers for extra information.

A note about the sound WAV files that you can listen to : 20-30 second samples have been taken of some of the CDs mentioned. They have been highly compressed into MPEG Layer-3 16 kBit/s 16,000 Hz mono WAV files which can be played on Media Player 7 ( available free from Microsoft's site for Window PCs ). On my PC Explorer 5 is set to bring up Sound Recorder and I just press play. The quality is very low, but does allow a quick idea of the music involved. I recommend pre-auditioning longer samples sometimes available on Amazon, and of course buying the CDs themselves.

Our first master we can all listen to is Glenn Gould, a true genius and Canadian Pianist who was contracted to record every keyboard work of Bach by CBS (which he did do, in such a truly magnificent fashion !) His phenomenal recordings left us with a unique testimony of sublime Bach playing. I will pick out The English Suites by J.S.Bach (BWV 806-811) as one of my many prized Glenn Gould CDs. On a double (CBS M2K 42268) these were later re-mastered for high definition sound and issued by SONY as SM2K 52 606. Gould's first and last recording ( and the only work he recorded twice ) were the Goldberg variations. This last recording is available soon on DVD video in the US and UK, and I cannot think of words to describe this playing from "another world". Listen to this excerpt from the Allemande of the third English Suite. Other good Bach pianists are Tatiana Nikolayeva, Mieczyslaw Horszowski, Wilhelm Kempff and Grigori Sokolov.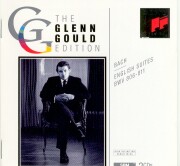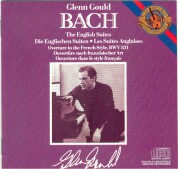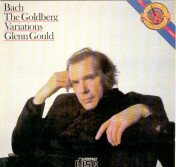 More Bach with the Brandenburg Concerti. Karl Richter was the organist of the Leipzig Thomaskirche, the same church where Bach himself was Cantor for over a quarter of a century. Kapellmeister Karl Richter conducting his Munchener Bach-Orchester recorded the 6 Brandenburg Concerti in the 1960s. They are published on 2 Galleria Archiv produktion Stereo 427 143-2 A GA2. This is the best Modern Bach orchestral playing I have come across, and you can also get all of the Cantatas by Richter and the Munich Bach Orchestra (which he founded) on the Archiv Produktion label. The Easter Cantatas are on 5 Cds 439374-2 A x5 and were recorded in the late 60s and into the 70s, and the singers and Munchener Bach-Chor are all superb. Listen to the start of the Fourth Brandenburg Concerto, and a chorus from the St Matthew Passion (Archiv 439 338-2 Ax3). I will not discuss the so called authentic baroque styles and original instrument trends, because I don't want to contaminate my list ! Other pieces by recorded by Richter include the Mass in B minor, Handel's Concerto Grossi, and several fine Organ works performed by Richter himself.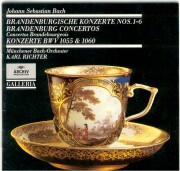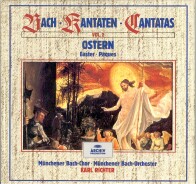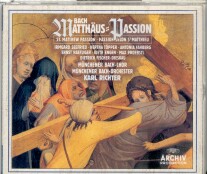 The great organist, Helmut Walcha, incurably blind since childhood, recorded all Bach's organ music using authentically restored organs for Archiv Produktion. In 1956 he made the first stereo recording of the Art of Fugue for Deutsche Grammophon. This is an excerpt from Trio Sonata Bwv 527. His polyphonic playing reaches so deeply into Bach's music that listening to it leaves one almost feeling closer to God ! The 12 Cds were recorded from 1957-1971 on Archiv 419 904-2 Ax12.
The Russian, Nathan Milstein recorded the 6 solo Sonatas and Partitas for violin twice. The first is a Mono recording from 1956 on EMI classics ZDMB 64793 2 3, and the second, which has been issued twice (and is considered superior according to Milstein himself) , was recorded in his 60s for Deutsche Grammophone 2 Cds 457 701-2 G OR2. Listen to the start of the Tempo di Borea in B minor. I have other sets, by Kagan, 2 by Szyerng, Szigeti, Enescu, Grumiaux, Ayo, Kremer, and many others, but Milstein's is my favourite.
Mstislav Rostropovich, one of the greatest cellists of all times, made a digital recording of the Bach Cello suites for EMI on 2CDs 7243 5 55365 2 5, (and may still be available on VHS video.) Listen to some of the Gavotte from the 6th suite. Mischa Maisky, a former student of Rostropovich has also recorded these suites twice for Deutsche Grammophone (415 416-2 Gx3). Maisky's first set is probably the more accessible. The best idea if you want the Rostropovich is to get Maisky playing the accompanied Cello sonatas with Martha Argerich on 415 471-2 GH. We are fortunate to have such good recordings of Bach's music.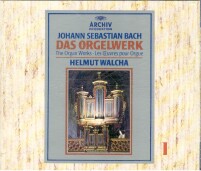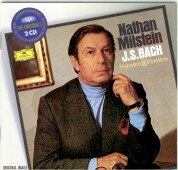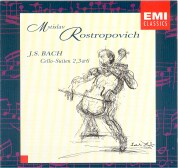 Next, I will mention perhaps what I consider to be the greatest Beethoven Sonata recordings. First up are the David Oistrakh and Lev Oborin 1962 recordings of all 10 violin and piano sonatas on 4 Philips CDs 412 570-2. Among my many other sets I'd like to mention the Grumiaux / Haskil mono recordings on old LPs and the Kreisler / Rupp transfers on CD by Pearl. Listen to the delightful scherzo from the spring sonata.
Mstislav Rostropovich and Sviatoslav Richter gave their slightly earlier 1961 account of the 5 cello and piano sonatas by Beethoven on 2 Cds issued by Philips 412 256-2. This recording surely set the standard by which all others are judged ! Listen to the start of the 5th sonata.
A magnificent recording of all the Beethoven Piano sonatas equal to those above comes from Wilhelm Kempff's set of 1965 issued on 9 Deutsche Grammophone CDs 429 306-2 Gx9. Here is a demonstration of superb texturing in an excerpt from Piano Sonata number 18.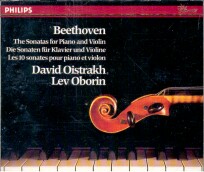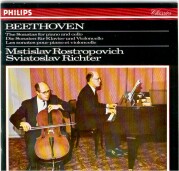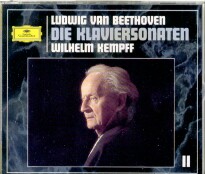 String quartets come next. There are many so many good quartets : The Quartetto Italiano on Philips and The Amadeus quartet on Deutsche Grammophon. I remember one of the members of the Amadeus Quartet telling me how some of their initial inspiration came from the example of the Busch Quartet. I will start by mentioning The Busch Quartet playing the presto from a late Beethoven Op.130 on SONY ( CBS ) MPK 47687, The Smetana Quartet playing the start of Mozart's D minor "Haydn" quartet on Denon 38C37-7003 published in 1982 (this might be hard to find but look for similar recordings like Smetana playing the Dissonance : Testament SBT 1118), and the Budapest Quartet ( the old Budapest, with Russian cast ! ) playing Alla Marcia (mono 40s recordings) from Beethoven's late Op.132. Younger listeners will prefer Beethoven's Op.18 or Raumovsky Quartets, as the Late quartets are quite perplexing at first.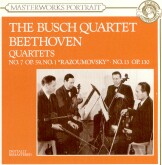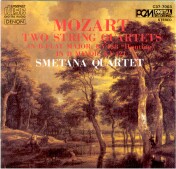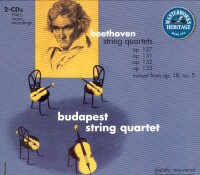 I will discuss Mozart symphonies next. It's hard to find the right recordings of these, but I have listed the best ones here. Josef Krips and the Royal Concertgebouw Orchestra, Amsterdam have recorded Symphonies 21 - 41 on a set of 6 Philips CDs. 426 973-2. 426 974-2. 426 063-2. 422 974-2. 422 476-2. 422 978-2. It seems to be missing symphony number 37 but you get a CD of a live rehearsal of Symphony n33 as a bonus. Listen to Krips conduct number 21 and the minuet from number 41. What a light touch to these recordings! Another great Mozart conductor was Karl Bohm, here conducting Symphonies 31-41 with the Berlin Philharmoniker on 2 Deutsche Grammophon LP re-issues on CDs 447 416-2 G OR2. Listen to the poised tempo in this opening of Symphony n40 ; what a lesson to all those who rush their Mozart ! There are other recordings to add, however. For example, listen to this supremely Mozartean rendering of his 33rd symphony by the Leningrad Philharmonic Orchestra, conducted by Eugeny Mravinsky on Erato 2292-45758.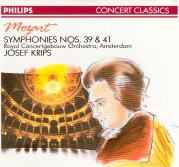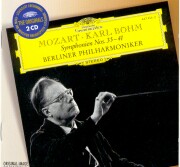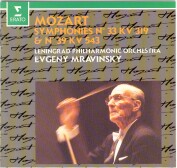 Violinist Arthur Grumiaux made many recordings (the following are all for Philips), filling important gaps (think of the standard violin repertoire) which I will talk about. As a Franco-Belgian violinist he is the authority on Vieuxtemps's Violin concerti numbers 4 and 5 on Philips 416 889-2. Here is some of the Scherzo from the 4th. I heard Grumiaux and Castagnone live playing the 12 Corelli Op.5 sonatas (2CDs 462 306-2). Listen to this exquisite staccato bowing from the Allegro in E. Also, the 6 Handel Op.1 sonatas (420 267-2) are perhaps the only ones I would recommend (with little or no competing recordings available).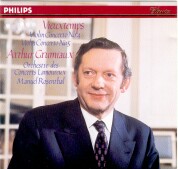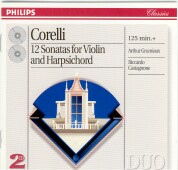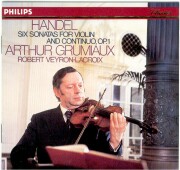 Now for some Symphonies. Children love Haydn, and though Dorati's complete recordings with the Philharmonia Hungarica (on 40 ?CDs) is now available separately (such as the double Decca of the London symphonies vol.1 452 256-2 DF2) - I will present Eugen Jochum's 70s recordings of the London symphonies with the London Philharmonic Orchestra for Deutsche Grammophon on 4 CDs (437 201-2 Gx4). Here is a delightful excerpt from n.93. Mravinsky conducting the Leningrad Symphony Orchestra playing Tchaikovsky's symphonies 4, 5 and 6 for Deutsche Grammophon (2Cds 419 745-2 GH2) is exceptional. Listen to the cellos soar in this Patetique excerpt. I bought all Mahler and Dvorak's symphonies in the Czech republic, as they have all been recorded by Supraphon, with Vaclav Neumann conducting the Czech Philharmonic Orchestra. Here is an excerpt from Mahler's 1st "Titan" symphony on Supraphon 11 1970-2 011. A great secret among musicians is "play Romantic music with a classical tempo !" - well listen to this beautifully restrained tempo ! Another set of great symphonies is Bruno Walter's Columbia Symphony Orchestra recording of the Brahms symphonies . These have also been re-mastered from the CBS CDs to SONY's new super bit mapping procedure. The 4th is on Sony SMK 64 472. Pavavo Berglund's recordings of the Sibelius Symphonies with the Helsinki Philharmonic are also worth mentioning on 2 double EMI classics.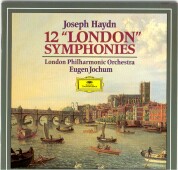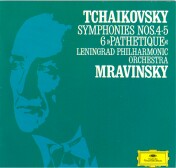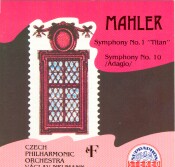 Now for some oldies ! Fritz Kreisler's 20s recordings were David Oistrakh's favourite. Biddulph have transferred all the electrical Victor and acoustic HMV recordings onto double CD sets (though you can buy Kreisler's pieces on EMI CDH 7 64701 2) In all my life I have never heard such angelic (devilish?) playing of this Chopin Mazurka on Biddulph LAB 019-20. Listening to the beautiful (similar to kreisler) sustain of the Desplanes's Intrada played by cellist Maurice Maréchal on Fono Enterprise S QT 99-256 makes one realize that our present day standards don't come close in terms of musical expression to those of past eras. Pianist Arthur Rubinstein, as a great Chopin player comes to mind. Here he plays an excerpt from the C sharp minor Waltz on EMI classics CHS 7 64491 2 recorded in the 30s. There is also a lovely 3 Cd set of Mazurkas, Scherzi and Polonaises on EMI classics 7 64697 2. I think it was Rubinstein's comment I remembered when he said "play Chopin like Mozart, and Mozart like Chopin !"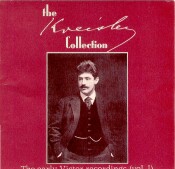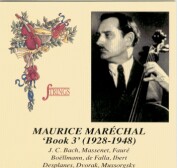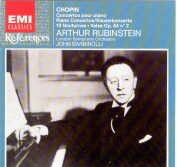 Great Concertos next. David Oistrakh's complete Mozart Violin Concerti on 2 EMI CDs with the Berliner Philharmoniker are highly recommended. This minor key excerpt for the 3rd Concerto is sure to appeal to children (CDM 7 69176 2). The disc with the 4th and 5th concerti is the more important one, perhaps (EMI CDM 7 69064 2). Elgar's romantic Cello concerto has always been associated with Jacqueline Du Pré, conducted by Barenboim with the Philadelphia Orchestra here on CBS MK 76529. Mozart is also served well by Murray Perahia, who has recorded all of the Piano Concerti for CBS with the English Chamber Orchestra. This CD of numbers 17 and 18 is CD 36686. Listen to this Allegretto.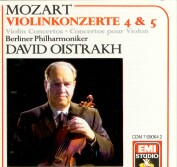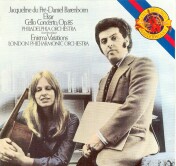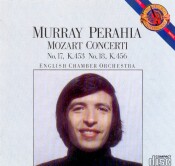 Some modern Cellists now (other than Rostropovich !) Mischa Maisky has recorded a beautiful Schubert Lieder CD with Daria Hovora for Deutsche Grammophon (449 817-2 GH) listen to this lied ! Another encore CD by these 2 artists on the same label is called "Cellisimo" 439 863-2 GH. The St. Petersburg Cello-Ensemble directed by Anatolj Nikitin are an extraordinary group. Their 2 King Record Japanese CDs are worth seeking out. The showcase CD is King Records KICC 117. Listen to the start of Handel's Passacaglia. Leonid Gorokhov can be found on USSR label Melodiya SUCD 11-00304 or here is a sample of a Davydov encore piece from Olympia OCD 641 entitled "Russian Discoveries".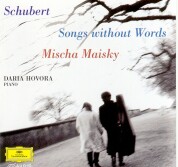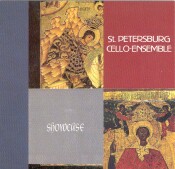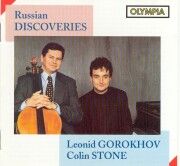 This second half of recommended recordings will be presented in a different way. Move the mouse over the picture to see in order ; who plays what and on what label.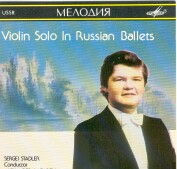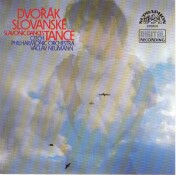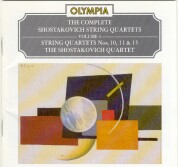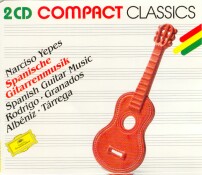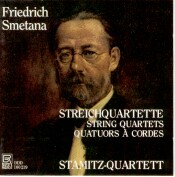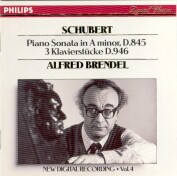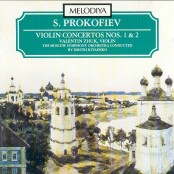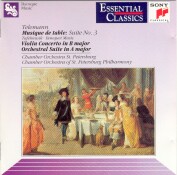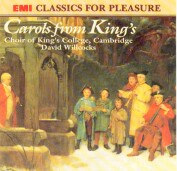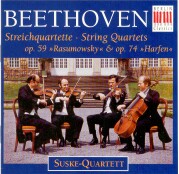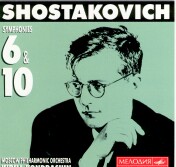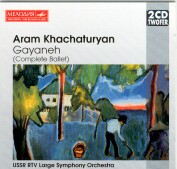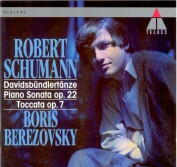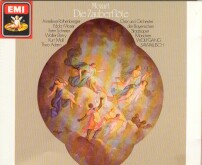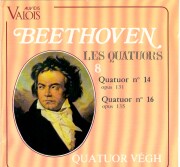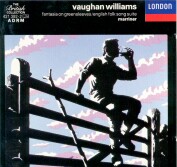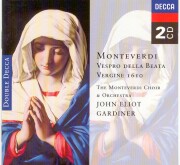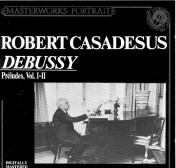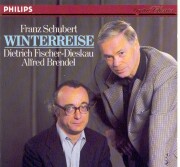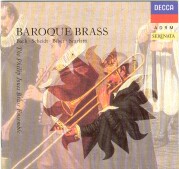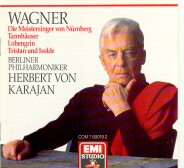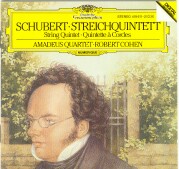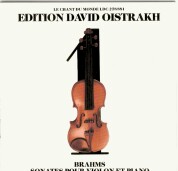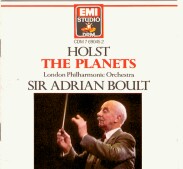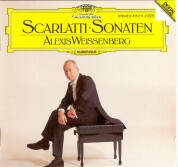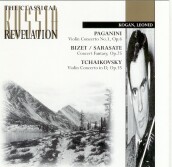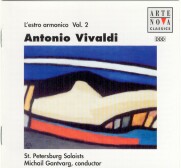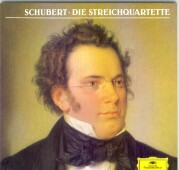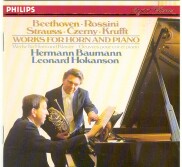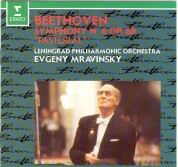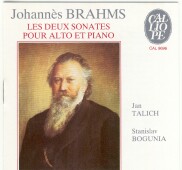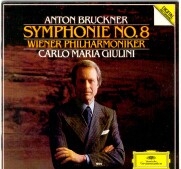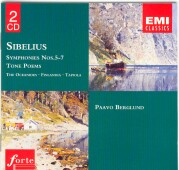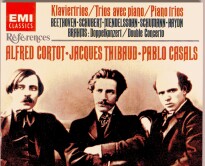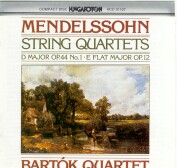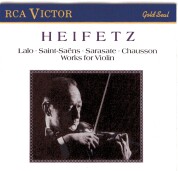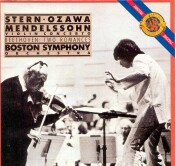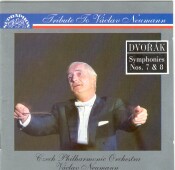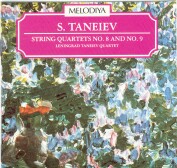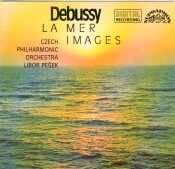 Well, how could we leave out Quartets Such as The Talich, The La Salle and The Beethoven quartet playing Beethoven ? answer ; we can't ! And there's Honegger conducted by Jean Matinon, entire CDs of great string players like Piatigorsky and Primose and singers like Vishnevskaya and Casals. We would like to mention more of Mozart's Operas, Verdi and Fauré's requiems or Haydn's Quartets and Trios... but if you find any of the above recordings, you may be inspired to investigate further into the world of classical music. There will be other pages on specific areas, like Violinists, Cellists or Pianists, and Quartets, and even a page on the 20 or so recordings we have of Mendelssohn's violin concerto alone. Eventually pages about Jazz and Light music may appear ! Happy listening... and remember go for the best recordings of the best music !