Emanuel ("Munio") Feuermann was born in Kolomea, Galicia (then controlled by the Austrian Empire, now part of the Soviet Union) on 22 November 1902 and died tragically less then forty years later in New York City on 25 May 1942. Despite his short life, he left a lasting impression on the musical world, convincing a significant portion that he was perhaps the greatest cellist of the twentieth century.

Feuermannís family lived in the little town of Kolomea. His father was a modest self-taught musician, who played the violin and the cello. His mother was from a family of hereditary folk musicians, and was also musically gifted. His elder brother Sigmund, a talented violinist who had performed in public at the age of five, but later shared the lamentable fate of many child prodigies, was also an example. Dazzled by the early career of Jan Kubelik and Mischa Elman, the father moved the family to Vienna in 1907, and two years later Sigmund entered the Otakar Sevcik class at the Music Academy. Emanuel initially played the violin, but like his father, he held it vertically - similar to the cello ; his father then adjusted a spike to the violin, and after discovering the young musicianís talent, bought a cello for him. In Vienna Emanuel studied with Friederich Buxbaum (Arnold Rose Quartet) and later with Anton Walter. But even prior to that, Emanuel attended Sevcikís lessons with his brother. When Munio was nine years old he gave his first concert in Vienna and when he was thirteen, it was suggested that he should go to Julius Klengel, cellist in the Leipzig Gewandhaus Quartet, and study with him.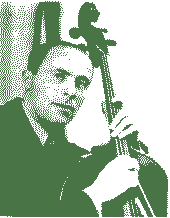 Munio went to Cologne when he was sixteen. Before he was 17, he was appointed Professor at the Cologne Conservatory. Except for one student of his own age, all the rest were older than their instructor. While teaching others he himself continued to study. From 1929 until 1933 he was Professor at the Musikhochschule in Berlin and was at the time the youngest Professor of Music. His first world tour came in 1933. He went to Java, China, Japan, and America. Just after he married Eva Lehnsen in 1935 he went on a second world tour to South America.
After this tour the Feuermanns lived in Zurich for one year and a half. Their daughter was born in 1938 and they emigrated to America later that same year. Munio foresaw the imminent danger of a coming war and as his impression of America was so positive he wished to move there.
He was happy in America from the first moment he arrived there. He got along beautifully with everybody and was extremely impressed with the musical life. Feuermann had an innate talent and so he didnít practise very much. He frequently practised intellectually without the cello, usually while he traveled. During the warm up before a concert he could carry on a long conversation while practising physically. He loved a normal life which he could never really lead ; getting up early, going to bed early, everything that he couldnít do.
He loved teaching because there was a certain scheduling into a normal life. Feuermann gave much of his time and energy to his young and talented pupils and actually took time away from his own career to help the careers of younger cellists. He was extremely dedicated as a teacher and would spend an entire lesson on eight measures of a piece. From what he said in those eight measures a pupil would learn practically everything about cello technique. He was tough as a teacher and wasnít above hitting them on the head with his bow. He treated his pupils kindly except in lessons. Nothing was ever really good enough for Feuermann. To pay a compliment to one of his students was practically impossible for him. However, he couldnít wait until the end of the day when he invited all the students to play Ping-Pong with him. He was not the best Ping-Pong player, but he was very aggressive and always had to win. His students were all scared to death that if they ever won he would take it out on them in lessons !
Feuermann disliked recording immensely and did so only because the record companies continually asked him to. He didnít like to be complimented, and could be terribly unpleasant in the artistís room if he felt a concert wasnít just perfect. About his own playing he only took advice from the cellist Diran Alexanian. Feuermann was a happy combination of much good schooling. He was early influenced by his elder brother and his teacher Sevcik (the evident source of the cellistís "violin" technique), he was the pupil of Julius Klengel, the very famous Cello teacher, and also had the schooling of Diran Alexanian, and hence the artistic pressure of Casals, Alexanianís teacher. The result was a very highly developed way of playing the cello ; very efficient and amazingly accurate and facile. At the same time his playing had a tremendous elegance. Rudolf Serkin once said "Feuermann had a great deal of Viennese charm in his playing".
Feuermannís playing was especially distinctive in its subtlety of phrasing. When you hear him play everything just falls into place. You never have the feeling that anything is studied or put on. It is always played with nobility and distinction. Even the sound he chose to produce was not thick, lush, or overly sensuous. It was always dignified, aristocratic, slim, but beautifully focused. The skill of his left hand was absolutely incredible. One of his parlor tricks was to pick up a violin, hold it like a cello and play the last movement of the Mendelssohn Violin Concerto from the first to the last note. He did this so impeccably that his performance couldnít have been matched by most violinists.
Feuermann would frequently bemoan the fact that the cello was such a difficult instrument. "Itís a terrible instrument. Nobody should play it. Give it up. Itís difficult, impossible. Why does anybody want to spend their life laboring over this monster, this beast?" Nevertheless, it never sounded difficult, beastly, or monstrous when he played !
Gerald Moore, one of his piano accompanists, said of him "He had perfect intonation, utmost clarity of articulation, beauty of tone quality and mastery of rhythm. All these attributes were the back-bone of his art. From these foundations his imagination ranged freely. His playing - like the man himself - was in perfect taste , though possessed of a fiery temperament, it was held in control and he gave the impression of a most relaxed individual. As a man Feuermann was very well balanced, a delightful companion with thought and kindness for others".