Simonetta Barone
Informal Résumé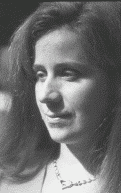 Born in Vercelli, Northern Italy, on 26th October 1966. Achieved High School Diploma (Maturitŕ Classica) with honours. Then continued studying Ancient Literature at the Universities of Florence and Milan. Trained with top Russian and German Concert Soloists. Acquired significant pedagogical skills in Cello and Music teaching through courses and long experience. Specialized in young children (age 5+), but able to deal with pupils of all ages.

Education : Conservatorio "G.Donizetti" of Bergamo : Teacher R.Caruana (a pupil of J.Klengel & H.Becker in Berlin). Toured Northern Italy with the Donizetti Orchestra winning 1st Prize in the International Competition of Stresa. Offered at the age of 16 a Tour in Duo (Cello & Piano) in Emilia Romagna. Conservatorio "L.Cherubini" of Florence : Graduated ( Performer's Diploma ) with merit in 1988 as a pupil of Maestro Franco Rossi (cellist of the Quartetto Italiano). Musikhochschule of Hamburg, Germany : From 1989 to 1991 studied with W.Melhorn, participating widely in the musical life of the school. Private Tuition : From 1991 to 1994 studied with the Russian Soloist, M.Warshawsky, and with E.Wilson (a pupil of Rostropovich).

Summer Courses : Participated in the following master classes held throughout Europe by : Csaba Onczay, Antonio Janigro, Johannes Goritzki, The Wiener Schubert Trio, in Vienna, ( winning a special mention for performance of Brahms' Cello Sonata Op.38 ), Alexander Kniazev and Alexej Fedorchenko in Colmar, France, and Alexander Rudin and Valentin Feygin in Tours, France.

Teaching Activity in Italy : Centro Didattico Produzione Musica - Bergamo, Italy ... Cello Teacher 1992 - 96. Several seminars on Cello & Bow technique. Scuola Musicale "Roberto Goitre" - Colico, Italy - Cello teacher 1993 - 94. Alice's Park : Bergamo, Italy. Music Centre founded by Roland Vaughan Herrera and myself in 1993. 40 pupils aged 3 - 10. These pupils shared exceptional enthusiasm for their lessons and activities, which included Concerts, Performances, Orchestras and Chamber Ensembles. A selective process has lead to very high standards in this centre. "Gaetano Donizetti" Conservatory, Bergamo : In 1993 held Seminars on String technique for both teachers and students. Later, was appointed in charge of the New Junior String Section. "Sacred Heart" Institute, Bergamo : In 1995 was asked to start a new string section, thanks to a solid reputation as a committed and successful teacher.

Summer Master classes : Trabuchello, Northern Italy - September 1995 and 1996. Many young musicians attended these courses (Strings, Dancing, Orchestra and English.) They were often over subscribed for the following year. Regularly organized concerts for students in important theatres, and entered them into national events (such as the Brahms Prize in Mantua, and television transmissions).

Performances : In a String Trio performed numerous concerts especially in Tuscany. Playing in a Duo and a Piano Trio won third and first prize respectively at the International Competition in Portogruaro, Italy. Important concerts given in Rome; "Istituto dell'Assunzione", Milan; Meneghina Family, Palazzo Reale and S.Gottardo Chapel, and Florence; Salone degli Specchi and Palazzo della Stampa. For many years played in the Radio Symphony Orchestras (RAI) of Turin and Milan, The "Pomeriggi Musicali" Orchestra, The Orchestra Stabile di Bergamo, The Orchestra Regionale Umbra, a Symphony Orchestra based in Hamburg, and The Orchestra della Svizzera Italiana (Italian-Swiss), touring with the flautist S.Gazzelloni as 1st Cellist. Also played in an Italo-Polish Orchestra for the Pope in The Vatican. Played regularly for 5 years in a Duo with the Violinist Roland Vaughan Herrera and in a Trio with the Russian Pianist Svetlana Tchernova.

Recent developments in the UK : In December, 1996 became Full Member of the Incorporated Society of Musicians (ISM) and of the European String Teachers Association (ESTA). In January 97 successfully took part in a workshop for the Gloucester Academy of Music & Performing Arts (GAMPA), and subsequently has become a member of the teaching faculty there. At the beginning of March held a seminar for the Welsh College of Music & Drama (WCMD). In July 1997 was the Cello tutor for the JESTA (Junior European String Teachers Association) International String Course held in Brussels. In August 1997 was Cello tutor for the Intermediate Orchestral course held at Beauchamp House, near Gloucester. More recently in the Autumn term of 1997 started a new "Young Strings Project" in North Somerset and in January 1998 moved to Bristol. Has numerous cello pupils at the Welsh College of Music and Drama and now also teaches at Wells Cathedral School.