BRITISH MINING DATABASE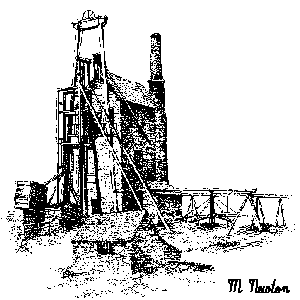 The British Mining Database is in the process of being set up and will eventually consist of a number of websites covering mines throughout the UK and Ireland. Currently it is being trialled with only 3 of the areas, viz North Wales, Mid Wales and Western England. Other areas have a few sites in for completeness.
---
MINE SITES
Click on the area number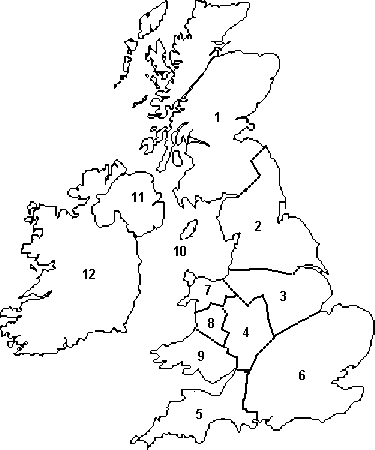 The areas include the following old counties :-
1) Scotland
Argyleshire
Ayrshire
Clackmannan
Dumfriesshire
Dunbartonshire
Edinburgh
Fife
Haddington
Kinross
Lanark
Linlithgow
Peebles
Renfrewshire
Stirling
Sutherland
2) Northern England
Cumberland
Durham
Northumberland
Westmorland
Yorkshire
3) Central England
Cheshire
Derbyshire
Lancashire
Leicestershire
Lincolnshire
Nottinghamshire
4) Western England
Gloucestershire
Herefordshire
Shropshire
Staffordshire
Warwickshire
Worcestershire
5) South Western England
Cornwall
Devonshire
Dorset
Somerset
Wiltshire
6) South Eastern England
Bedfordshire
Berkshire
Buckinghamshire
Cambridgeshire
Essex
Hampshire
Hertfordshire
Isle of Wight
Kent
Norfolk
Northamptonshire
Oxfordshire
Suffolk
Surrey
Sussex.
7) North Wales
Anglesey
Carnarvonshire
Denbighshire
Flintshire
Merionethshire
8) Mid Wales
Cardiganshire
Monmouthshire
Montgomeryshire
Radnorshire
9) South Wales
Breconshire
Carmarthenshire
Glamorganshire
Pembrokeshire
10) Isle of Man
Isle of Man
11) Northern Ireland
Antrim
Armagh
Down
Fermanagh
Londonderry
Tyrone
12) Southern Ireland
Carlow
Cavan
Cork
Clare
Donegal
Dublin
Galway
Kerry
Kildare
Kilkenny
Laois
Leitrim
Limerick
Longford
Mayo
Meath
Monaghan
Offaly
Roscommon
Sligo
Tipperary
Waterford
Westmeath
Wexford
Wicklow
---
E-Mail COLIN


---
Last revised: 21 April 1998