"Inexpugnabilis" Livy called it: "incapable of being taken by storm". And this is still the overwhelming impression of Enna - a city of nearly 30,000 living nearly 1000 metres up in the sky. From below it has something of Conan Doyle's Lost World about it - a tepui transported from the borders of Brazil and Venezuela. Getting up is exciting - whether via the hairpins or by the scary ramp from the autostrada.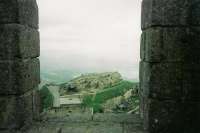 It's very much a place to linger and absorb the atmosphere - there are no outstanding buildings, but it's worth visiting the castle (built by Frederick II), which dominates Enna from an even higher rock to the east of the town; and beyond that is another rock where Gelon's temple of Demeter once stood. From there you can look down on the Lago di Pergusa - where once Persephone was gathering flowers with her friends when Pluto suddenly appeared in his chariot and carried her off to the underworld. You'd expect the lake to be a beauty spot, preserving the natural solitude of the spot where the goddess of the countryside lost her daughter. Instead the Sicilians have built a motor racing track round the lake.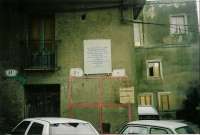 Following the Via Roma down from the castle, you pass the Duomo, and near to it, a house with a plaque commemorating Cicero - "friend to Enna and to Sicily", who once stayed close by. The archaeological museum is worth a visit, but it's not very exciting when compared to Siracusa, or Gela or Agrigento.
Directly opposite Enna is its mini-me, Calascibetta. It's a quiet friendly place, but looks better from Enna than it does in close-up.
If you don't want to go to Agrigento next - use the links below to move in any direction. You are after all in the very centre of Sicily.