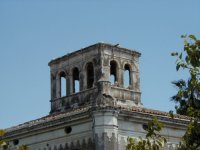 Fiumefreddo means "cold water" - it's where one of the streams from Etna reaches the sea (they are indeed freezing cold all year - see Alcántara). It's only worth turning off the autstrada for if (like me) you are a "Godfather" devotee. Close by the road on the left as you drive towards the town is the 18th century villa known as the Castello degli Schiavi. Anna knew the owners, but unfortunately they were not at home when we called. It's used as the location in The Godfather where Michael Corleone, after his marriage (see Savoca), lives briefly in wedded bliss with Apollonia, before she dies in the exploding Alfa Romeo.
The house is remarkable also for its roof top - the parapet has two sculpted slaves leaning wistfully over the balustrade.
You could go on to Fiumefreddo itself - a good place for a swim.
Printer friendly page: click to print