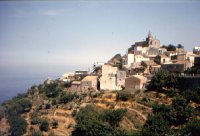 In recent years this town has seen a great deal of building - apartment blocks, hotels, luxury homes - hardly surprising when you take into account the views and the proximity to Taormina. But if you walk on uphill, you will discover that the ancient hill-top town is still as it has been since the middle ages - a warren of narrow streets and tiny houses leading up to the ruined castle. The town found brief fame in Godfather II - after the assassination of his brother (in the the opening scene in the film shot in the dry river-bed below the town), his only surviving male relative young Vito Corleone cowers in the dark near the church below, as his pursuers shout out his name. Michael Corleone visits his father's "birthplace" with his daughter in Godfather III. The fictional Corleone is a composite of Forza d' Agrò and nearby Savoca. The real Corleone is also on our itinerary - it bears no resemblance to this peaceful town in the sky with its panoramic views over the Mediterranean sea.
I spent a pleasant afternoon there in 1993, just wandering and exploring, and reading quietly in the deserted churchyard.
My overall impression was of a small town - still very much alive (compare Savoca): note signs of life in all the pictures above - the cat, the abandoned child's bike, the motorino.
Printer friendly page: click to print