The main road south from Catania to Siracusa is nasty, dangerous and long. In my driving experience only the road from Nairobi north to Nakuru is worse. As you approach the Golfo di Augusta it gets even less pleasant - you now have a view to the left of one of the most polluted bays in the Mediterranean, set off by the turrets, chimneys and pipes of Europe's largest concentration of chemical plants, employing one in ten Sicilians.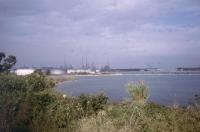 But Sicily is as ever a land of surprises. If you can fight your way through the industry, and cope with the choking fumes from the factories, you can reach an extraordinarily green and peaceful oasis amid the desolation. This is Megara Hyblaea - a town founded by the Greeks (in 728 BC according to tradition). The site was given to them by the Sican (native Sicilian) king Hyblon, whose name it perpetuates. But it was too close to the expanding power of Syracuse to survive for long, and was flattened by them in 483 BC. It revived, though, a century later, only to be destoyed finally by the Romans in 213 BC (when they took Syracuse and killed Archimedes). It's a huge, peaceful site - an entire town of the 4th century BC: but even with help from the delight ful little museum, it's very confusing. But you are totally free to wander and imagine. Treasures from the site are all in the Museo Orsi in Syracuse - including the kourotrophia.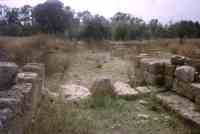 Megara in her heyday was able to send out a colony of her own (probably 628 BC) - to Selinus (Selinunte) on the south west coast, a hugely successful city until it was sacked by Hannibal in 409 BC - 16,000 of its inhabitants were massacred.
Beyond Megara is Augusta, which for years I never managed to reach: on the map it's a sort of mini-Syracuse and allegedly has good restaurants. In 2007 I found it impossible to park, drove round the narrow impossibly congested streets and left immediately. I had no reason to suppose that I'd missed anywhere special.
While in this general area, I would however recommend a visit to the peninsula (it really is an "almost-island" being joined most tenuously to the mainland) of Thapsus (now Magnisi - from the Greek for "big island"). Don't be put of when the road becomes a muddy rutted yard seemingly attached to a factory making rusty sheds: it improves again, and eventually you'll end up (just before a gate across the road) at a spot where you can enjoy a fine view across to the petrochemical landscape south of Augusta. Unbelievably you are facing a beach, which is a popular destination for a weekend or evening swim. Even more incredible is the little bay right below you - despite the wasteland around you, it's as beautiful as anywhere in the Mediterranean.
Thapsus seems to have been almost if not entirely uninhabited until the Athenians used it as a naval station in their attack on Syracuse early in 414 BC, though a number of tombs dating to around 1000 BC have excavated, many containing objects indicating a flourishing trade with Mycenaean Greece at this time.