It would be impertinent to attempt a full portrait of Palermo - I've been only three times (1993, 2000, 2001); my feelings are that you need to live there for several weeks even to begin to speak with any authority. It's as complex a place as London or Liverpool or Berlin or Athens or Chicago (and it has elements in common with each of these great cities). So my observations will be limited to personal experiences; I hope eventually to stay long enough for a proper overview.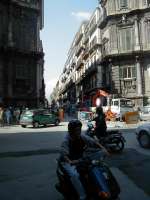 In November 1993, I left the car at Trappeto station and caught the train to Palermo Centrale - a pleasant ride along the coast for 1hr 20 or so. It was raining, and I had taken Daphne's huge umbrella - with the vague notion, brought on by too much misinformation, that it might also be a useful weapon! How absurd, in retrospect. Nowhere in fact in Sicily did I feel as uneasy as I do routinely if I go into Bedford town centre in the evening. No doubt there is street crime in the big Sicilian cities but I was not aware of it: you just don't see the threatening groups of young men in branded sportswear that are the norm in British towns. And alcohol is not a significant part of local culture - young Sicilians go out for ice-creams rather than pints of lager. My only precautions were to carry my stuff in a plastic Standa bag, and keep my camera in my pocket.
Palermo (I wrote then) exudes an exotic excitement - really reckless traffic, totally suicidal scooters, amazingly lucky pedestrians. I strolled up the Via Roma, and side-tracked into the Vucciria market, which goes on all day and juxtaposes fish, meat, clothes, old junk, fruit and vegetables, radio bits, CDs and cassettes. Amongst the shops and stalls were dozens of tiny bars, all packed with lunching Palermitani.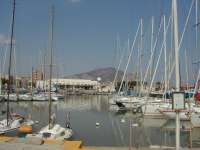 After my own lunch (expensive and disappointing - I should have gone to one of the bars in Vucciria) I eventually located the Museo Archeologico Regionale; discovering en passant the ruins of the Palazzo Lampedusa, abandoned by the author of The Leopard after it was bombed by the Americans in 1943: David Gilmour in his essential The Last Leopard (1988) says how "more than forty years later it was still there, in the heart of the old city, gutted and plundered; the 'repugnant ruins', which had so distressed its last owner, remained untouched... torn pages of Dickens and Diderot could still be found in the ruins of the palace." There was a hole in the outer wall through which I could have climbed, but, mindful of Gilmour, who was prevented from photographing the wall by the carabinieri, I chose not to!
I'd bought a guide to the museum in Trapani the previous day; this ensured that I didn't miss a thing. Highlights are: the metopes from Selinus (nearly annexed by the British Museum in the 1840s!) and the collection of Athenian painted pottery - there are fine displays in Sicily in Syracuse, Gela and Agrigento - but this is far and away the best. Among the "names" are the Berlin Painter, Oltos, Skythes (an extremely rude one), the Andocides Painter (marvellous bilingual cup, helpfully displayed upside down). There's a fine Panathenaic amphora from Himera, and a great deal of South Italian and Sicilian stuff (including Lipari polychrome).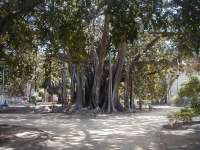 After two hours in the museum (almost a record for me), I tried to continue the itinerary I had mapped out - but only one place was open: the Oratory of S. Zita, next to the Palazzo Lampedusa. This is one of Serpotta's masterworks; a whole chapel just smothered in prancing putti - so smug, so rich, so confident. Illuminated from below by electric candles it is a most atmospheric place. I could have stayed much longer but for the evil stares of the custodian.
While waiting for my train back to Trappeto, I had a most excellent ice-cream in a brioche: a method of serving which originated in Palermo, but which you can now enjoy all over Italy. I had hoped to repeat the trip in by train next day, but there was a sciopero [strike] - I tried to take the car in but it was hopeless. Traffic was completely solid from two miles out. I illegally drove over the central reservation and headed for Montelepre.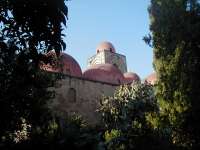 I came back to Palermo in 2000 with my wife; we were staying along the coast at Cefalù, and again trained it into the city. It was a hot September day (as opposed to a cold and wet November one in 1993) - we bought fruit and a glass ornament in the Vucciria, before, after drinks and a sit near S. Domenico, tackling La Martorana (spectacularly brilliant) and San Cataldo (austerely bare). We strolled in the direction of La Cala (original harbour), had a look at S. Maria della Catena next to it, and ambled to find some shade in the Giardino Garibaldi in the Piazza Marina, near the huge and fantastical banyan tree. After lunch we continued our stroll, hot and sticky, to the Capella Normanna and San Giovanni degli Eremiti. The former was as stunning as I expected, the latter was a welcome (if expensive) oasis of calm and cool shade.
In 2001 Leon and I began and ended our tour of Sicily in Palermo. As he could only endure one item of sight-seeing, I decided that it should be La Martorana; after that we could concentrate on strolling, shopping and chilling. For our final night we had booked a room at the Villa Igiea - one night of luxury to round off ten days of mostly indifferent accommodation. It is a truly magnificent hotel - once the private Palermo residence of the Florio family, who made their fortune with Marsala. Our elegant room overlooked the harbour, and the hotel terrace on which we were soon sipping Negronis. The pool was sampled (by Leon) and dinner was beyond one's most extravagant expectations. Only the arrival of a fax announcing an imminent sciopero by Alitalia spoiled the experience, meaning that we'd have to get to the airport next day much earlier than intended.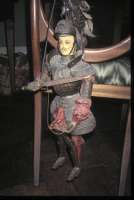 Something I've not managed to see in Palermo is a performance of the traditional puppet theatre - a kind of Punch and Judy where with glorious political incorrectness Crusaders and Saracens paste hell out of each other at every show. Daphne had a genuine Crusader in her salotto - cheap imitations can be bought everywhere. More puppets at Acireale.
Returning once more with my son James in May 2007, I found the atmosphere totally transformed. Everywhere were eager groups of tourists, and even the most obscure back streets had lost their air of menace. Everywhere is the smell, dust and scaffolding of busy restoration and reconstruction. Within the next 20 years, Palermo will be once more one of the great cities of Europe - unless it ends up as a theme park. We found it lively, exciting and cosmopolitan - a miniature London in the making?
Click for the newest pictures of Palermo on my Flickr page