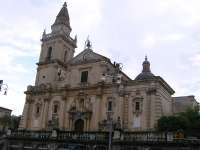 Like Noto, Ragusa was devastated by the great earthquake of 1693. As at Noto, they didn't want to rebuild it on the same site. But in Ragusa's case there was an obvious place for a new city very close by - on a larger and higher ridge just to the west. But the old city was also rebuilt - so the strange situation arose with two rival Ragusas glaring at each other across the deep chasm which separates them. Both thrived until they united in 1926 - after which Ragusa Ibla ( the town on the original site) soon declined to the sleepy backwater it is today.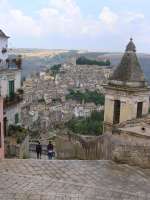 It's quite easy to get lost in the high town (known simply as Ragusa) because of the grid pattern of streets (dating back to the original design for the new city). But if you keep straight on after crossing the bridge over the gorge, you'll be on the Via Roma, and will easily find the Museum (finds from Camarina) and the Duomo (centre of the liveliest part of town). But the best thing about Ragusa will be leaving it. Keep going downhill and you will find yourself on a series of incredible hairpins with stunning views across to Ragusa Ibla. Pass the church of Santa Maria della Scala (well named) and you'll reach the bottom of the cleft, in a small square (Piazza della Repubblica) dominated by the Purgatorio church. You can of course cut out Ragusa (upper town) entirely and come straight here. The climb up to Ragusa Ibla is not as far as the descent from the upper town - but it's still pretty exhausting on foot. Once on top, Ragusa Ibla is a place for random strolling through the quiet streets - but you won't be able to miss the baroque splendour of the duomo, San Giorgio.
When you leave the town - by the same way you went up - you may fancy a stroll to the valley bottom, and then up the other side following the Cava della Misericordia. You leave from the Piazza della Repubblica, passing the public loo and through an arch. You will need to get over a stream at the bottom if you intend climbing up for the amazing views of both towns.