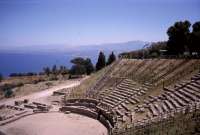 Tyndaris was the last Greek city to be founded in Sicily. The year was 396 BC, and Dionysius I of Syracuse was consolidating his power in the island. The Cathaginians had lost their grip on Camarina, Gela and Agrigentum, and had seen their base at Motya destroyed in 397. A Carthaginian counter offensive saw them attempting to win over the Sicels who had long detested Dionysius. Although culturally the Sicels by this date were thoroughly Hellenized, they did not identify themselves politically with the Greeks. Himilco had founded Tauromenium (Taormina) in 397 and presented it to the Sicels. The Sicels joined Himilco in an attack on Syracuse which was soundly defeated. A treaty was concluded with Carthage, and Dionysius turned on the Sicel territories of central and north-west Sicily - including Enna, Cephaloedium (Cefalù) and Morgantina. In was in this context that Dionysius needed a strong base on the north coast - and built Tyndaris.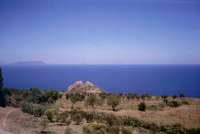 The remains of the ancient city are superbly situated on the cliffs, with great views across to the Aeolian Islands. You can see the remains of the impressive entrance, the theatre, and much more. You won't fail to notice the massive gloriously vulgar concrete neo-Byzantine basilica; this is the Sanctuary of the Black Madonna - built in the 1950s to house a wooden statue of the virgin which dates from the 7th century AD, and came from the middle east somehow. It has performed some very remarkable miracles over the years - hence the perpetual throng of pilgrims and daily cavalcade of buses.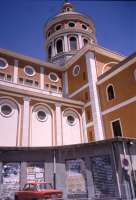 Just along from Tindari is Patti - the birthplace of the soprano Adelina Patti who named herself after the town. Under the motorway are the remains of a vast Roman villa - probably second only to the Villa Casale at Piazza Armerina in importance. There are some interesting mosaics, although it has to be said that the autostrada overhead detracts somewhat from the atmosphere!