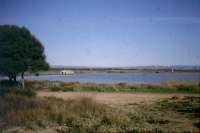 Vendícari is a picturesque nature reserve on the east coast of Sicily, reminding me of Minsmere in Suffolk or Titchwell in Norfolk. In 1993 when I first visited (two successive early mornings in November) I had the entire reserve to myself (apart from one of those the over-friendly dogs that every site in Sicily seems to harbour: I was similarly escorted throughout my visit to Segesta!). There are hides, and several shallow lagoons (pantani). Between the lagoons and the sea is a sandy expanse covered mainly with scented shrubs, while samphire and sea-holly underline the resemblance to Norfolk, as do the Marsh Harriers flying over, mobbed by crows. Eucalyptus substitutes for elms, however.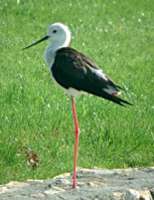 There is access to the long sandy beach, and an island offshore hosts a ternery. Birds identified in my two visits included: Hooded Crow, Magpie (a flock of 25 - how would the magpie rhyme - one for sorrow etc - handle that?), Jay, Goldfinch, Chaffinch, Linnet, Reed Bunting, Robin ( very common), Stonechat, Whinchat, Hedge Sparrow, Blackbird, Songthrush, Fan-tailed Warbler, Willow-Warbler/Chiffchaff, Sardinian Warbler, Reed Warbler, Sedge Warbler, Shelduck, Redshank, Dunlin, Ringed Plover, Greater Flamingo, Common Gull, Herring Gull, Grey Heron, Little Egret, Moorhen, Hoopoe, Marsh Harrier. The high spot was a clear view of a Red-spotted Bluethroat. My return in May 2005 added Black-winged Stilts (5), Mediteranean Gull, Ruff, Cetti's Warbler, Kentish Plover and Little Stint. This time - it was evening rather than early morning - the reserve was quite well frequented; there's now a paying car park, and the beach seems very popular. I met a charming Dutch couple who were on an "ornitholiday" in Sicily (Tobago was full). They had downloaded a list of birds for this reserve, and were ticking them off on their PDA!
Once Vendícari was a port: the tower which dominates the view was built to protect it against pirates in the 15th century. There are also remains of a tonnara (tuna fishery) - and in fact there are remains of ancient fish-processing nearby: basins cut from the rock in which fish would have been salted to make garum (the powerful-tasting fish sauce which the Romans used like ketchup).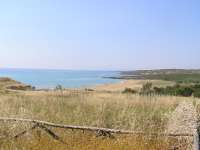 From the shore a trail runs north towards Eloro (in fact following the route of the ancient Roman Via Elorina which linked Syracuse with its coastal colonies at Eloro and Camarina). You eventually reach a tiny hidden bay at Calamosche, and can continue all the way to Eloro if you wade across the river Tellaro.
If you go south you'll eventually come across some remains of the Byzantine settlement here, dating from about 500 AD. Despite the car park, and the bathers who stick to the nearest bit of beach, the reserve is a desolate but beautiful place - hard to imagine as a busy fishing port menaced by pirates.
On your way back to the main road you cross over the deserted railway - it's buildings now as sad and dilapidated as many much older ruins. But that is the Sicilian way - buildings are left to collapse, and gradually revert to nature in their own time.