Huey

apollo440 are back after a year of recording their new album 'Getting High On Your Own Supply' and playing infront of millions for the World Cup celebrations and selling bucket loads of the 'Lost In Space Theme' which, incidentally means they outsell the Manic Street Preachers in ever territory other than the UK, even this could all change after the release of the band's third LP. Stop The Rock crashed into the UK charts at 10 (Above Binary Finary's 1999 and Underworld's King Of Snake!!!) and, like many @440 singles before them, the track recent releases have gained lots of radio airplay. The Liverpool lads who are famed for their remixing skills (Notably U2, Puff Daddy, Jean Michel Jarre, Manics & Skunk Anansie) have found it hard to get fair reviews in the UK because many journalists do not like the idea of people from 80's rock bands joining together to mix rock with drum&bass and funk and hip hop, but that is the future, and in years to come journalists will look back at tracks from 'Electro Glide In Blue', 'Pre Millennium Tension' and 'Getting High On Your Own Supply' and wish they hadn't slated one of this country's greatest dance acts, when they needed the support. Album review coming soon to Mackie's World

Les Rhythms Digitales new album 'Dark Dancer' is a rarity, in that its one of only four records of this year which we can't stop listening to (the others being Ozomatli, Basement Jaxx & Pete Tong Ibiza 99). This fantastic album seems to be suited for all occasions, with extremely diverse tracks, all carrying an 80's theme, which sounds so authentic that it must be heard to be believed. I'd recommend this album to anyone - kids like it, parents like it, 20-somethings love it and it even lasted half an hour of peak time airplay at a house party the other day when I had no other records on me - how was this overlooked for the Mercury Music Awards?

Offspring have had a couple of big pop punk hits in the UK this year - Pretty Fly and Why Don't You Get A Job from the new LP Americana. Their new single The Kids Aren't Alright features both the previous hits live on one format, plus Walla Walla live and a Wiseguys remix on another - its released this week. They used to be a bit too commercial for my liking, but after that Reading set, I have grown rather fond of their brand of rock.

Reef have a truly great new album, Rides. From it they've released the hit I've Got Something To Say, the poorly received Sweety and the brand new single New Bird is out this week. They may not be enjoying the success of their Glow era but Gary Stringer & co are much more popular now than at their Replenish stage. New Bird is one of the (surprisingly many) standout tracks from Rides. Although famed for tracks such as the epic anthem Place Your Hands and the classics Yer Old and Come Back Brighter, Reef must not be dismissed due to recent poor chart performance in the UK.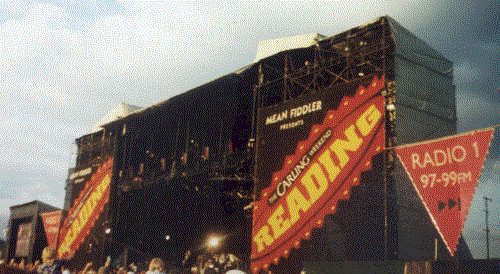 Roni Size, apollo440, Chemical Brothers, Space Raiders, Les Rhythms Digitales, Lo-Fidelity Allstars & Skinny rocked this year's Reading - without a doubt. Although these dance acts were directly pitched against more traditional rock-festival bands, all packed out the dance tent (with the exception of apollo440 and the chemicals who rocked the main stage). It was not a difficult decision between Fun Loving Criminals or Roni Size - Huey may be the self pronounced king of cool, but his band performed a dull set which, although incorporating many of their greatest hits, did not add any discernible differences from the most famous LP versions - merely slating the rival Creamfields festival in a vain attempt to gain extra credibility from a mostly disappointed crowd. Meanwhile in the dance tent, the shy Roni Size went back2back with his new Breakbeat Era band for an hour or so, and provided the best performance of the festival - although only DJing rather than creating the music live like some of his rivals, Roni & co go the crowd buzzing - it was like the best of best drum & bass club nights... at 7 o'clock in the evening! Utilising a crate full of fresh acetates from his Full Cycle label, the crowd refused to stop largin' it for a second (Something not usually found in a field of rock fans) and a new ruffer cut of Brown Paper Bag was enough to confirm Roni Size as the underrated star of Reading for two years running - do him justice and let his crew headline Main Stage Friday 2000, so his talents are truly appreciated - he so could have rocked the festival more than blur or the Charlatans - just ask anyone who saw him. Space Raiders were also confined to the immensely inadequate Dance Tent in the early afternoon - hopefully the organisers will start the dance tent after the main stage for the new millennium festival experience - therefore letting us chill out to all the dull indie bands in the afternoon, warm up with the rock bands in the evening, than dance away the early hours to acts which, we hope, will include another set from one of Skint's most amazing new bands - Space Raiders. Originating from Middlesborough, the three piece managed to get the crowd going and the tent packed at 3pm, when your average clubber is still sleeping off the previous night. Dropping all their most popular tunes, and adding some fresh new twists, with a bit of totally deserved luck, these guys should be massive - much like Skinny who were cruelly scheduled to play up against Divine Comedy, who, fortunately were exceedingly dull - although nobody can deny Neil Hannon writes a perfect pop tune, there was no benefit in seeing the least interesting musician in the world play live rather than listen to the new greatest hits LP. Skinny grabbed thousands from his audience, who were treated to a spectacular live show encompassing all the best tracks from The Weekend played on real instruments, live, and with perfect precision - you could tell this band had actually made an effort to play live, and were genuinely overwhelmed by how well they were received. Throughout the festival it was the dance acts who treated the fans how they deserved to be treated, unlike Sebadoh who couldn't be bothered to play properly, and then proceeded to blame us for not being a good audience. The other band who dazzled the audience with their stunning live performance were apollo440 "Are we a rock band or what" screams Mary Mary - oh yes you most certainly are with your rock guitars and two live drummers you started off the festival with a storming 45 minute set, featuring many of their greatest hits, but sadly not Krupa or any older tracks. The guys, who have largely been avoiding press interviews, spoke to us backstage - interview coming to Mackie's World soon - they're some of the nicest guys in rock, and they have the talent to make a crowd go wild with hits such as Ain't Talkin' 'Bout Dub, Lost In Space and the phenomenal new single Stop The Rock. Talking of cool people backstage, one of the most talented DJs around Reading on the Saturday was local boy Jacques Lu Cont AKA Les Rhythms Digitales - interview coming to Mackie's World soon - although forced to DJ in the early afternoon in the quietest dance tent ever created (they didn't want it to disturb the 'more important' acts on the main stage), he managed to fill up the tent with people dancing to such new retro classics as From Disco To: Disco and the great new Radio 2 playlisted single Sometimes featuring Nik Kershaw. There was a great atmosphere in that tent for his set, and it was great to see so may people into the vibe of the records being dropped and disregarding the second-rate performances from the likes of Pavement & Beth Orton who were performing at about the same time, again to largely unimpressed audiences on the most part. Lo-fidelity Allstars were a surprising choice for the Dance Tent, considering their indie popularity nowadays, but still, they did what they could with such a small venue and rocked the house with classic tracks from How To Operate With A Blown Mind (Using samples to replace the work of the lost members, and refusing to loose any quality in the process - remember everyone that the Lo-fi's are officially one of the UK's biggest selling acts 'State side, and with our music industry in such a poor state, these guys needed our support for their only two UK gigs of the year, and boy did they get it, especially for the brilliant new track Lo-fi's in Ibiza, which is gonna blow up next year, you mark my words. Chemical Brothers rocked the main stage more than almost any other band - their unique stage show featured many huge video walls and tonnes of equipment so that Tom and Ed can actually make the records live rather than just DJ with a crate of them. The set opened with Hey Boy Hey Girl, and proceeded to feature hits such as Block Rockin' Beats, The Private Phsychedelic Reel and a special dubbed version of Setting Sun - only Red Hot Chilli Peppers and Offspring got the crowd going more than the Bros.' Friday evening set, which totally eclipsed The Charlatans' greatest hits collection, which was great for real fans, but rather boring for the rest of us - Elastica were much more interesting, though they annoyed the crowd by starting so late even though their brand new single was well received and they redeemed themselves. It was the rock bands which everyone were here to see to be honest, and although they were not really the highlights of the weekend, it only seems fitting that they get a mention. Reef did a strong set comprising of all the best tracks from the new Rides LP and the odd B-side. The set went down well, especially the singles, and they were much better than rival Britrock/pop bands such as Gene, Space and Echo & The Bunnymen who were about as fun to watch as a Noel Edmunds Christmas Special in August (Yeah there was one if you 'missed' it and I am assuming it was not of the highest quality). Few other Brits shone at the Festival - Feeder proved they are the best band to come out of Wales, by completely winning over the crowd on Sunday afternoon with a superb set - Catatonia on the other hand left to almost no applause due to the worst advised set of the weekend (Dreary love songs at a rock festival where your entire audience is made up of Blur fans trying to get to the front as soon as you've finished). Blur couldn't really be bothered to play, even though they were getting four- hundred-grand for that one performance alone - a figure which they most certainly did not deserve - they did a fantastic selection of all their greatest hits, but did not have their heart in it until the latter half of the set. Beth Orton managed to ruin her set with the worst jokes ever written, but still performed as well as you would expect from such a talented woman. The Americans fared a little better, though Pavement were a complete disappointment due mainly to the fact that they have such a great reputation and the Terror Twilight album was so good that maybe you would expect them to be that little bit extra special live. Lit lived up to expectations however, providing a set which was full of energy and will no doubt lead to a more prestigious placing next time they play the festival. Silverchair really got the evening going (though why they were before the appalling terrorvision is a mystery). Unfortunately Daniel Johns' sense of humour makes him the joke of the festival "Great Britain you are truly Great" he says. After this gets very little response he tries a little harder "A hope you all brought a good novel, for the Reading festival, ha ha ha". This did get a response - the sound of 50,000 people groaning at the worst joke in the world ever - on Monday if only he'd asked the crowd if they had brought a good dog for the Leeds festival, then at least he would have gained some respect. Red Hot Chilli Peppers & The Offspring were fantastic closing acts to the festival. Offspring's set had all their best hits, but it was the stage show that had everyone in stitches. Scams included beating up models of the Backstreet Boys, spraying the crowd with a genuine fire hose, and the now infamous 'Intermission' featuring a near naked fat bloke standing at the front of the stage waving his arms whilst there were bubbles floating everywhere, while the band members sat down and drank beer. Red Hot Chilli Peppers played an understandably One-Hot-Minute-Less set, including Suck My Kiss, Give It Away, Under The Bridge & Scar Tissue - everybody went mental, including the security guards who decided to drench everyone in the crowd with water, even those not in the mosh pit - irritating, but not enough to ruin the amazing experience of seeing the Red Hot Chilli Peppers play live like no-one else can. It's not Reading Festival's fault that there were just so many good bands that they all clashed with each other - fortunately the majority of the Main Stage acts were poor, giving you the opportunity to see the true stars of the weekend, in the dance tent. The festival was extremely well organised with tight security, and for a festival that had at times 80,000 people in such a small space, there were barely any incidents and, unlike so many other events in the past couple of years, this was a true success.

Breakbeat Era's second single 'Ultra Obscene' was released prior to Reading - this was the follow up to chart smash 'Breakbeat Era'. The new album 'Ultra Obscene' was released on Monday. Both are certainly worth checking out - if you thought New Forms was good, just wait 'til you hear this!

Space Raiders' debut album 'Don't Be Daft' has spawned three singles - 'Glam raid', 'laid back', and the should be massive hit 'Disko Doktor', complete with Phats & small remix. This is a band full of great tunes, and a critically acclaimed album, yet no-one's heard of them. Then wasn't that the case with Fatboy Slim this time '96?

Skinny have released a couple of singles through Cheeky from their debut 'The Weekend' - the monstrous Failure, which, ironically, was anything but, and the Norman Cook remixed 'The Weekend. Totally ahead of its time, considering it was recorded at the end of 97, it was a breakbeat/ drum&bass concept album about a typical weekend, featuring songs such as Friday, London Tonight, Come Down, Sex and Getting In, and it still sounds as fresh as ever - a dark album about life as we leave the 20th century - chilling stuff
Lo-fidelity Allstars' brand new mix album was released a month or so ago. Entitled On The Floor At The Big Beat Boutique Part Two, it was a superb mix of the coolest breakbeat and hip hop tracks around, and will last in my chill out section of my collection for many months to come yet. A new album is coming soon, but there hasn't been anything new since the Battlecreek single finally got released after a lengthy legal battle early this year - that track is already faring well in the American alternative charts, and was responsible for shifting thousands of units of the Lo-fi LP.

Beth Orton
Chemical Brothers have always been the best dance act around as far as 'the masses' are concerned - a string of hit singles and albums in the past few years has led to them being the star attractions/headliners at Homelands, Gatecrasher 2000GC and Reading, plus more major events around the world. All three LPs have ruled the roost, with the debut Exit Planet Dust still being one of the very best records in my collection, and Dig Your Own Hole provides many a classy track, but its new LP Surrender which is what everyone is talking about, featuring the follow up to Hey Boy Hey Girl - Let Forever Be (featuring Noel Gallagher again) was released a couple of weeks back and was yet another hit for the duo and was accompanied by one of the most well made videos of recent times - it is certainly worth checking out.

Red Hot Chilli Peppers really need no introduction. Californication is rocking the world over, especially the epic Scar Tissue and fantastic new single Around The World, which only just made the top 40 due to their dumb record company deciding to release it before their storming Reading Festival set.