Archie Legget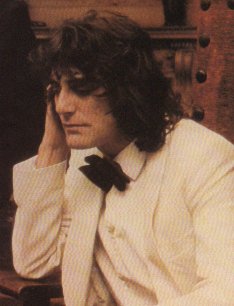 All other events in this issue were overshadowed by the sad news just received that Archie Leggett had lost the battle against throat cancer and had passed away during the last week of July 1994. Our immediate sympathies go to his wife Jenny and his family. Archie came from the same Glaswegian streets as Maggie Bell and Alex Harvey and started his musical career with a stand up string bass in a jazz quartet. After a spell with the Big Six, Archie moved down to London and enjoyed regular work with visiting American stars who were prohibited from bringing their own bands to the UK - Brenda Lee, Jerry Lee Lewis, Wilson Pickett, Lee Dorsey, Smokey Robinson and the Miracles amongst others.
The inevitable stint in Hamburg followed in the early Sixties, playing with Tony Sheridan after the Beatles had left him. Back in England, Archie played with Beryl Marsden and the Crew before a month's holiday in Paris turned into a stay which lasted seven years. Work with Sylvie Vartan, Charles Aznavour, Stan Getz, Eddie Lewis and Francoise Hardy followed before a more settled period as rocker Johnny Halliday's bassist. In the UK again, Archie helped to form Wonderwheel with Spooky Tooth keyboardist Gary Wright and it was this connection which took him into the 1971 'Bananamoon' sessions with Daevid Allen. Readers will know how he came to meet Kevin as fellow lodgers in Lady June's Maida Vale flat......
Throughout 1972 Archie was Kevin's right hand man in the Archibald duo and the Banana Follies review, culminating in the much loved 'Bananamour' album. Throughout the whole of 1973 and 1974 the pair were rarely separated as a succession of 747 and Soporific line-ups toured. It is a pity that recorded works by these bands independently of Ayers have still never seen the light of release. Archie did not record either the Dr Dream or Sweet Deceiver albums, although he toured to promote them - his schedule during 1974 recording with John Cale, Carol Grimes, Tim Rose and the Coxhill/ Miller duo stands as a testimony to his desirability as gifted musical director. In 1975 he joined forces with Kevin Coyne and also released his own 'Jamaican Jockey' single. Greater reward for his prowess finally came as he rejoined Gary 'Dream Weaver' Wright in America.....
The story might have finished there but for the wonderful surprise when Archie was back touring with Kevin again in Europe during November and December of 1992. Ayers' best work has always needed a strong musical direction on stage to add depth to what is essentially a very fragile talent. Kevin Armstrong had rekindled the spark after Ollie's sad death - Archie was there once again to encircle his old friend's fallibility when he most needed a bedrock on which to start building again....Those who were privileged to see Archie on that tour recall his instant geniality and friendliness, his gentle protection of Kevin's vulnerability when things were not going quite so well. A musician of crafted artifice, born with that slightly stooping, impassive stature that God created uniquely to hold a bass guitar, slender fingers that could conjure the rhythm of an earthquake or a single leaf fluttering to the ground..... Loyalty and love and talent like that can never be bought or sold. And never forgotten....
first published in WAWS #6, August 94