Gong 25th Anniversary 8 & 9 Oct 1994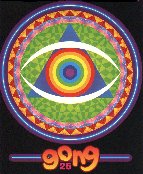 I was always brought up to put my money into sensible things so on the 8th October I stuck twenty quid into the till at the Forum for the Gong 25th Anniversary Party.
I attended the Saturday 'party' of the two day event, and once inside I was totally knocked out by the tightness and well organised manner in which the day was conducted. Like one big Generation Game conveyor belt feeding bands onto the stage, it ran like a well-oiled machine.
Thom the Poet was ringmaster; introducing bands, reading out notices and informing us all of the various demos that were occurring around town. I felt a bit left out as the only demo I'd ever been to was in Rackham's where a lady was showing us how to slice potatoes on a Raptou, but nevertheless the day flowed.
It's hard to mention every single band that played, as there were so many but the day kicked off with the Invisible Opera Company of Tibet who did a great little version of 'Banana Reggae' which was accompanied by Daevid Allen.
Tim Blake's solo set went down very well. I'd only heard the bits he'd done with Gong before, but found myself really getting into it, especially the longer version of 'Selene'.
Nice to see Lady June there who nervously asked 'Is there anyone here who remembers me?' Of course there were June, I was surrounded by Linguistic Lepers and I found her really enjoyable; a couple of poems and a song, great stuff!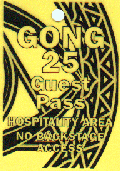 My God, was Kevin Ayers ever going to come on? When he was eventually announced I think that everyone had the same idea as me and headed towards the stage. I'd only ever seen his face grinning on my LP covers before so to see him live...... this really was a first for me. I thought how well he looked as he casually walked on, hardly changed a bit unlike Daevid whose gingery locks are now a subtle shade of correction fluid. Kevin looked rather shy as he and Marvin walked on, but after sitting on their stools they performed an immaculate set. An acoustic session, covering a large cross section of his works, included a 14 minute version of 'Super Salesman' where he was backed by Hugh Hopper and Pip Pyle who had earlier performed as Shortwave. The crowd loved it. Didier Malherbe joined for 'May I?' but for me the highlight of the set came with his version of 'Lady Rachel' which included Daevid on glissando. An incredible version indeedy; Kevin's voice so deep it could set a teaspoon tinkling in a saucer three blocks away, and Daevid glissing away some chords that were unknown to nature! It was like I'd died and gone to the UFO Club. (I remember thinking it sounded very Hawkwindish - Ed) On a lighter note came Kevin's own instrumental version of 'Teddy Bears Picnic' and by now he was having fun. And so were the crowd. A 45 minute set came and went in nono seconds. From the moment he came on with 'Interview' to the last 'Stranger In Blue Suede Shoes' we were rivetted. All this and still four hours of music to come.
Shapeshifter Gong were very tight, as were Planet Gong with Steffy Sharpstrings looking like a curling puck with his hair; yes, the spirit of '77 was briefly there..
Things slowed down a bit for the Mother Gong set and I enjoyed Gilli's slideshow on top of their version of 'Dynamite' - a nice mixture of Rob Calvert's sax and Gilli's space whisper.
Thom the Poet finally announced that Gong were coming on and the atmosphere was 'electrique'. No tape loop, just straight into 'You Can't Kill Me' at lightening speed. Largely the set was similar to the Central TV gig only no floor manager to tell us when to clap this time! Thom was the client in 'Prostitute Poem' and it was also good to hear the lengthy 'IAO/Master Builder' track from 'You'. You name it, they played it: Camembert, Radio Gnome, Angel's Egg etc, utterly brilliant.
Difficult to describe the applause at the end of the evening - a mixture of sheer excitement, yet maybe a feeling of sadness, certainly for me, as I felt that this was perhaps the last we'll ever see of Gong in this format...... but who knows?
After a truly memorable day like this the major dilemma for the journey home was not knowing which tune to hum.
The above describes the Saturday show - Sunday's was the same pattern albeit with smaller crowd and a more laidback atmosphere. Kevin was also joined by Phil Miller on guitar for a bluesy 'Super Salesman'
Darren Lawrence
first published in WAWS #7, Feb 95