Gildenhuis, MELLE, BELGIUM, March 5 2004
John Heilker reports: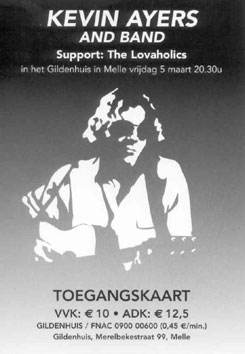 Another 2 hours drive for us from Schiedam to Melle-Belgiun (5 mins. from Ghent). And let me give the show away....it really was worth while. Everything was well organized. At first the fans had a get-together in the next door pub.A lot of blue jeans showed up.
The concert was sold out. Even the band-members had to buy tickets for friends and relatives!! I didn't shake hands with everybody but my estimation would be approx. 500 fans.My friend Stef joked:"No wonder it's sold out, half of 'em work here! There were indeed a lot of security people and other personal.
It was a big hall with a professional stage. I can imagine that the whole setting suited Kevin & Band.They even were selling Kevin Ayers "World Tour 2004" T-shirts ; personal were wearing "Kevin Ayers - Crew" clothing and all documents had Kevins picture on it. At eight-thirty the support act the Lovaholics started playing.You could hear they were real Oasis adepts but a nice warm-up for Kevin and gang.We had seen Kevin entering the building all wrapped up in shawls, wollen cap and coat. Afraid to catch a cold? Or just shy?
At ten he appeared on stage. A warm welcome was his reward. That's such a nice moment, you could feel the vibes. I like the way they start the show, playing a long intro of "Feeling This Way" to get you in the right mood. This indeed promises to be a better concert, compared to the night before. The sound is better and the audience is behaving like it should. Kevin & Band give their very best. The songs are well recognized and many know them by heart (and they should by now). Again, no surprises looking at the playlist. He does skip "Blaming It All on Love" (who's to blame?).
After the break he has the same enthusiasm and you can tell how he enjoys his own songs. And let's face it......that voice .....it's magic. This time he DOES play the 'slow' songs , like Whatevershebrings... and 'May I', and finally ends the encore with "Big Bamboo". I'm sure I saw a big smile on his face as he left the stage.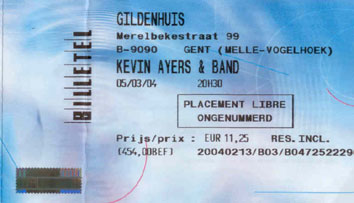 Too bad for him that he had to attend the 'after-party' with the VIPs. We all know how much he likes these "meet & greet" sessions. I heard him say: "Only four minutes and no photo's"
Altogether this was a memorable evening with Kevin & Band in Top Condition and I'm sure they will steal some more hearts while touring in Japan and afterwards in England and maybe more after that in Holland and Belgium during the summer. What's wrong with bringing so much joy to the people with such beautiful, sweet music? He Did It Again !!
WAWS thanks John for this report