My Michael Ball year
Chapter One
The Big entertainment club
1-6 February 1999
---
The whole thing started on the 1st February 1999 (Monday), a friend called me late in the evening to tell me Michael Ball was going to be a guest on a Dutch Television programme called "The Big Entertainment Club" that was going to be broadcast live the next day in a town not far from my home. I had several of Michael's solo CDís and I owned the Aspects of Love CD. At that time I wasnít a fan in the sense of visiting concerts and wallpapering my room with posters. In fact, I was a big Sarah Brightman fan and Michael was Ďonlyí a good singer.
Anyway, that next day I had a day off school so I decided to go to the studio to see him. I'd never watched the programme before because, normally, I am at school in the morning.
The broadcast was from 11.00 a.m. till 12.00 noon and I decided to leave home early to be on time. Of course I instructed my mother to tape the programme for me. Just in case, I bought my "First Love" CD to let him autograph it. Unfortunately, I forgot to bring my camera. I left home at 9.00 a.m. and on my way to the studio I called them to ask them if an audience was allowed at the programme. It was, and the lady told me I was the only one who had called for a ticket so I would be the only one in the audience. I also bought myself an instant-camera, just in case I met the man - and Iím glad I did.
When I arrived at the studio at 10.00 a.m. I was the only one in the lobby except for one lady. I asked her about the programme and she told me she was working for it. I explained the reason for my trip to the studio (who, Michael Bolton ???) A second lady came out of a door that apparently led to the studio. When she opened the door I heard someone rehearsing "My Heart Will Go On". Of course it was Michael. It was the first time I had heard him singing that song and it sounded brilliant. Unfortunately she closed the door and I had a conversation with her about the programme. She invited me into the studio but Michael had left for his dressing room.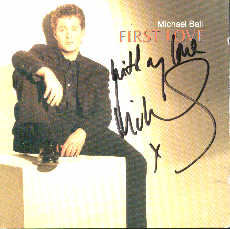 I wanted to be sure about my autograph but I wasnít allowed in the dressing rooms so I asked the lady who accompanied me to ask Michael for an autograph on my CD. When she came back she was all red in the face and she told me: "Oh, he was so friendly". So I had my autograph. When we entered the studio I saw that there was room for a big audience but so far I was the only one. I took my seat next to a man that only spoke English. He introduced himself as Phil Bowdery. We had a chat and he told me he was Michaelís manager.
I was getting nervous. After thirty minutes, Michael was introduced and he sang his live-version of "My Heart Will Go On". It was amazing and I became his number one Dutch fan in about three minutes. After the song there was a short interview in which Michael announced a concert in Amsterdam on the 7th of May. It couldnít be more perfect. I was so excited. When Michael left the studio Phil said goodbye and left to follow Michael to his dressing room. The programme continued but I wasnít interested in it anymore.
Suddenly I noticed the woman I met when I arrived in the lobby was waving at me. I also left and followed her to Michaelís dressing room where we waited outside. When Michael was finished in his dressing room he posed with me for a photo and we had a short talk. He was very friendly indeed.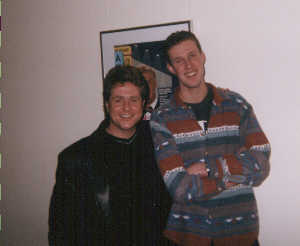 After Michael left I called the theatre in Amsterdam to order tickets for the concert but they weren't on sale yet. I had to wait until Saturday.
In the meantime, the programme ended and I was invited for lunch in the Studio Restaurant. A worker at the programme told me that Michael was in another TV programme on another day as well. It was not live and it was scheduled for the following Friday.
When I left the studio complex I ran into the first Photo Store to develop my photographs. They turned out great and I made an enlargement to hang in my room.
When I arrived home I programmed my video for Friday evening because I was not able to watch the programme because my grandmother was celebrating her birthday that day.That evening I had a nice party with my grandmother and when I arrived home I watched the programme with Michael in it. He sang "I Dreamed a Dream" and "Wind Beneath My Wings" with all the other musical guests as his backing vocals.
The next day (Saturday) the sale for Michaelís concert started at 10.00 a.m. but I had to work that day so I instructed my friends Merel and Bart (I met them on the internet and they are musical fans as well) to be at the Box Office in time to get good seats. They bought nine tickets for the stalls. They weren't very good seats but at least we had our tickets.
That was my first Michael Ball week of the year and there were a lot to come.
****************************
Chapter two
The royal albert hall, london
6th & 7th April 1999
After my first Michael-meeting I bought most of his CDís and videos that I didnít already have and I checked the Internet for some interesting sites. Of course I found the MBFC (and became a member) and Pat & Rinaís site. I also joined the mailing list and found out that he was currently doing a tour in his home country. I followed all the messages and noticed that Pat was organizing a fan meeting prior to the London concert on the 6th of April. That was only four days later but it sounded like so much fun. I was in very much doubt to go there and skip two days school. Everyone at home was against it but two days before the concert I decided to go. I e-mailed Pat for the details, called the RAH (only a bad seat available but I didnít care), booked a flight and hotel and that was it.
On the 6th I went to school for the whole morning carrying my suitcase with me. My plane was on time and I arrived in London at 3.00 p.m. The meeting was at 4.00 p.m. so I had to hurry. I took the bus from London City Airport to Liverpool Street Station and from there I took the underground to Gloucester Road from where it was only a five minute walk to my hotel. After checking in and packing my things for the concert I left for the Royal Albert Hall to collect my ticket. At the box-office I took all the remaining leaflets for the concert as a souvenier. Michael was already there because I heard him rehearsing. I was far too late for the meeting (it was almost 5.00 p.m.) so I hurried to find the Rat and Parrot pub. When I arrived there I was a little bit nervous to meet everyone. There were a lot of fans and I canít remember all their names. Amongst them were: Rina from Canada, Alex from Austria, Lou Ann from America, Kathryn from Germany and Pat from England. Sorry but I canít remember the other names. I made friends with a lot of them and I was already having the time of my life.
Lou Ann told me she was about to visit my home-country Holland to see Michael Ball and a Dutch singer called "Rene Froger". Coincidentally that last concert was in my hometown Zaandam and she had booked herself a room in the hotel five minutes from my home. We all exchanged E-mail addresses to stay in contact with each other.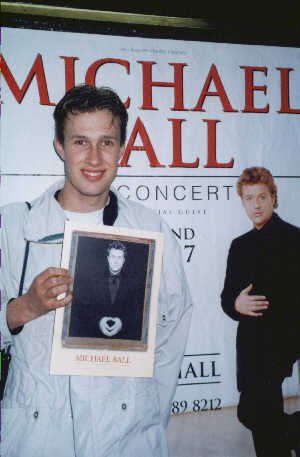 At about 7.00 p.m. we walked to the RAH (I had to go back to the hotel first because I forgot my camera again, itís a habit!)
I saw that they were selling Michael Ball Merchandise so I bought every item.
The concert was just great. I am not going into detail, but for my first Michael Ball concert it was stunning. After the show we all waited for Michael to show up. Everyone came out the Stagedoor, (Tom Jones included), but there was no Michael. It started to rain and after 90 minutes only a few people were left to see Michael come out. I took some photos and after that I left for my hotel. I was very tired but I couldnít sleep because my head was full of wonderful memories.
The next day I had an appointment with Kathryn (from Germany) to do some shopping. I wanted to buy the Hey Mr.Producer video but it was sold out everywhere. Finally I found a copy at HMV in Oxford Street. At that shop I also met Alex (from Austria) again but I didnít had much time for a chat because I had to dash to the airport to catch my flight back home. Unfortunately I couldnít stay for the concert on the 7th because I had to go back to school. Back home I suffered from my first symptoms of Michael withdrawal.
Only a month to go for the concert in Amsterdam.
****************************
Chapter Three
Lou Ann arrived in Holland
2nd -7th may 1999
The fan meeting in London was so much fun for me that I decided to organize a similar meeting in Amsterdam as well. My friend Merel and I took a day to search for a perfect location for a drink and for dinner close to the Carré Theatre. We even called the Theatre itself but that was too expensive.
On Sunday the 2nd of May I made had an appointment with Mark and Sheila Savage. They live in my area and Lou Ann told me they are Michael Ball fans as well. In fact, she always believed I was the Mark she was e-mailing all the time.
I had some troubles finding their home but I arrived on time.
Mark and Sheila are both from England and Sheila speaks Dutch very well but Mark doesnít so it was very difficult for me to keep up with them and I had to talk in two different languages. We had a great day and shared our MB-experiences and looked at each otherís pictures.
The next day, I had to work all day but a surprise awaited for me when I arrived home. Lou Ann called me to say she had arrived in Zaandam (the place where I live) with her friend Patty. She was in town looking for a manicure (hard to find here) and asked if I was in for dinner that evening. She and Patty were going to a concert of Rene Froger (a famous Dutch singer) that evening at our local theatre. She is just as much fan of Rene as she is of Michael. At first I invited them to eat at my home with my parents but that was too difficult to arrange in such a short time. So, I jumped on my bike and rushed to the hotel to meet Lou Ann. Patty wasnít feeling very well so she stayed in her room to have some sleep before the concert. Lou Ann and me went into town to have dinner. At dinner we spoke about that night's concert and suddenly we had the idea of me buying a ticket as well and joining the ladies. I am not a Rene Froger fan so I never had the intention of going to one of his concerts. ButÖthis time I thought: well, who cares, it might be fun. So I went to the Box Office and they had one ticket left so I bought it.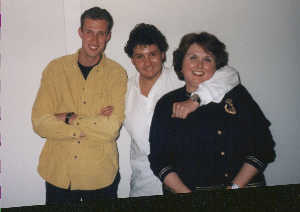 Lou Ann walked back to the hotel to change and pick up Patty and I waited outside the theatre and made some phone calls. I never used my mobile phone so much as in that week. The concert was nice. Rene mentioned Lou Ann in his concert because she came all the way from America to see him. He didnít know that she worked as an air stewerdess (which means cheap flying) and that Michael was a reason to come as well.
Rene asked us to come back-stage after the concert and we talked to him until 1.00 a.m.
He didnít even care for his fans at the stagedoor. Everyone was gone after we left the theatre. We were the last ones leaving the building.
I was so tired I fell asleep as soon as I came home. It was 1:30 a.m.
****************************
Chapter Four
Michael ball At "laat de leeuw"
2nd to 7th May 1999
The next day I had to get out of bed at 6:30 a.m. to go to work. I was tired and nervous at the same time because Michael had arrived in Amsterdam that day. He was going to perform in a TV-show that day called "Laat de Leeuw" hosted by a very popular man called Paul de Leeuw.
After work I rushed to Amsterdam Central Station to meet up with my friends Merel & Marije and their parents. We took the bus to the TV-studio to meet up with Sheila, some other Michael fans and some of my school mates who had bought tickets for the show as well (not for Michael, they were there for the whole show because it is so popular.)
When we arrived Sheila was waiting for us and she told me Michael was doing an interview at a table in the restaurant of the studio. We had to wait for more than an hour before the programme started so we waited in the restaurant and observed Michael because we had nothing better to do.
My phone rang and it was Mirjam. A Dutch girl I met on the Internet, but never in person. She told me she was about to enter the restaurant and asked me to wave so she would recognize me. It was very funny because she was only standing a few metres away from me.
The people from my school arrived a few minutes after Mirjam.
When Mirjam took a seat we noticed that Michaelís interview had just ended and he said goodbye to the reporter. Michael went outside to sit in the sun and Mirjam asked the reporter about the newspaper he was writing for. It happened to be the local newspaper from my area.
We knew that Michael was sitting outside but none of us had the guts to say hello. Finally, me, Sheila and Merel went outside and I gave Michael my hand and asked him about the song he was going to perform. It was Love on the Rocks. I told him this was my favourite song from his new album. Sheila asked Michael for an autograph for her pregnant daughter, Tish. A few months later, Tish was the lucky one that met Michael at Heathrow Airport. She had delivered her baby and called himÖMichael. So she and little Michael met big Michael. When Tish told him about her mother asking for the autograph when she was still pregnant, he remembered it.
Anyway, I shall continue my story ....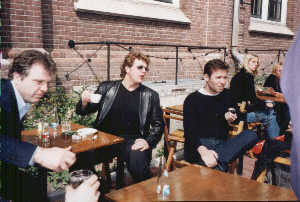 Sheila and Merel wanted to take some pictures as well and Sheila managed to take some. Merel on the other hand felt on edge. She was so embarrassed and Michael asked me: "Is she alright?" At that moment Sheila took a picture of Michael and that picture brings back a funny memory as you can imagine.
After that incident, Michael had to go inside the studio to do his rehearsal. We went back into the restaurant. The only one missing was Margo. I had never met her in real life so I waited outside the restaurant to look for her. I finally found her and I told her the whole story that had just happened outside.
Not long after Margo came in, people started queueing to enter the studio. My schoolmate brought her sister as well and as she is in a wheelchair it meant that three people could join her in the front row of the studio. These three people were her sister, me, Merel and Marije. We ended up in the second row but that was not bad at all.
Michael's performance wasn't that good but that was because he seemed to have had an argument with the host and the floor manager before the show. Of course his performance wasnít bad (I don't think he can perform badÖ), but it could have been better. After the show Michael had left to see the theatre he was going to perform in during the evening. He also did an interview for that evening's TV (Showbiz News) at the theatre. We walked back to the centre of the city to have dinner at McDonalds (where little kids where stealing our food from our plates) and to attend a memorial service for victims of the Second World War. The queen was there as well and everyone placed wreaths at our national monument. After that, everyone went back to their homes and I went to visit Lou Ann at her hotel. She came down to the lobby and we had a chat and a drink. I just arrived home in time to see the show I visited that afternoon and the one that was recorded at the theatre.
I ended up in bed at 12:30 a.m.
***************************

CHAPTER FIVE
Wednesday 3rd of May
It was very early when I woke up to start another crazy Michael Ball day. Margo, Merel and I had tickets for a live morning program called 'Koffietijd'. You can compare this to 'This Morning' in the UK. Jennifer, a friend of mine and also a Michael Ball fan, had a ticket for the show as well and we would meet her and her mother at the studio since they came with a car and Margo, Merel and I came by train.
We met each other at the train station of Hilversum, the Broadcasting city of the Netherlands. It was very early when we arrived there, I guess about 8.30 in the morning, so we had plenty of time to find the studio. It appeared to be in walking distance from the station so we arrived five minutes later. When we arrived Jennifer came out of a nearby café where she and her mother were drinking coffee. We had a coffee as well and about 9.15am we entered the studio building. A lady in red showed us the way to a restaurant in the building where we had a second cup of coffee and where we met Saskia for the first time as well as two other Michael Ball Fans who were waiting to enter the studio. About 9.30 am Michael and Phil arrived at the studio and we heard Michael rehearse his 'Wind Beneath My Wings'. He was very late and he didn't have much time to rehearse. Nevertheless we had enough time for some pre-enjoyment. We weren't allowed to leave the restaurant and the lady in red stopped us when we tried. Finally, the waiting was over and we found our way to our seats in the studio. Unfortunately, Michael had left for his dressing room already. We were in the back of the audience so it was a bit disappointing. The other guests in that program were the two principals of 'Chigago-The Musical' (Pia Douwes and Simone Kleinsma) I am a fan of them as well so I had the time of my life.
The show kicked off and was very boring most of the time. During the last commercials, Michael appeared, waiting for his appearance. We clapped our hand and stamped our feet and made a lot of noise. All the other people in the audience didn't know what was happening so they all clapped as well. All this happened during the commercial break so unfortunately, it wasn't broadcast.
After the break, the host of the Programme introduced Michael and he took his seat next to the musical stars from Chigago. An interview followed. Pia Douwes (Velma Kelly in Chigago) is a big fan of Michael and she couldn't stop touching him. During the interview they talked about Chigago and to our excitement, Michael told the girls he was going to see the show that particular evening. Merel (my friend) shouted briefly because she works at that Theatre (in the bar) so that would be a great opportunity to serve Michael his drinks in the interval and before the show. Margo and I decided to go to see the show as well (I know what you are thinking right now but we wanted to see the show during the previews anyway and this was the only evening left for it.)
After the interview, Michael prepared himself to sing his song Ö I never realised that the stage where all the artists do thir singing, was in the back of the audience. So ... the only thing we had to do when Michael climbed the stage was turn our chairs around and we were front row. Because the studio is so small and the small number of Michael Fans, it was like a private performance for us. We had great fun because Michael really sung his song for us.
After the song, Michael had to leave immediately. Saskia managed to give him a self-made portrait and he spent some time with Saskia to have his picture taken. Lucky for us, Michael left some leaflets for his concert in Amsterdam Ö signed of course.
We managed to get two tickets for Chigago that night and when Margo and I entered the foyer of the theatre, Michael was doing an interview for German TV. After that he went into the bar. We knew Merel was there at work. We didn't go to the bar, because Michael was in a private function and we didn't want to follow him everywhere. We took our seats and waited for Michael to come in. He and Phil had one of the best seats in the house on the second row. Lucky them. I am sure they enjoyed the show because it was very good. When I arrived home from the show, it was 12.30 am.
The next morning, Thursday, I woke up at 6.30 am to go to work. Very excited because this was the day that Merel and I were going to do an interview with Michael at his hotel in Amsterdam. Merel arranged the interview for a Dutch Magazine about musical theatre.
I only worked from 8.30 am untill 1.30 pm. After work I took the train to Amsterdam where I waited for Merel. She was late so we hurried to the hotel. We had an appointment at 1.00 pm but we had to wait until 2.30 pm when Phil came to say hello. He took us to Michael. We introduced ourselves and the three of us took a seat. We only had 30 minutes so there was not much time. Nevertheless we asked everything we wanted to know and we had some time to hand over our present to Michael. A box with various products from The Netherlands. He was very happy with it. He said he had to leave the country for Belgium after the interview, to meet up with some people from his record company. We said goodbye to Michael and Phil and took the train back home. It was the first time in days I arrived home to go to bed on time. I needed some sleep for the concert next day ...
*********************
CHAPTER SIX
FRIDAY, 7TH MAY 1999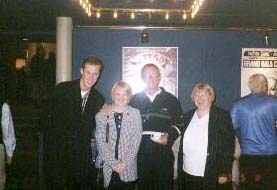 It was a very warm they, that 7th of May. Beautiful weather for a Michael Ball concert. We all met at an Irish Pub in Amsterdam. There we had a drink and a met a lot of new people. After that we walked to a nearby restaurant where we met some others, including Pat Lyra. At about 7.00 pm we walked to the Carre Theatre where I met Gill and Maureen for the first time. They were very nice and my mother took a picture of me, my father, Gill and Maureen.
The concert was the best concert I have seen the past year. You can read my review of the concert on Pat and Rina's site.
Friday was the last day for Michael in Amsterdam. I was very glad I already ordered tickets for the upcoming Hampton Court concert in London.
I'll tell you more about that in the next episode of my Michael Ball Year.
*******************
CHAPTER SEVEN
Hampton Court
I met Margo on my way to the airport. She was on time (as always) and waited for me at Amsterdam Sloterdijk Station, where I had to change trains to go to Schiphol Airport. After we checked in we did some tax-free shopping and had something to eat at McDonalds. After that we made our way to the gate and entered the plane. It was delayed for more than one our and we arrived rather late at Heathrow Airport. We first planned to go to our hotel to drop our luggage but there was no time for that. We had an appointment with some fans in Richmond. We took the tube to Richmond straight away with all our luggage. After a short walk through Richmond we arrived at the waterfront where everybody was waiting for us in a café next to the bridge. It was such a lovely view and the weather was perfect. At this location it was the first time we met Nadia and her neighbour Diana. We had big fun already.
After we had a few drinks, dinner and good laugh we walked to the bus stop to take the bus to Hampton Court. It was half an hour trip to a lovely part of London.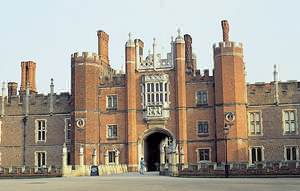 Mark, Margo, Dee and Simone
When we arrived at Hampton Court we picked up our tickets and waited for a few others to arrive. Among them were Dee, Cliona and Simone (from Holland). After taking lots of photos we walked to the palace and explored the surroundings and the palace itself. It was all very posh. Posh people were having posh picnics in the posh garden.
Fifteen minutes before the concert started we took our place in the audience. My seat was not covered so I was hoping that it was not going to rain. My seat was at the back of the audience (behind Cathy and and some other members of Michael's family). I decided not to run to the front because I might hurt some posh people on my way to the aisle and to the front.
There is a good review on Pat and Rina's site as well as some pictures from Alex and Nadia. I am not very good in writing reviews.
After the concert we took the train back to London. Margo and I had to change at Clapham Junction and we waited there for more than one hour for the last train to London. Unfortunately we missed it and took a taxi to our hotel near Victoria Station. I was hungry as always so Margo and I went to a nightshop to get some food and drinks. After that we went to sleep.
The next day we did some shopping in London. It was very busy because there was a royal wedding in London that day. We decided to take the Heathrow Express from Paddington. Expensive but very fast. The Circle Line was not running so we arrived to late at the station. Time was running out Ö. We arrived too late at the airport to catch our plane. We were very lucky Ö the last flight to Holland hasnít board yet so we were put on a waiting-list for that plane. It was a plane to Rotterdam and for us that was on the other side of Holland. We got our seats on that plane after all so there we go to Rotterdam. I had to call my mother to pick us up. Very tired we arrived at the airport in the middle of the night. We were so tired. We arrived at home at 1.30 a.m.
Next morning my mothers aunt (Aunt Hannie) was visiting us. She is so special, I think I am going to make a website for her. No more details about the meeting between Margo and my aunt Ö.
Once more we had a great trip to England and the concert left us behind with a lot of new and great memories.
********************
CHAPTER EIGHT
Longleat
The days before the Longleat concert, Simone, Saskia and me stayed in London to see some shows. On the 30th July we went to Bristol to see Martin Guerre at the Hippodrome. It was a great show !!!
We had a good hotel in Bristol (Oakfield House, for those of you who are going to see Michael in Bristol). The next morning, 31st July, Dave picked us up from the hotel. It was great of him to offer us a lift to Longleat. It was very early but we had a lot of fun on our way to Longleat. On our way there we stopped at a supermarket to get some food and drink for our survival at Longleat. It turned out to be the hottest day of the year in England.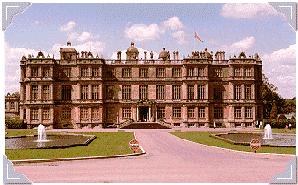 We arrived at Longleat at 10.30 am and it was hot already. A few people had formed a queue and we joined them. We arrived at the same time as Gill and Maureen. They recognised me from Amsterdam. Well, the waiting started Ö. 6 hours long Ö. The gates opened at 5.00 pm.
At 3.00 pm, Michael arrived at the scene. He did some rehearsals and after that he went to bed Ö. To sleep, I suppose.
When the gates opened the running started !!!! I was not the first in the queue but I have to say I was very quick and I managed to find a good place to sit, slightly to the left of the stage for the best view (most of you know whyÖ) Now we only had to wait 3 more hours before the concert started.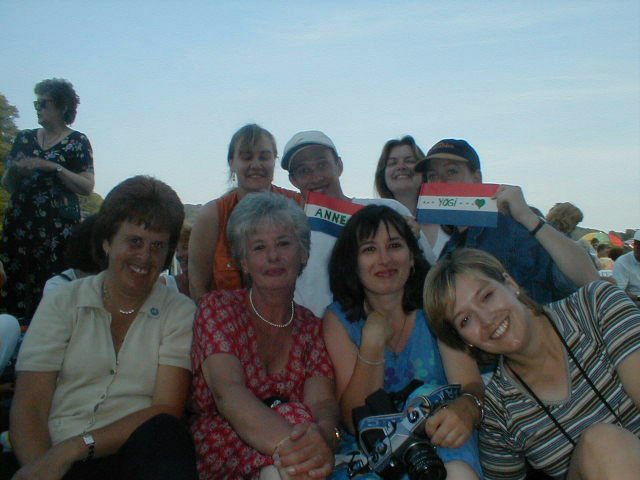 For a review of the concert, visit our 'Concerts' section.
After the concert we waited until most of the visitors left the area, I saw Cathy waiting for Michael as well. She really looks young for her age. When we finally were on our way to our hotel, I was so tired I fell asleep and woke up when we arrived at the hotel. Thanks again Dave !!!
The day after we had a great English breakfast and went back to London. Saskia decided to do some shopping in central London and Simone and I had a picnic (bought at Tesco) just outside London in a beautiful little park.
We took the Heathrow Express back to the Airport (on time) and waited for our flight back to Amsterdam (with Kenya Airways Ö great experience). I heard some rumours that Michael is going to perform at Longleat again (I said rumours, donít take it too seriously). If so, I will be the first in the queue.
The next part of my story takes place in Belfast. The Absolute Highlight of the Year!!!
I promise not to keep you waiting too long.