This page will contain articles published in the Club Newsletter. The option of
publishing photographs, illustrations or whatever the magazine editor wishes.
Even an electronic version of the bi monthly newsletter if so desired.
The only advice I would offer is regarding the use of pictures/photographs, (on the internet
they are usually refered to as jpeg images), and are large items in comparrison to text.
Using lots of pictures looks nice but comes at the cost of making the page slower to download.
8 or 9 images of this size or the odd one larger if needed, should not take too long to download
on most peoples PC, so it should not put people off by taking ages to download the page.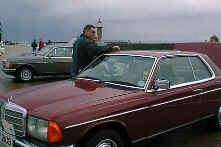 Picture example