Honeybourne, Long Marston and Bidford Gliding Centre. Version 1.3
This add-on for MSFS2000 covers an area in Worcestershire, Warwickshire, Oxfordshire and Gloucestershire in the United Kingdom.
Version 1.3 provides all of the facilities of version 1.2 and in addition provides scenery of the North Cotswold Hills between Honeybourne and Cheltenham, and also the roads throughout the simulation have been given a darker texture.
Here are some views of the airfields and scenery, made using the Print Screen facility on a Personal Computer.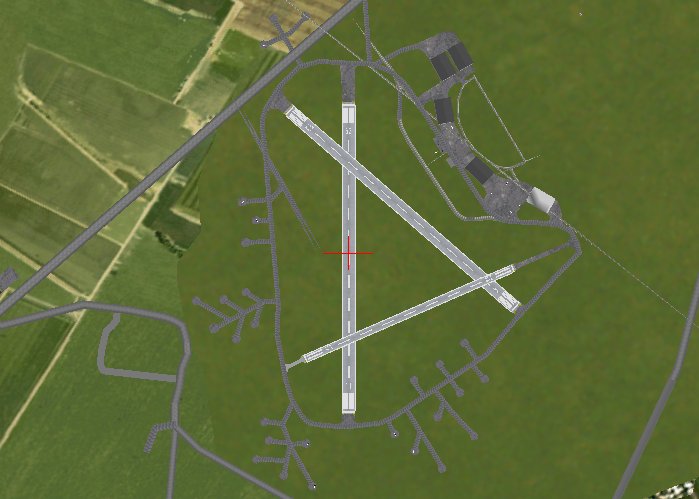 Honeybourne as at 1939-45 War. Note the aircraft dispersal sites placed in farmland across the road. The airfield does not survive today and is again farmland.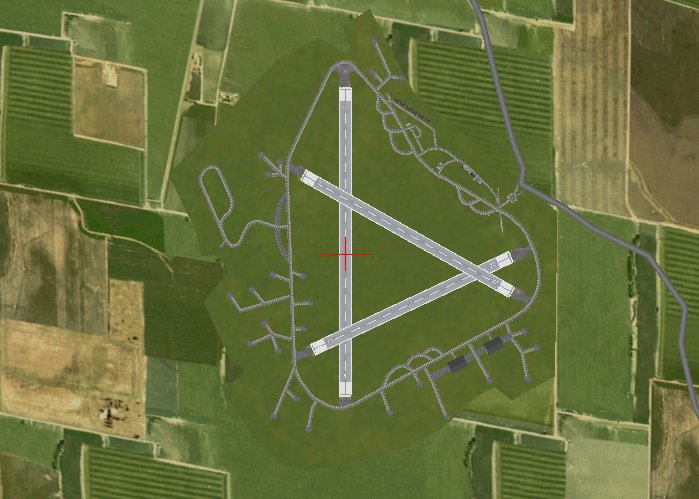 Long Marston as at 1939-45 War. Note the Bomb Dump loop on the left. Part of this aerodrome is now known as AVON PARK. There is also a Microlite club and a Microlite training school.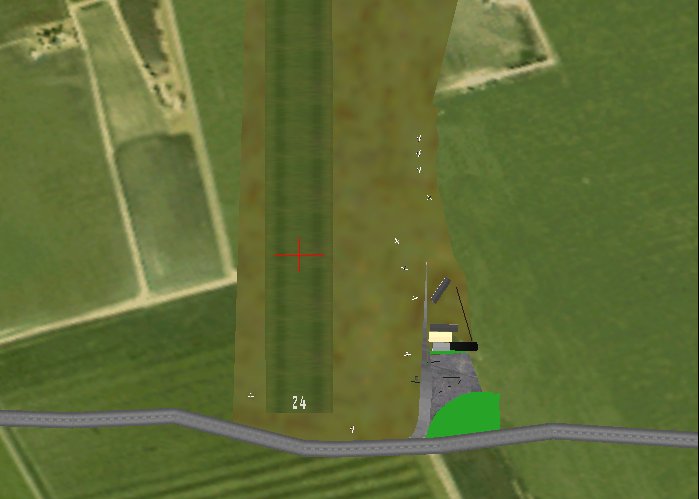 Bidford Gliding Centre as at today. The landing strip is grass.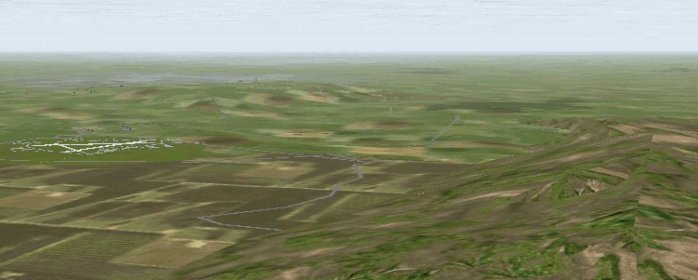 Approach to Honeybourne from the North Cotswolds.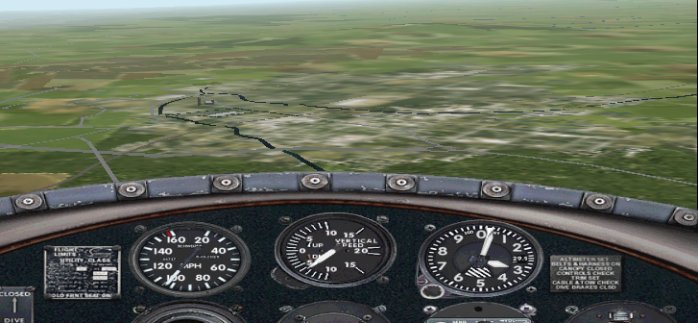 Glider at 3000 feet over Evesham, assisted with programmed thermals.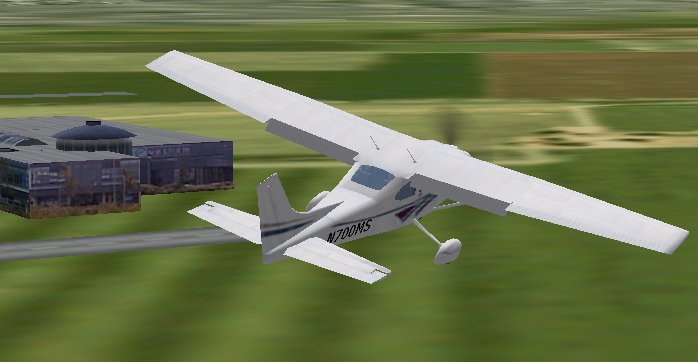 Passing Evesham.com.

Cessna waiting by Long Marston Control Tower.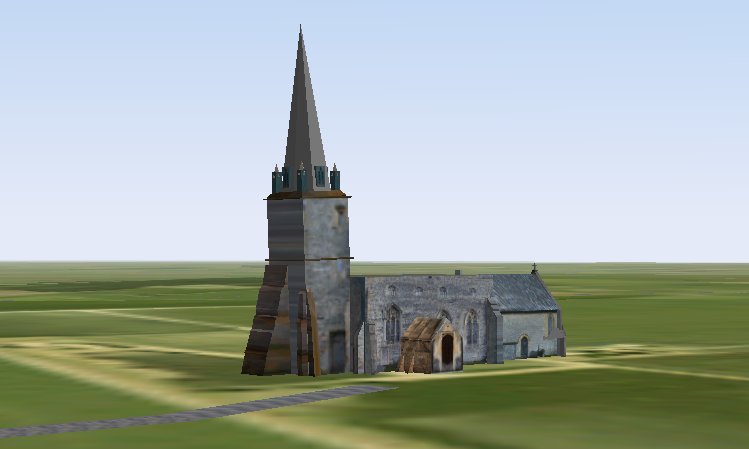 View of St.Ecgwin's Church at Honeybourne.
Approaching Bidford Gliding Centre.

Approaching Bidford Gliding Centre from over the hill.
Long Marston Airfield can be seen, top right.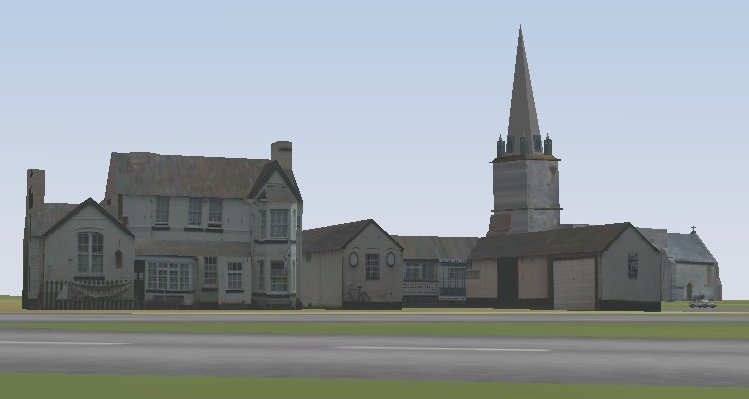 The Gate Inn at Honeybourne with St.Ecgwin's Church in the background.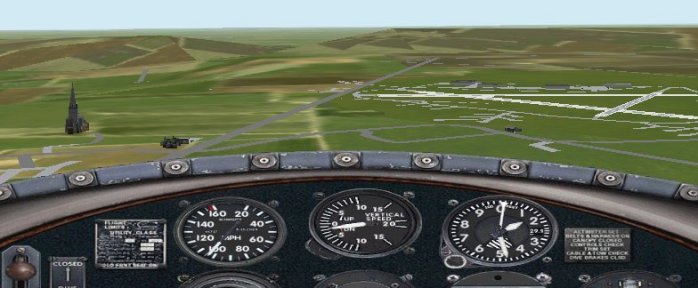 Glider approaching Honeybourne. The thermal producing program covers a good area around Bidford Gliding Centre.
In order to use this add-on, you need to add a number of files to your computer system. These files have been zipped into a total of eight zip files. Eight zip files are used, rather than one zip file, so that each zip file is of a reasonable size for downloading, in terms of minimizing problems in the event of communication link difficulties. These zip files are available in this webspace.
Please instruct the unzipping program to place the results of unzipping in the folder Program Files\Microsoft Games\Fs2000\Scenery on your computer. The zip files have been so configured that by doing this, the Honeybourne Scenery and Texture folders will all be created in the correct places and all of the files that are within the zip files will be placed into the correct folders. The directories automatically created will be as follows.
Program Files\Microsoft Games\Fs2000\Scenery\Honeybourne
Program Files\Microsoft Games\Fs2000\Scenery\Honeybourne\Scenery
Program Files\Microsoft Games\Fs2000\Scenery\Honeybourne\Texture
The first file unzipped in this manner, whichever it may be, will create the three directories: the rest will use the already thus created directories.
Links to these zip files are here.
v13s1of1.zip
v12t1of7.zip
v12t2of7.zip
v12t3of7.zip
v12t4of7.zip
v12t5of7.zip
v12t6of7.zip
v12t7of7.zip

In Flight Simulator 2000 these files are listed in Europe UK and not Europe United Kingdom.
Designed by Norman Overington 2001
Copyright 2001 Norman Overington
Member Number 19 of Flight Simulator User Group UK

Acknowledgements
My thanks to
MICHAEL BARNARD, The Vale of Evesham Artist, who supplied me with information on Honeybourne and Long Marston Aerodromes.
DANNY ROWLANDS for the macros of Evesham.com; Evesham Bell Tower, The Gate Inn at Honeybourne and the thermals above Bidford gliding centre.
Link to The Flight Simulator User Group UK

Please click the Border Carnation above
for the home page of this webspace.
8th July 2001
This page is
http://www.users.globalnet.co.uk/~ngo/land2003.htm