Book offer
This is a further offer in a planned series of titles meant to offer background and to complement the range of lectures, books and courses on offer from this site.
Herbal Indian Perfimes & Cosmetics by Asha Ram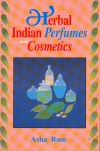 Book Review 19 is now obtainable by cheque only from the address below. Within the UK the price is £6.00 plus £2.00 postage and packing. For the US the price is £6.00 plus £5.00 post and packing for air-mail delivery.
Orders drawn up in cheques for British pounds only, or International money order, should be sent to:
Book Sales
The White House, 3, Chestnut Road,
Yardley Gobion,
Northants NN12 7TW.
United Kingdom