Book Reviews
Book 25
The Healing Trail: Essential Oils of Madagascar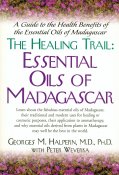 by

Georges M. Halpern & Peter Weverka pub 2003 Basic Health Publications North Bergen NJ. ISBN 1-59120-016-4.

Copyright © Tony Burfield 2004

Unfortunately, this in my judgement is by far the poorest book I have so far reviewed in this mini Book Review series. The introduction states that the purpose of the book was to introduce essential oils from Madagascar to Aromatherpists and Health Care professionals. However only nine "essential oils" are described from this large island and of the nine, only six of those are true essential oils – Vanilla extracts, Calophyllum inophyllum and Centella asiatica extract are not essential oils, as most aromatherapists will be aware. Of the rest Geranium, Sweet Basil, Cinnamon, Ginger and Ylang-ylang essential oils are extremely well known everyday materials for aromatherapists and not exclusive to Madagascar.

Further, the author makes a case that the ethnic peoples of the forest need an income from these aromatic raw materials – and whilst this may well be true, I'm not going argue this point here - Madagascar for example is the worlds largest supplier of Vanilla and the work of Madagascar's National Center for the Application of Pharmaceutical Research, in collaboration with the UN Development Programme has been instrumental in attempting to increase the export potential of essential oils and oleoresins. The revenue contribution from aromatherapy oil sales is going to be relatively small, especially with this chosen selection of high volume perfumery & flavouring oils, and so the exact purpose of this 172-page book is therefore not at all clear to me.

Secondly, a number of essential oil companies operate from Madagascar, offering oils such as ambrette seed, Cedrelopsis grevei, Croton anisatum, lemongrass (Cymbopogon citratus), palmarosa (Cymbopogon martinii), Eucalyptus citriodora, Hedychium coronarium, Helichrysum bracteatum, Helichrysum gymnocephalum, Melaleuca quinquenervia, Michaelia champaca, Psiada altissima, Pteronia incana, Schinus terebinthifolius, clove oil (Syzygium ­aromaticum), vetiver (Vetiveria zizanoides) to name but a few not mentioned in the book. Instead just one company is recommended for purchasing essential oils listed: Lemur 2000 Inc. – Phael-Flor USA – which lists twenty Malagasy essential oils, offering oils such as Lantana camara and Tagetes oil, which again do not figure in the text. The Healing Trail (courtesy of Lemur Tours) also gets a brief chapter to itself in the book. I simply do not understand why the author, who is professor emeritus of medicine and nutrition at the University of California at Davis, has not provided us with a broad choice of Malagasy oil suppliers and touring companies rather than a single operative.

Chapter one is an introduction to Madagascar and briefly deals with its' flora & fauna and history. Halpern attempts to make a case for buying Malagasy essential oils, but fails to put both sides of the argument. Chapter two "Introducing essential oils and aromatherapy" confuses CO2 extracts and essential oils, contains the advice: suppliers should know precisely from which plants or plants their oils are made is not apparently followed later in the text. Under the ylang ylang section we are told that ylang ylang oil is obtained from Cananga odorata and Cananga oil from Cananga adoratum (in fact Canangium adoratum (Lam.) Baill. is the old disused botanical name for Cananga). It would be more helpful & correct to have used the modern botanical classifications such as Cananga odorata (DC) Hook. f. et Thoms ­subsp. genuina for ylang ylang oil and Cananga odorata (Lam.) Hook f. and Thoms. subsp. macrophylla for cananga oil. Chemistry similarly does not seem to be a strong point as we have on page 93 under the chemistry of ginger that the citrals are geranoil (should be geranial), limonene (plain wrong!) and neral (this one is correct!).

By the time I had read chapter 4 on Ravintsara, which I personally think has confused the situation between Ravintsara and Ravensara oils even more (see Aromatherapy Times Summer 2004 for a definitive explanation) I was ready to quit. I'm not sure of the role of Peter Weverka in compiling the book. According to the back cover he has book titles in the For Dummies series. But by now I have decided that this book isn't going to get a place in my private collection.