Book Reviews
Book 27
L'Ylang ylang: Un Parfum Subtil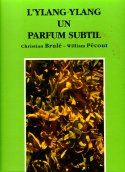 by Christian Brulé & William Pécout pub. by V.F. Aromatique et Arco-Charabot (undated, believed to be pub. around 1994)
Copyright © Tony Burfield June 2004
This fabulous edition is now a collectors item, comprising a lime-green boxed book, of outside dimensions 41.5cm x 30.5cm x 2 cm., used as a presentation gift, containing a plain green loose leaf folder entitled L'Ylang ylang: Un Parfum Subtil, with a map of the production zones of Ylang ylang in fine print on the back inside cover.
The text is organised over 16 pages as 2 x 4 page booklets magnificently illustrated with photographs, each page organised as French text on the left hand side, an English version on the right. A definitive description of the craft of Ylang ylang distillation is contained within the 16 pages – it is a great pity that an expert like Brulé cannot share his knowledge on this subject more widely, especially as there is still a dearth of accurate information about this subject in the public domain.
Sixteen full page photographs 29cm x 40cm follow the initial text section, showing various scenes of coppiced ylang ylang tree plantations in Ambanja Madagascar and Nosy-bé; ylang ylang flowers being picked by women (and one of a boy) workers, women carrying the flowers in baskets to the distillery, location shots of the distillery in Nosy-bé and Ambanja, shots of the wood-fired naked flame alembics and distillation process. A map of Madagascar and the Comores completes the set.
I had the privilege of meeting Christian Brulé in Paris in 1994, and he was kind enough to duplicate some slides for me from his collection, for a presentation I was giving on essential oils to the British Society of Perfumers (subsequently written up by Liz Jones in SPC 1/6/1994). His knowledge of distillation in Madagascar & the Comores, I remember surpassed anything I had previously encountered, and I lapped up all I could!
A great and highly treasured presentation piece.