Book Reviews
Book 34
Félix Cola (1931) La Livre du Parfumeur (Illustrations by Henry de Renaucourt) pub. Casterman Paris 1931.
Copyright © Tony Burfield August 2005.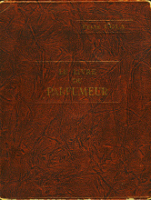 This book in its original 1931 form* (illustrated), is needless to say, written in the French language, and is a large, thick volume (28cm x22cm x 8cm approx.) with a brown leather look-alike binding, having the title in recessed letters picked out in gold foil on the front cover. Including the index, and various sets of addenda's & tables, the book consists of 780 pages, not including three sets of photographic plates (1 x 7-paged set and 2 x 12-paged sets) and some 28 pages of full page advertisements at the end, all charmingly set in the style of the period.
The book is divided into a large number of chapters, taking through all aspects of commercial perfumery practice. The first 116 pages, featuring period black & white illustrations (which to my untrained eye look like woodcuts but I may well be wrong!) by Henry de Renaucourt, takes a look at perfumes across the ages from Medes and the Persians in Egypt, to perfume among the Assyrians and Chaldeans, through to the Greeks and Romans and on Islamic and Hindu use of perfume. We are also treated to sections on the Italian Renaissance, perfumery use in England in the times of the Stuarts and Tudors before ending up with a more modern French perspective after consideration of the French historical fragrance experience. This is followed by a section entitled perfumes in literature, and a section on the cradle of perfumery, Grasse.
The more technical section of the book (page 151 onwards) includes, amongst others, chapters on essential oils, a brief chapter on deterpenated essential oils, and chapters on the manufacture and analysis of essences, a large section on perfume synthetics followed by a smaller one on perfume specialities. There is also a interesting chapter on French perfumery houses with a sketched history of companies like Antoine Chiris, Tombarel Frêres, R. Sornin & Cie, P. Robertet & Cie, Synarome, Schimmel etc. (some of whom are long gone) followed by 12 pages showing of black & white plate period photographs of their business establishments, still rooms, laboratories and pictures of locally grown fragrant crops. Another section of photographs includes captivating pictures of days gone by: workers collecting violets at Magnosoc near Grasse, and a picture of ladies in long dresses and aprons scaling ladders to collect fleurs d'oranger near Gorges-du-Loup. Other photographs include the collection of absinthe herb in Holland and the culture of black mint in fields at Vignal.
Homing in on the chapter on essential oils, where 66 of such are described, we find some intriguing entries – bois de rose oil is credited with origin from Mexico (linaloe oil from Bursera spp.) or from French Guayana – but Brazil as a source is not mentioned. The delightful verveine oil from Verbena triphylla (now effectively banned in perfumery) was even then prone to adulteration with lemongrass oil, and the oil beloved of modern aromatherapists, melissa oil from Melissa officinalis (now prohibited in perfumery by IFRA), is described as then finding use as a component of Eau de Cologne. Exotic perfumery ingredients such as iris butter, androse and jasmin absolutes vie for space with less costly oils such as 'Portugal' (sweet orange oil) and rosemary. A further chapter on deterpenated oils, and another on tinctures, describes the properties of ingredients which are rarely found offered commercially any more. A further section on 'the poetry of the flowers and the perfumes' where single floral perfumes are constructed from corresponding absolutes and the harmonious addition of synthetics, also provides further information on specific flower oil ingredients like mimosa and l'oeillet (carnation).
Much of the remainder of the book – pages 303 to 724 – is devoted to perfumery formulations (also including formulations for perfumes in cosmetics, beauty products and soap) using the raw materials of the day – those synthetics which were available - and a generous use of naturals which would be the envy of cost-conscious perfumers today. Sets of versions of fragrances differ in choice of ingredients, a synthetic section being followed by a part-natural section, in turn followed by sections on perfume bases, essences for Eaux de Cologne and artificial essential oils. Combinations of these creations turn out to be sub-compounds in the Extraits de Grand Luxe chapter later in the book. In the section on 'Fantasy Perfumes de Grand Luxe', although not labelled as such, the trained perfumer's eye can distinguish Floramye, Shalimar, l'heure Bleu and other types.
This book reflects an age where many synthetics we take for granted now were not available, but where the craft of perfumery flourished – for example where the employment of tinctures to finish a perfume was not unusual. Although many may make a comparison with W.A. Poucher's slightly earlier work Perfumes, Cosmetics and Soaps first published in Nov 1925, the content, the topics covered and the feel of the subject are different.
A fascinating book!
* A more recent reproduction of the original book (in English, different cover) entitled Book of Perfumery by Felix Cola, is published by Editions Taurus, Nice (1998).