Recently interest in this fish seems to have hit a new high so we thought it might be useful to draw together some useful facts about this little known marine wonder.
The latin name of the Ballan Wrasse is Labrus bergylta and it also known as the "King Fish". Ask anyone about the Ballan Wrasse and they are almost certain to refer to it as "That 'king fish". The Ballan Wrasse can live for an inordinate length of time and many observers believed that they were, actually, mythical creatures and thus lived forever. Recent work by Rick Stein however shows that they rarely survive any encounter with a well prepared batter and nicely heated friture.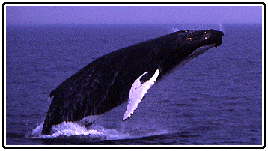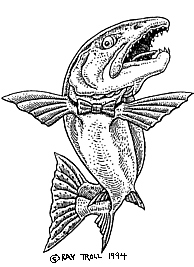 The Ballan Wrasse is an accomplished swimmer and was once picked for the British Olympic squad but dropped in favour of Duncan Goodhew when advertisers found he was more photogenic and could attract more money as an after dinner speaker than a fish.
It is a solitary fish, preferring to take a glass of red wine and listen to a few Octals on the radio rather than spending time out at the pub drinking strategically but they do get a bit riotous if there is nothing on TV and they pop down to The Walnut Tree for a swift half before News at Ten.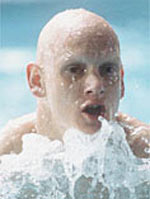 As the image to the right shows Ballan Wrasse can be very dexterous and it is believed that their hand shaped fins gave Captain Birds-Eye the idea which led him to be able to afford a small atoll in the South Seas on which to build his retirement home.
It is thought that the Ballan Wrasse is probably happiest when nestled in a nice warm blanket of orange-coloured breadcrumbs.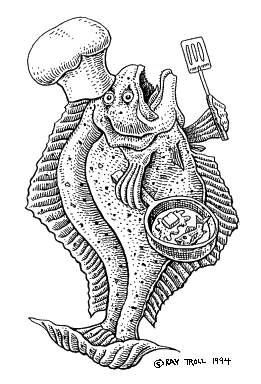 There has been some dispute about the size and weight of the Ballan Wrasse. The image at the top of the page shows an immature fish practising some tricks in the hope of being spotted by talent scouts from Seaworld in Florida. The lucky few who are picked will give displays to the paying public in return for their own heated swimming pool, 30 days off each year and a tax-free lump sum and pension upon retirement.
The unlucky ones get a breadcrumb coat and help pay for Captain Birds-Eye's cheap panatellas and keep him in Gilbeys Gin.
Disclaimers
No Ballan Wrasse were hurt in the production of this web page - despite our best efforts.
None of the words above is copyright or copyleft - if you find anything of value we trust you will go and see a recognised medical practitioner and have your health assessed. Don't take "no" for an answer as you need help and, possibly, medicating. To quote the great Phil Lynott, "Don't believe a word, 'cos words can tell lies".
The fish images are copyright Ray Troll

If you have any comments about this page please keep them to yourself because it's hard to retain any interest in this damn fish.
Tewkesbury

probably

has the worst pubs in the country.
Remember 09/11/2002 at Maine Road
This page is best viewed in a web browser and after a couple of large vodkas or perhaps a drop of Chardonney or Champagne but not the cheap stuff sold as "Methode Champagnoise" because this isn't a nice drink at all. Do not, under any circumstances buy Asti Spumante as that is horrible.

Remember that Guinness is good for you!
Keeping a little Italian number in the cellar is what got the Borges into trouble.
Roy Rogers - but don't we all?

"I want you in everything, in everything and anything I do - when will you make my phone ring?" [Ricky Ross]

Die zulaessige hoechstgeschwinligkeit ausserhalb geshlossener ortschaft um 7 km/h ueberschritten [Anhoerung des Betroffenen wegen einer Verkehrsordnungswidrigkeit Eilsache, Polizeidirektion 8220 Traunstein. Kennz: WN-HN-835. 08.05.1990. DM20]

I want to stand by you in McDonalds, I want to stand by you on the dole.

Try to avoid getting this page wet as it contains dehydrated Ballan Wrasse and the introduction of any moisture may rehydrate them. The last thing you need is a PC full of fish right now.

Thanks are due to a lot of people for the production of this page. They know who they are and it will avoid recriminations if I don't mention their names.
As Jagger and Richards famously said "You can't always get what you want - but if you try, try, try you just might find, that you get what you need!"
CTID
"There must be some way out of here" said the joker to the thief. "There's too much confusion, I can't get no relief".

Detling is a small town in Kent and illegal in a number of states.
Trailer for sale (or rent). Rooms to let 50 cents.

Page created using Mozilla Composer rather than Rizla Green. Much of it has been hand-coded because I'm trying to avoid some proper work.
The time and date now are

It was like this when I got here.
Some big boys did it and ran away.
The first man to urinate whilst on the moon was Buzz Aldrin.
See Naples and die, See Maidstone and be mildly disgusted.
This page is not suitable for children under the age of three as it contains Loose parts.
Made with 100% recycled electrons and 50% recyled ideas - dry clean only.
"Only the crumbliest, flakiest chocolate, tastes like chocolate never tasted before" - Discuss.
If a picture paints a thousand words why did Shakespeare bother?
Fleetwood Mac - "Don't stop thinking about tomorrow, don't stop - it'll soon be here".
Contains no artificial colourings and the only preservatives used are embalming fluid and E845.
Please keep your hands in the car for the duration of the ride and remember to take any personal possesions with you as you leave.
You get two opportunities in life and the difficulty is knowing whether this is the first or the second.

Feed the goat and he will score.
Baby this town rips the balls from your back, it's a death trap, it's a suicide rap - we've got to get out while we're young 'cos tramps like us, baby, we were born to run [B Springsteen]
Power in the darkness, frightening lies from the other side! [TRB]

The authors of this page accept no responsibility for any hurt, damage or harm caused by the ideas shown here. In fact we accept no responsibility for anything and can, if needed, provide a handful of expert witnesses to prove that we weren't here and never have been.
Caviar comes from the virgin sturgeon, the virgin sturgeon is a very fine fish.
Thanks must go to Sir Tim Berners-Lee and Nicola Pellow and Vint Cerf and Bob Kahn and many, many others. From an idea by Vannevar Bush.

You can do anything but lay off my blue suede shoes.
Elvis has left the building - good night y'all.
Revior (which isn't "goodbye" by the way)
Auf Wiederschauen