Suitable for ages 3 - 12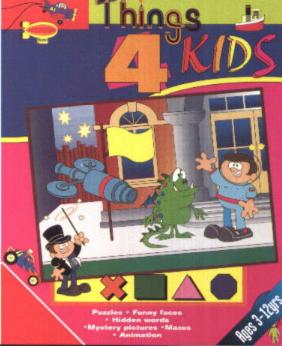 Eight Great Programs for Kids from Drawing and Colouring Pictures to Composing Music.
Create and colour a myriad of wonderful and fun drawings, or find your way through a maze, or compose music and sounds to listen to over and over. A whole range of fun activities are waiting for children in an easy to use and protected environment.
All of the activities encourage creativity, learning and basic computer skills, so kids can learn as well as have fun!
Draw Pictures
Freehand draw, or choose from one of many backgrounds or stamps to create an exciting masterpiece.
Create Funny Faces
Create funny faces at the click of a button. Save it, colour it or turn it into a jigsaw puzzle.
Compose Music
An introductory music program. Create your own songs, or choose from one of many pre-loaded songs.
Find Hidden Words
An exciting adventure into the world of words, to develop reading and vocabulary skills.
Mystery pictures
Colour in the dots and watch the hidden picture materialise before your eyes.
Create Jigsaws
Take a picture you have created, or one of many illustrations and turn it into an electronic jigsaw puzzle.
Explore Hidden Mazes
Find your way through the maze. A big surprise is waiting for you at the other end.
Educational Games
Ideal for developing memory capacity, categorisation and recognition skills. All while having fun!