123
Abc
Tizzy's Toybox
Nursery Rhyme Time
Maths1 & 2


Octopus says that he just loves this page of goodies and says the ABC CD does precisely what it should - teaches the alphabet - in a really splendid way.
Just scroll down the page .
---
This is a great way to get into numbers. Excellent.

Numbers from 0- 10 Number names
Ordering numbers
Matching sets
Counting sets
More or less
NEW early number age 3-6 years
Captivating activities carefully designed to help young children get to grips with important early number skills.
The 123 CD has been carefully designed to help young children with the complexities of counting and early number.
The CD features Wizit, a friendly and fun character who guides children through 11 different activities, all carefully constructed to help them develop important early number skills.
The CD has two main areas, Wizit's number fun and Wizit's number workshop. In the workshop there are seven carefully structured activities that introduce specific aspects of early number, while number fun has four fun activities, two to introduce numbers and their names, and two to consolidate children's learning. The software is fully configurable by the teacher or adult and has been designed to be as easy as possible for young children to use.
11 FUN ACTIVITIES INCLUDE:
Talking number rhymes / Number names / Ordering numbers / Matching sets / Counting sets. The pack also includes a wealth of support materials which will help to reinforce the skills acquired by using the program.
Perfect for use with 3 to 6 year olds.
With a set of photocopiable work sheets and a full colour wall frieze
CD-ROM Triple Format
Windows PC, Apple & Acorn

1 CD pack: £29.95 + VAT
3 CD pack: £44.93 + VAT
5 CD pack: £59.90 + VAT
---
ABSOLUTELY SPLENDID
Beautiful illustrations and animations
It really does help teach the sounds and shapes of the alphabet.
Just can't say enough about this beautiful presentation of Alphabet
Pre-reading age 3-6 years

Letter shapes
Letter sounds
Shapes and sounds activity
26 full colour illustrations to make wall frieze.
Watch and hear the alphabet come magically to life!
The Talking Animated Alphabet ABC-CD uses beautifully designed illustrations and animations together with speech and music to help infants learn the sounds and shapes of the alphabet.
The CD features three carefully graded activities that teach children to visually discriminate between letter shapes, to recognise the different letter sounds and finally, match the shapes and sounds together.



OCTOPUS SAYS
This CD really is a must. Highly recommended.
CD-ROM Triple Format
Windows PC, Apple & Acorn

1 CD pack: £29.95 + VAT
3 CD pack: £44.93 + VAT
5 CD pack: £59.90 + VAT
---
A Toy Box Full of Things to Do
Early learning age 4-6 years
A chest full of fun for young children!
Brimming over with meaningful activities for young children, the 1997 Best Primary Educational Software Silver Award winner Tizzy's Toybox is full of magical animations, lively speech and music that will entrance all young children. With the help of Tizzy, the magic clown that lives in the toy box, youngsters can choose from ten fun-filled games and activities that really will help them grasp those all important early basic skills.
Once children have chosen the toy they want to play with, Tizzy does the rest as she guides and helps them through the educational games and activities. With Tizzy's help young children can get to grips with simple rhyming words, prepositions, the language of comparison, matching and sorting, counting and one to one correspondence, colours, jigsaw puzzles, sequencing, the sounds and shapes of the letters of the alphabet (CD version only) and much more!
Perfect for all children from 4 to 6 years

The package is available in two versions, a standard disc based version which comes on several floppies and an enhanced CD version that takes full advantage of the capabilities of multimedia and includes one extra activity, pure speech, music and enhanced animations.
KEY FEATURES
Very easy for children to use
Suitable for non and beginner readers
Introduces and develops basic skills
Wide variety of early language and maths activities
Helps develop children's vocabulary
Includes extensive photocopiable children's worksheets
Three levels of difficulty
Narrated by Jacqueline Tong

CONTENTS
Simple rhyming words
Prepositions
Language of comparison
Matching and sorting
Counting
Colours
Sequencing
Jigsaw puzzles
The alphabet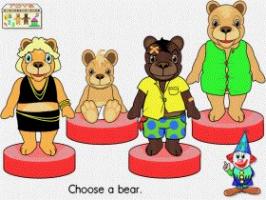 OCTOPUS SAYS - it is one of the dearest but it is also extremely comprehensive and professional.
CD-ROM Triple Format
Windows PC, Apple & Acorn
(Disc versions available for Acorn or Apple)

1 CD pack: £42.95 + VAT
3 CD pack: £64.43 + VAT
5 CD pack: £85.90 + VAT
---
Early reading age 3-6 years
A delightful selection of favourite nursery rhymes brought to life on CD-ROM

Our Talking Nursery Rhymes aren't just good fun.

It is generally accepted that children who are phonologically aware have a head start when it comes to reading.

Nursery rhymes have been identified as an excellent way to develop this phonological awareness, lay down strong phonic building blocks and sharpen up listening skills.

CONTENTS:
11 Fully animated and narrated nursery rhymes
Music
sound effects.
KEY FEATURES:
Point and click listen to individual words or whole rhyme
'Let me Play' puts the children in control
'Let me Sing' plays music for children to sing along to
'Let me Watch' shows whole rhymes to watch and listen to
Suitable for all young children, including non readers.

CD-ROM Triple Format
Windows PC, Apple & Acorn
(Disc versions available for Acorn or Apple)

1 CD pack: £29.95 + VAT
3 CD pack: £44.93 + VAT
5 CD pack: £59.90 + VAT
---
Two lively CD ROMs to put some fun into your early number work.
5 to 7 years.
Full of colourful animated exercises that introduce and practise early numeracy skills such as sorting, matching, sets, ordering and counting. Based on the tried and tested ideas and resources of the Cambridge Primary Mathematics Scheme, the CD ROMs are very easy to use; from the friendly narration that tells the children what to do and offers gentle encouragement, to the options that make the mouse easy for little fingers to use, these CD ROMs have been designed with infants very much in mind.
PRIMARY MATHS 1


Sorting and Matching Matching Sets Introducing 1 - 5
Ordering 1 - 5
Introducing 0 and 6 - 10

PRIMARY MATHS 2


Ordering 1 -10 Counting & comparing sets Towards addition Shape Weight & length

OCTOPUS SAYS - very practical and realistic way to learn first numbers - easy to operate - inspires confidence. Welsh version included.
Takes it step by step for little kids. Lots of repetition to help them through the awkwardness of first numbers. Excellent product.

CD-ROM Triple Format
Windows PC, Apple & Acorn
(Disc versions available for Acorn or Apple)

1 CD pack: £29.95 + VAT
3 CD pack: £44.93 + VAT
5 CD pack: £59.90 + VAT
*