More super software.
If you want the best its here.
---
just scroll down page for these titles:
Science Fair,
Science Explorer I & II
This Week in History,
Matti Mole's Language Skills.
Introduces pupils to difficult early science concepts

Perfect for use with 5 to 7 year olds.

CONTENTS:
Electricity
Forces and motion
Light and sound
Earth, Sun and Moon in space
Day, night and the seasons

KEY FEATURES:
2 levels of difficulty
Help and correction routines to reinforce learning
Record keeping

All text narrated

Also includes a wealth of support materials which will help to reinforce the skills acquired by using the program.

Join the friendly stall holder Bert and his assistant Vicky at the Science Fair where young children can choose from five exciting fairground attractions.

Full of the fun of the fair, this CD-ROM gradually introduces pupils to difficult early science concepts that are essential building blocks for further science work. Science Fair puts them all into an exciting and lively setting that young children will immediately identify with and enjoy. With clever use of sound, colourful graphics and animation, the CD-ROM has been designed to both support and stimulate practical work in infant classrooms.

Written by the best selling co-author of Tizzy's Toybox, Sue Rankin, and illustrated by Paul Hutchinson of Naughty Story fame, this interactive CD-ROM supports, consolidates and extends the practical experiences that are fundamental to children's understanding of science.


Five exciting fairground attractions include a variety of activities that focus on the Physical Processes component of the National Curriculum for Science at KS1 and the corresponding sections of the Scottish 5-14 Guidelines Levels A-B.

Fun House. Vicky wants to make the machine work but first children must decide if she needs to push or pull the drawer to open or close it and if she should push or pull the button to start it.

| | |
| --- | --- |
| | There is an unfinished scene of a house on the video wall. Can pupils complete the picture with the correct items for day or night? |

Includes a set of 18 practical and beautifully drawn photocopiable work sheets to use in the classroom or at home.

CD-ROM Triple Format:
Windows PC, Apple, & Acorn.

1 CD Pack: £40.00 UK Pounds + VAT
3 CD Pack: £60.00 UK Pounds + VAT
5 CD Pack: £80.00 UK Pounds + VAT
---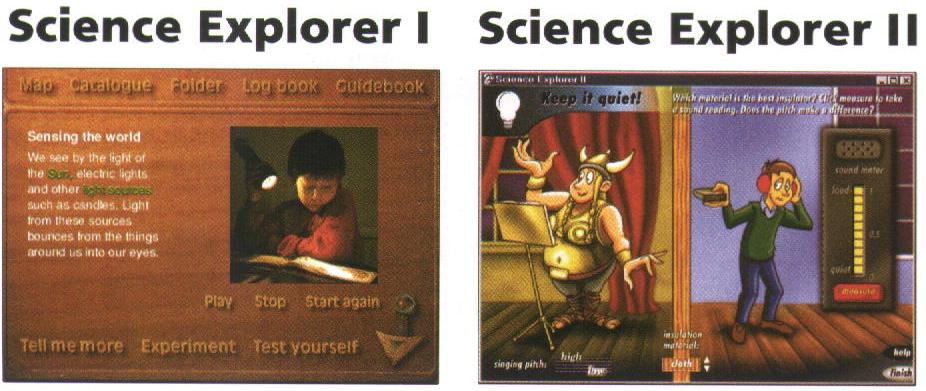 CONTENTS

Living things


The material world

Electricity light and sound

Forces and motion and space

Comprehensive glossary

Explore the wonders of virtual science where children can move through exciting and colourful galleries and take control of interactive experiments that explore a variety of topics.

CONTENTS
Science Explorer I
CD-ROM Windows PC or Acorn

£59 + vat
(includes network site licence)

Science Explorer II
CD-ROM: Windows PC or Apple or Acorn

£59 + vat
(includes network site licence)
---
HISTORY

Perfect for use with 8 to 13 year olds.

Just what you need if you are planning to do any work on the Millennium this year.

This Week is History is a triple platform CD-ROM full of high-quality clip art, images and informative text that describe and illustrate many of the key events and people from the past thousand years.

Focusing mainly on British history, the CD-ROM takes you and your children on a fascinating journey; from Henry VIII to Tony Blaire, the Battle of Hastings to Hiroshima. The main characters and events from the past millennium are all easily accessible and include numerous clip art files, images and text that pupils can export to use in their own work.

This Week in History addresses many aspects of the History Programmes of Study for Years 5 to 8 and can be used to foster important research and I.C.T. skills.

CONTENTS:
Medicine and health
Royalty and government
Science and technology
Battles and warfare
Flight and rockets
Surface transport
Exploration
Society and people
Media and communication

KEY FEATURES:
Calendar and topic list menus
Easy to use index
Timeline for each event

This Week in History has been carefully designed to incorporate many of the themes of historical understanding and enquiry that are specific in the Key Elements for Key Stage Two and Three, as well as to support the development of independent research skills.

This Week in History and IT
The program has been designed specifically to address Unit 6A of the QCA's Scheme of Work for IT, which focuses on pupils studying the features of multimedia and learning to create their own multimedia presentation using text, image and sounds.

CD-ROM Triple Format:
Windows PC, Apple, & Acorn.

1 CD Pack: £40 UK Pounds + VAT
3 CD Pack: £60 UK Pounds + VAT
5 CD Pack: £80 UK Pounds + VAT
Includes a free site licence.
top of page
---
Matti Mole's Language Skills "Summer Holiday"

Suitable for Ages 8 - 9

Focused Language activities together with a delightful talking story for juniors. Perfect for individual and group work in the literacy hour.

As children progress through Matti's story they are presented with a variety of focused language and grammar activities that will practise and extend their language skills. accompanying worksheets expand the work away from the computer

Includes 10 interactive screens and 4 fun games for children to explore and enjoy.

The pack also includes extensive photocopiable work sheets, 48 page educational guide and a comprehensive 44 page user guide

CONTENTS:

KEY FEATURES

"This brilliantly put together piece of software combines the best elements of talking books with a definitive guide to the major literacy skills"
Parents and Computers

CD-ROM Triple Format:
Windows PC, Apple, & Acorn.

1 CD Pack: £40 UK Pounds + VAT
3 CD Pack: £60 UK Pounds + VAT
5 CD Pack: £80 UK Pounds + VAT
---