Introduction
(from the Ghosts & Scholars book, 1987)
Montague Rhodes James, Provost successively of King's College, Cambridge, and of Eton, died in 1936 after a full life which included, though very much as a hobby, the writing of some of the greatest ghost stories in the English language. Four volumes of these were published: Ghost Stories of an Antiquary (1904), More Ghost Stories (1911), A Thin Ghost and Others (1919), and A Warning to the Curious (1925), and there have been many selective collections. Several of the tales were first read aloud by James to friends who gathered in Cambridge at Christmas. The books and readings were so popular that they inspired others to write their own ghost stories in much the same style.
Since James's death other authors, some not even born in 1936, have continued the tradition. Unlike H.P. Lovecraft, though, James has never attracted a large and rabid following of imitators, with the result that those stories of the Jamesian type which have appeared in print tend to be of a high standard. Other modern writers (such as Kingsley Amis) have utilized certain of James's techniques without actually attempting to produce a Jamesian tale.
What is it that makes a story 'in the tradition of M.R. James'? To some extent James answers this question himself in his little-known essay "Ghosts - Treat Them Gently!", reprinted in this volume. When he describes the ideal ghost story he is also giving some of the requirements for the perfect Jamesian tale. A well-drawn and realistic setting is certainly vital, and if that setting happens to be an antiquarian or ecclesiological one, then all the better. Into this setting, the strange happenings should be introduced carefully. As James says in his preface to Ghosts and Marvels (1924): "Into this calm environment let the ominous thing put out its head, unobtrusively at first, and then more insistently, until it holds the stage." The nature of this 'thing' is very important: all of James's own ghosts are malign, inhuman, and described in a subtle but not too understated manner. He disliked poignant spectres, although in "Martin's Close" he himself created one that was both malign and poignant. The classic Jamesian tales almost all include a malignant presence of some sort, yet there are exceptions to the rule. E.G. Swain, in particular, managed to build an atmosphere worthy of James with ghosts for which the reader can feel much sympathy.
Another important facet of the James style is humour. It plays a central role in most of his fiction, not simply as 'light relief', but as an integral part of the build-up of suspense. The best of his followers copy this technique very ably and to good effect.
In this collection we have tried to include representatives of all types of Jamesian story, and to draw a balance between older and more recent writers. In addition, to illustrate that the tradition is a continuing one, there is a story ("On the Leads" by Sabine Baring-Gould) that pre-dates M.R. James yet resembles his work quite closely, as well as a recent tale by Ramsey Campbell, which shows how the Jamesian technique can be used in a totally modern and apparently un-Jamesian setting. The story by Frederick Cowles is previously unpublished.
Two items that deserve particular mention are Sir Andrew Caldecott's "Christmas Re-union" and Sheila Hodgson's "Come, Follow!", both of which are, in fact, based on ideas by James himself, as described in his essay "Stories I Have Tried to Write". A number of notes and unfinished stories by James still exist at Cambridge.
We were tempted to include at least one story by James himself in this anthology, but as they are readily available elsewhere we have decided instead to revive two less familiar pieces: the essay "Ghosts - Treat Them Gently!", and his comments on a ghost story competition that he judged for the Spectator.
This collection could easily have been twice as long, and perhaps in restricting it to the present length we have omitted someone's favourite writer in the genre. Such omissions are usually because we do not feel that a particular style is quite as Jamesian as those presented here, or because stories are already easily accessible elsewhere (E.F. Benson and A.N.L. Munby, for instance). We have listed a selection of further 'disciples' of M.R. James in the Select Bibliography.
Copyright (c) 1987 Rosemary Pardoe
Artwork details from "M.R. James and Friends"
by Alan Hunter (c) 1987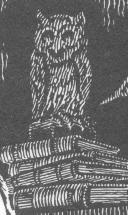 back to top
back to the Ghosts & Scholars book Home Page
back to the Ghosts & Scholars Archive Home Page