Butterley Signal Box
The former Ais Gill signal box, now at Butterley, was built in 1900. The box is well known for being originally situated on the summit of the Settle and Carlisle Railway, at 1166 feet above sea level. It is in remarkable condition considering its previous location. However, it is now starting to need work done, especially on the windows, door and roof. It has a Nelson stove which needs the fire bricks replacing.
The box was moved from Ais Gill in Autumn 1982 and rebuilt on the site of the former Butterley box, being brought back into use for the weekend of 8/9th September 1984.
It is designated a type 2b box and contains the original 16 lever tumbler frame.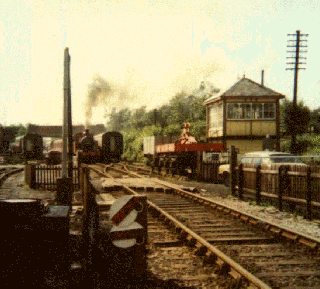 Butterley Box in August 1985.
Note the minature signals then in use to control the entrance to the station lines. These have now been replaced by stop signals on a gantry some yards behind the photographer.
The box was then painted in Midland Railway colours. It has since been repainted in the colours used by the LMS region in 1948.

Other photographs/images that are available are: