Hammersmith Signal Box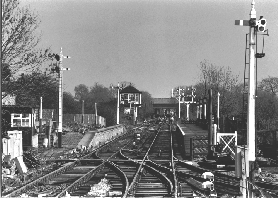 The former Kilby Bridge box now controls the terminus at Hammersmith. Built in 1900 the box now requires major work on the steps, veranda and replacement of the main end beam. Repainting is also required. The box has a Courtier stove for which it has proven impossible to get replacement fire bricks.
The box was closed by British Rail on 29 June 1986 and moved to the Centre a month later. It was originally acquired for use at Swanwick but it was decided to install it at the Terminus at Hammersmith where it was rebuilt in March 1987 and commissioned in September 1989. The box is designated as a Type 3b box and contains a 32 tumbler lever frame.
The box now controls the Hammersmith station limits (which presently include Butterley Platform) and the run round and yard points at Hammersmith. The main line signals at Butterley are slotted by Hammersmith. It is linked to Swanwick by Tyers No. 6 tablet machines. It can also be used as a ground frame (released by the long section OTW tablet) to operate the run round.
Other photographs/images that are available are: