A CHRISTMAS GIFT FOR YOU!
Take a listen to our Christmas song, "Leaving Christmas Day" at:
https://soundcloud.com/#fortuna-pop/tender-trap-leaving-christmas
And enjoy the following band photo, courtesy of Alison Wonderland.

Happy holidays from Tender Trap!

LATEST ALBUM
Our latest album "Ten Songs About Girls" is currently available on Fortuna Pop!

It has had some great reviews. Here are some of our favourites:

http://www.guardian.co.uk/music/2012/sep/14/tender-trap-girl-group-sound
http://www.thelineofbestfit.com/reviews/albums/tender-trap-ten-songs-about-girls-109368
http://www.musicomh.com/albums/tender-trap-2_0912.htm
http://www.allmusic.com/album/ten-songs-about-girls-mw0002413071
http://alayerofchips.blogspot.co.uk/2012/08/tender-trap-ten-songs-about-girls.html
http://brilldream.blogspot.co.uk/2012/08/a-coming-of-ageten-songs-about-girls-by.html
TAKE A LISTEN
You can watch the video for "Step One" here. It was mostly filmed at the Indietracks festival and features owls!

www.youtube.com/watch?v=CVfLLwXCTBw
And you can hear a couple of other songs from the album here:

"Love Is Hard Enough": http://soundcloud.com/fortuna-pop/love-is-hard-enough
"Train From King's Cross Station": http://soundcloud.com/ketelmuziek/tender-trap-train-from-kings
FEATURE

To mark the album release, ClashMusic has posted a list of our top ten songs about girls (by other bands). See what you think of our picks.

http://www.clashmusic.com/feature/ten-songs-about-girls-tender-trap
PRESS CONTACT
For press copies of the Tender Trap album, or for press contacts generally, contact Lucy Hurst at lucy@butilikeyou.co.uk.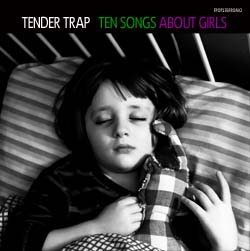 UPCOMING GIGS
Come and see Tender Trap play new songs from the album (plus a few older ones) at the following show.
Tues Jan 8 LONDON, Lexington, at the 3rd Annual Fortuna Pop! Winter Sprinter, with Allo Darlin and Spook Schoo (with DJing by Scared To Dance). Tickets £10.50 (or £32.50 for 4 day pass) http://www.wegottickets.com/f/5197.
WHO IS TENDER TRAP?
Tender Trap is Katrina Dixon, Rob Pursey, Emily Bennett, Amelia Fletcher, and John Stanley (aka DJ Downfall).
Between us we have played in Heavenly, Betty and the Werewolves, Policecat, Talulah Gosh, Sportique, Dweeb, Marine Research, Sally Skull, and probably some more we have forgotten.
We play indie pop-punk songs, with a feminist edge, fuzzy guitars, and bucketfuls of glorious girl harmonies.
You can read more about our history here.