KIRKHAM
Lancashire England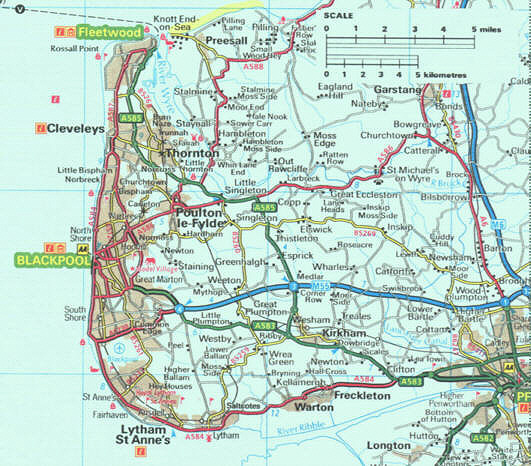 This page last updated 20th February 1999

Kirkham is a small market town located in the Fylde coast area of West Lancashire lying between Blackpool to the West and Preston to the East. In 1996 the town celebrated the 700th Anniversary of the granting of the towns Charter by the Abbey of Vale Royal in Cheshire in 1296, although the town actually dates back to before William the Conqueror and the parish church of St. Michaels is believed to date back to 608 AD. An archaeological dig in the area known as Dowbridge in 1993 discovered a number of artifacts dating from the time of the Roman occupation and since the early 1800's many others have been unearthed including coins, pottery and roof tiles.

Why not get paid while you read pages like this? I do!! click here

At the time of writing it has just been announced in the local press that detailed plans for a proposed museum have been unveiled utilising part of the old swimming baths, where it is hoped to be able to display some of the finds. The early 1900's saw Kirkham established as a typical Lancashire cotton mill town and was the main industry until the 1960's. Many of the old mill buidings still stand and have been modernised for use by various new businesses. In Summer each year a gala day is held, generally known as "Club Day" with various churches and "Rose Queens" together with brass bands, walking in procession around the town in the morning and a "fun carnival" of floats and bands in the early evening. A travelling funfair also attends during the week in which this takes place.

Unfortunately the weather was not at its best this year, but the crowds still thronged the towns streets, as can be seen below.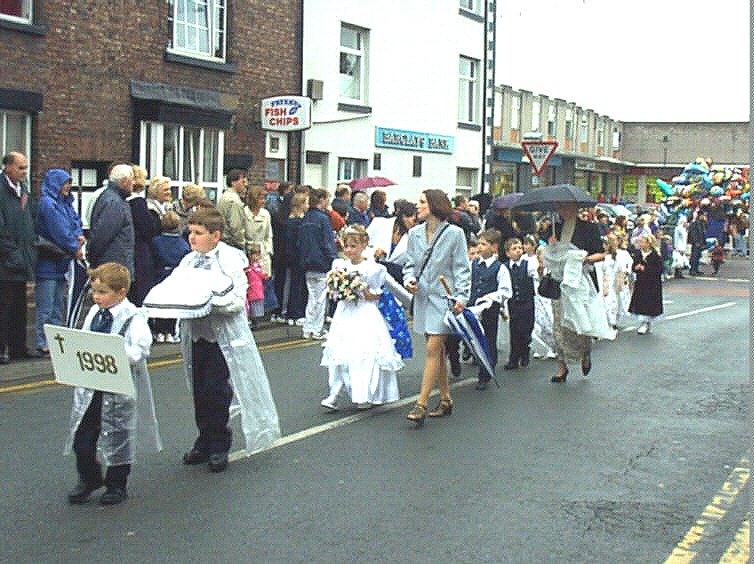 Procession entering Freckleton Street from Preston Street, opposite Market Square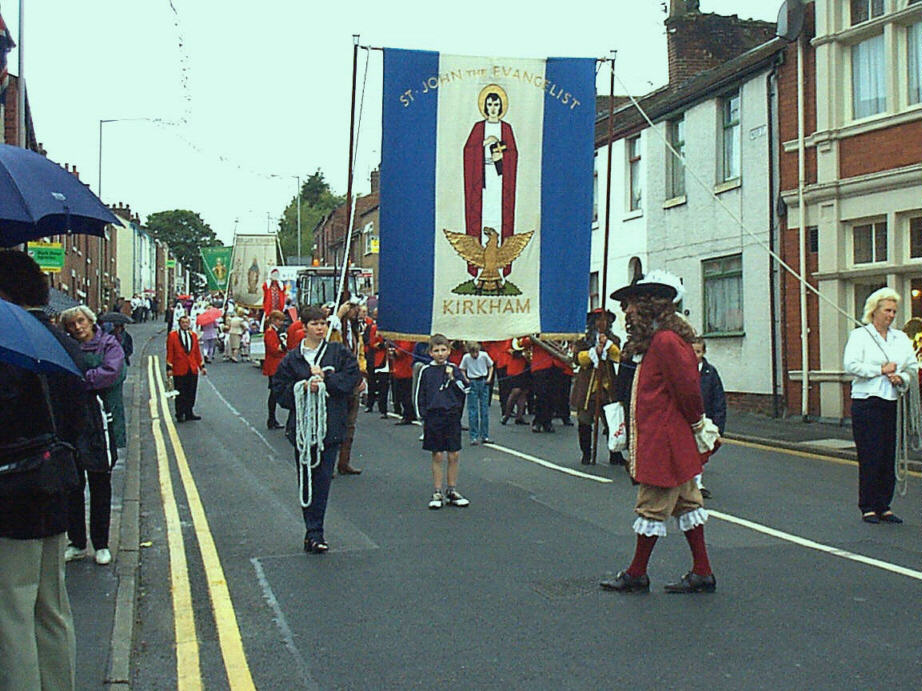 Heres another one, part of procession waiting in Moor Street, Town End
The town has recently aquired a large supermarket, which involved extensive changes in the area known locally as "Town end". The biggest local employer is BRITISH AEROSPACE at Warton a few miles to the South, and the sound and sight of fast jets such as Tornado and the newly developed Eurofighter (now also known as Typhoon) is common, though not intrusive. Kirkham is twinned with ANCENIS, a town in France deemed to be similar. Just an hours drive north is the beautiful Lake District. A short drive to the East finds you in the picturesque North Yorkshire moors.
About Me! ...or more Kirkham! Please check back now and again...I might have gotten round to updating!
Digital still pictures of anywhere in Kirkham, or 15 miles radius can be produced to your requirements,(as long as its legal!) resolution of 1152 x 864 in most file formats and e-mailed or sent on disk for a fee of 5 pounds sterling (plus cost of disk and postage if required) for 4 pictures. The "Club Day" picture above is much reduced in size and quality in order to fit the page. E-mail your enquiry and I will endeavour to satisfy your requirements.
Roy Livingstone
raltec@globalnet.co.uk