Yes indeed, folks, as the sun went down behind a bruised sky we set off for Kingston Park to watch our 100%ers continue their campaign to run away with the Pontins Second Division Reserves. Jon and Steph hoiked me out of the Strawberry where I had been preparing myself intime-honoured journo fashion by lashing a few quick ones down. The reason for this early departure was to get a place over by the only stand to attempt to interview a player or see the visiting dignitaries.
We arrived at the same time as Blackpool's coach and so managed to grab a copy of the teamsheet and settle on the barrier to watch the sides warm up. Whilst perusing the teamsheet we quickly realised that there was to be a rich display of talent on view. With Dalglish and Gudjonsson away on international duty (that has a nice ring to it), it had obviously been deemed necessary to beef up the squad with some first team regulars, so enter messers Albert and Barton.
The difference in pre-match exercises was rather marked; Blackpool ran from sideline to sideline at varying speeds, while our young heroes (and Warren and Phillipe) formed small groups and practised passing, interspersed with the odd stretching routine before trooping off with only the occasional pause to sign autographs. I spotted an orange scarf a few feet away, and grabbed the opportunity to glean some inside-info on Blackpool from a fan; there followed an extremely weird conversation: Softie (in best "serious" investigative reporter mode with clipped BBC tones): "Excuse me. I represent an unofficial NUFC news-site and wonder if you could fill me in with which Blackpool players I should keep an eye on." Man in orange scarf (in fine Geordie accent): "Well, Bushell, Hills, Robinson and Bent are all regulars in the first team while Brabin and Blunt have each had a look-in." Softie (trying to work out why a Geordie supports Blackpool): "Do you know about any of our lot?" Man in orange scarf (trying to work out why a southerner is referring to NUFC as "our" team): "Errr, I'm a season-ticket holder at SJP, it's just that my Dad was from Blackpool." Softie (deciding to put this one down to experience): "&ldots;.."
Back with Steph and Jon we are delighted to see a couple of familiar faces hove into view; it is none other than the redoubtable Jonno, back in his native land once more, and Gibbo. Jonno announced that he might as well have stayed indoors in the warmth, since he can see the park from his new home. On reading through the teamsheet, this "small minded accountant" announced that we would be looking at £10m worth of talent
The stand behind us had filled up with FOLPs (like VIPs but fairly ordinary looking), and there was that slight buzz of anticipation, when my reverie was destroyed by a great blast of sound&ldots;..what could this be; a jet crashing at the airport, a metro train derailing, a couple of my pre-match looseners repeating on me? No! The quietest tannoy in the world is no longer with us, but has been replaced by some many-decibelled monster from the world of high fidelity. I ask you, is nothing sacred? Anyway, they didn't bother playing "Local Hero" now you could actually hear it, so the eerie near-silence of Kingston Park reigned supreme after a brief burst of applause when the lads ran out.
We lined up as:
1 Lionel Perez (Oh gawd!)
2 Bartinho ("Warren Barton's centre parting, la-la la la la!")
3 Carl Serrant (possibly the most-photographed reserve player&ldots;.I think we should be told Steph)
4 Stuart Elliott (You don't really want to go chasing sheep with Big Nose, surely?)
5 Philippe Albert ("He's big, he's Belgian, and he's all ours, all ours&ldots;etc")
6 Des Hamilton (he's called Derrick Vivian don't you know)
7 Julio Geordio (Scorchio!)
8 Jamie McClen (started on the bench last time)
9 Paul Robinson (neighbours)
10 David Burt (moving up the field, midfielder until now)
11 Gary Brady (can he continue to be my favourite reserve player?)
Once again, my unashamedly biased reporting makes it pointless to say anything about Blackpool other than what the man in the orange scarf had told me about their fielding a core of first team players&ldots;..the fact that they only had 4 subs might suggest a lack of players in their squad overall.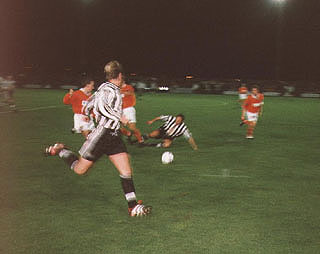 There was a bright start for the lads with us keeping the ball with ease and passing it around with aplomb, but their was no disguising the fact that Robinson was the only striker on the park, so brilliant approach-play served to herd most of the Blackpool players into their penalty-box whilst we proved unable to finish. We enjoyed the glory of Serrant's constant runs up and down the line and great crosses and the silky touches of Bartinho who once again demonstrated his ability with the back-heel which we last saw against Partizan at SJP. Stuart Elliott was a constant bundle of energy shouting orders, as befits a captain, and treating Blackpool to his ferocious tackling&ldots;.if he is really in the shop window, he's seriously underpriced.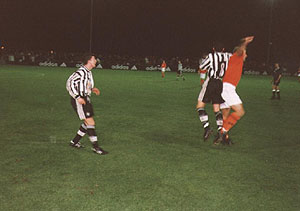 Brady had quite a mixed time showing us his ability to cut inside from the wing and beat his man as easily as he seems to be able to go around and cross, yet some of his passing was poor last night. Julio Geordio was more of a worry, since he has previously demonstrated a direct approach that left defenders little option but to foul him, but he seemed to play the whole game with his back to goal laying the ball off to Hamilton, Albert and Elliott. Jamie McClen was a little light-weight in central midfield while Des appeared to frighten the small boys trying to mark him.
The most mismatched encounter, however, was between Albert and Blackpool's Junior Bent. It might just be me, but I was automatically thinking about the 7 foot tall Junior Baiano when I saw the name on the sheet, but this chap was more like Gary Coleman&ldots;.4 foot tall with chubby cheeks. Perhaps they had heard about our diminutive Icelander Bjarni and thought that they'd get one of their own. As it was, Blackpool were utterly out-classed for most of the game, though they had two particularly fearsome players in their number 4, Gary Brabin, and number 6, Jason Jarrett. Brabin was just very enthusiastic but rather clumsy, partly as a result of following the "Thomas Brolin fitness regime" by the look of him, while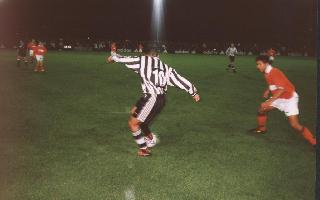 Jarrett was a different kettle of fish; seeing a long-sleeved orange shirt with a black number 6 on it had me thinking of Jonathan E in "Rollerball", and all this guy was missing was studded gloves and rollerskates, only the ref knows how he stayed on after his fourth "robust" challenge from behind.
It was goalless at half time, and no sign of anybody important in the stands&ldots;.having recently argued that Ruud's constant presence at the reserves has shown how seriously he is taking the job, I can only sheepishly assume that he is off watching world-class players at the Euro-qualifiers&ldots;ahem. The break also allowed people the opportunity to admit that it was bloody chilly and forebodings of what it will be like when the wind is driving sleet at us are already starting to creep into the conversation.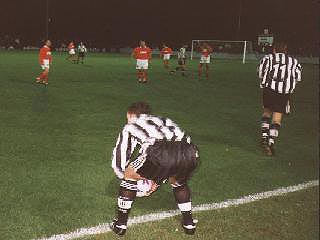 It was also noticeable that the length of sleeves on the pitch was in inverse proportion to proximity to the first team, with Albert, Julio and Elliott mocking the elements with their short sleeves, while Bartinho had his rolled up in the first half before reverting to his usual full-length at half-time. It seems obvious that all Carl Serrant needs to do to break into the first team is wear short sleeves, since he has everything else in abundance.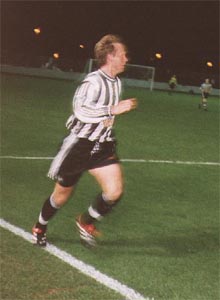 The second half saw the major incident in the match when the flying Bartinho raced from our, drew a foul from a hapless defender and pathletically launched himself into the box with a triple-summersault and pike (he will have to work on the dismount)&ldots;..the ref pointed to the spot. Up stepped the captain, could this be a farewell gesture from Elliott? He struck the ball fairly well, but the keeper made a tigerish leap to his right and pushed it back out. Bartinho was now subbed for Paul Arnison and Julio Geordio was replaced by Paul Talbot, and Jamie McClen by Paul Barrett later in the half.
The game continued to flow our way for the most part, with the most exciting moment coming when the ball flew into the crowd and was launched majestically back into play by your reporter&ldots;..well, alright, in the interests of accuracy, I ducked and it hit me on the shoulder and bounced off my oblivious body and back onto the park. There were plenty more shots from the lads, with Serrant, Robinson and Burt all coming close, but nobody was going to beat Philip Barnes in the Blackpool goal (although when someone managed to pick him out despite getting a free header, you had to say luck was on his side).
The last 10 minutes also brought tactical changes, with Brady switching to right wing when Julio went off (I knew I'd seen him there against Stockport!) and Albert moving up to play as a striker (Gibbo's face was a picture!), but nothing managed to tilt the balance and Junior Bent got more space to cause problems the other end, which were dealt with effectively by Elliott despite Perez's best attempts to mess it up.
The whistle blew with the game scoreless, and our 100%ers have instead become downgraded to unbeaten. Still, 8 wins in a row is something to be proud of and they deserved the applause from the 2,216 in attendance. Once again, a visiting team had come to defend and brought along a good keeper.
The only real question that remains unanswered is; who was the mystery man shaking hands with Bartinho in the stand after he was subbed? It looked a bit "You've done enough for me" from where I was standing, and it can't be normal for a player to make his way through the crowd after being subbed, instead of waiting until the end, especially when it is as potentially hazardous as it can be for a player of Bartinho's class.
For more info on the reserves, Visit the Young Magpies Zone