The Resorves............ Author Jonno
2-0 to Bradford - Toon lucky to get 0.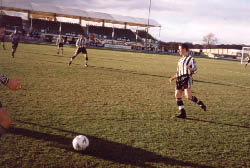 t was a deceptively beautiful sunny day, but this was a trap for the unwary, and anyone turning up in shirt-sleeves was in for a nasty shock. Once again the wind was coming from the North Pole, or maybe from somewhere beyond that and it was just being warmed up at the North Pole. There was already a large queue of anxious looking brass monkeys outside Kingston Park Welders when we arrived. (The old ones are the best - as Screach and me like to claim).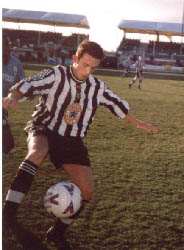 This being an afternoon game, the gloryhunters would be sorted out from the nutters, sorry genuine fans. Gibbo and Softie sadly fell by the wayside on this one, leaving only Steph and Jonno to support the lads.
At the risk of striking fear into the hearts of all eagerly awaiting the result of the cup game against Bradford, I have to tell you that Bradford outplayed the Toon in every area of the pitch. If these guys can't make their first team we have to be slightly concerned. Only Griffin, being tested on his return from injury, looked like a class act, and of the others Elliot had a canny game. The resorves are quite young and very lightweight. They seemed easily pushed off the ball by the opposition who had a fair amount of skill, particularly the two black forwards, 9 and 11,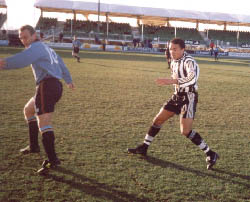 Rankin and Grant. Grant had pace and control. I don't know how old he is but he might be a prospect. Ramage(8) got the first for Bradford after 20 mins with a low drive past Perez into the corner from 20 yards. Grant finished Toon off with a fine solo run in the dying minutes. We produced hardly any scoring opportunities. Young Dags worked hard but was ineffective. Young Coppinger, looking more like a pamphlet for famine relief, did produce a wonderful Beardsley shuffle near the end and got in one of our very few shots. The game was notable for quite the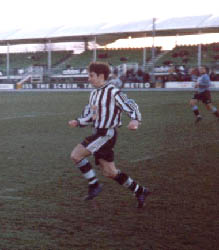 worst corner I have ever seen at any level of football. It was taken, of course, by The Toon. I forget the players involved but it was on our right wing. A player comes to the edge of the area near the goal line to encourage a short pass. He then dummies and runs away. The corner was tapped very gently to the spot he had just left, and was controlled by the defender now occupying that spot as if it were a pass made during the warm up. There hasn't been a bigger anti-climax since I was mistakenly supplied with valium in place of viagra at the local pharmacy.
In attendance, were TSM and Terry Mac, and, once again neglecting his Amsterdam duties was Ruud Gullit.
Toon team. Perez, Griffin, Serrant, Barret, Beherall, Elliot, McClen, Hamilton, Dalglish, Coppinger, Keidel.
I've said it before, and I'm afraid I'm bound, on this occasion, to say it again - you can see why Keegan scrapped them!