Tiger balm and Terry Mac
How would the previously unbeaten second string react to a shock 4-1 drubbing during the cup on Wednesday? This was the question uppermost in my mind as Steph, Jon, Jonno and I waited to see what the chilly, and occasionally drizzly, evening would bring. Also, how would the long-term reservists react to the return of Hamilton and Elliott from loan spells at Sheffield United ("Cheer up Sean Bean...") and Gillingham respectively, or the reappearance of Dalglish Jnr? Would Carl Serrant feel that his return to the reserves was a punishment for his error at Goodison Park? Would Psycho work as a catalyst with the maybe-men, or would he be as anonymous as so many of the first team regulars have proven to be in the somewhat less than electric atmosphere that characterises the Kingston Park experience.
Toon lined up as:
1 Lionel Perez: that sinking feeling you are currently experiencing is fully justified
2 Paul Arnison: "Arnie" to his teammates
3 Stuart Pearce: didn't bother to warm up with the others, if he gets a pulled muscle we should dock his wages
4 Stuart Elliott: good to see him back
5 David Beharrall: not to be confused with Terry Burghall
6 Paul Barrett: "Haven't you got homes to go to?"
7 George Georgiadis: Julio Geordio to you and me
8 Jamie McClen: don't they all look alike?
9 Temuri Ketsbaia: 10 to 1 against that shirt staying clean
10 Paul Dalglish: well, he wasn't really ready, was he?
11 Carl Serrant: moved up the park, are we trying to keep him away from the penalty box?
12 Des Hamilton: c'mon Derrick
13 Peter Keen: surely he should be in the No 1 shirt?
14 Paul Talbot: yes, they do all look alike, don't they?
15 David Burt: still my tip for next player to break into the first team
16 Terry Burghall: not to be confused with David Beharall
Huddersfield wore numbers 1 to 16. Not that I'm biased or anything. There numbers 5 and 12 were dirty b*stards as well.
Perhaps I should tell you now that this game finished goalless (in fact, had they been playing the golden goals rule, I have no doubt that we would still be snoring gently in the new stands this morning). This is not to ruin the suspense for anyone who doesn't know the final score already, merely explainig why even Stuart Hall would have had a tough time making this sound interesting; it wasn't.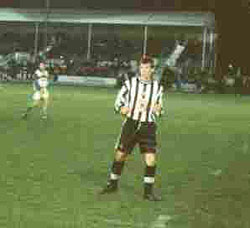 From the off it was clear that Huddersfield had deviated from the usual visiting teams' tactic of using these games to test their defenders, and had instead decided to go for a win. Unfortunately for them, Elliott, Beharall (not Burghall, he came on later and played up front), Arnie and Psycho were too good for them, and pressured them into the kind of shots that even our French Farce was capable of stopping. It was also apparent that it wasn't just John Barnes who has been teaching the youngsters naughty sailor words; Pearce ("Pearcey" to his teammates, "Stewie" was Stuart Elliott last night) was heard to offer the gentle encouragement to Beharrall to "Get yer f**kin' tackle in!"; this was a little odd, since David's jockstrap appeared to be performing its allotted task from where I was standing.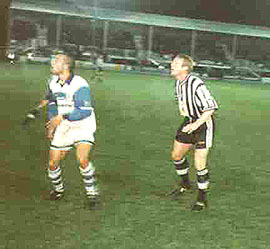 Psycho's belligerence was perhaps a bit more powerful than his tackling, since he was turned on a few occasions. This resulted in Jonno needing to be restrained to prevent him calling out that that cardboard cutout from the documentary shown on Chanel 4 on Sunday would have been more useful. The cutout in question takes pride of place in a devoted fan's house. Her long-suffering husband has to tolerate her rubbing Tiger balm into the cutout to help soothe Pearce's many injuries; a level of self-delusion that makes hedge-cutting, sheep-sacrificing bbsers seem reassuringly normal.
The wobbly-man was also in fine form; this smooth-headed child's toy is designed to be easily knocked over before always returning to the upright position. Like many traditional wooden toys, it is best to get a foreign one for that ethnic feel, which visitors will find exotic and thus is useful as a conversation piece at gatherings if everything else is looking a bit run down or bland; we got ours from Georgia ;-). The wobbly-man needs to learn that hurling oneself theatrically through the air with a scream looks silly in a reserve match.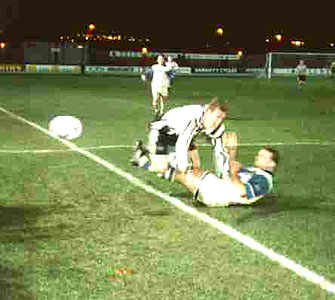 A few minutes after kick-off I detected a strange presence in the air. I was experiencing an inexplicable sense of gloom and depression. Turning around to look at the main stand behind us, I was confronted with the fearsome aspect of "The Scottish Manager" and the curly head of Terry Mac. So that was why we weren't getting any shots on goal, the entire team is still brainwashed to respond to his thought-patterns. Jonno pointed out that the scowl was probably due to the fact that we could see 3 of our players blatantly positioning themselves in the Huddersfield half, and one of them was RUNNING! Seriously though, all bitterness aside, he's a big man to come to our games and it would be a sad world when a proud Dad is prevented from doing so.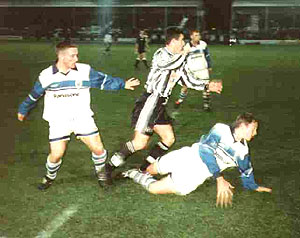 Interestingly, Ruud was conspicuous by his absence, so he is presumably in Rome convincing Totti that since one of his forefathers spread so many of his genes about when stationed at the Wallsend in Novocastrum, he is really a Geordie, so he should stop ponceing about in the San Siro, and come and give the land of his spiritual birth the benefit of his footballing talents; we live in hope.
The new sound system has also given the announcer a new lease of life. After years of whispering away unheard on the quietest tannoy in the world, he can now boom out his messages with the ability to turn heads in Bishop Auckland. Last night he was sorry to inform us that the lights weren't working in the toilets under the West Stand, so could we all please use the toilets at either end of the ground. This seems like a fairly harmless message until you examine it a little closer. The only reason he was telling us this is because there has only been a West Stand for a few weeks now. Up until then, there was just THE Stand. What was particularly unhelpful was that without reference to that huge ball of exploding gases in the sky, telling which way is West isn't very easy. On an overcast wintery evening it was merely noise pollution. You can hardly tell somebody that the way to work out West at night is to go around Kingston Park and when you piss all over your boots because you can't see, you've found it, can you? Next time I'm going to heckle him. The power of being an announcer with a noisy tannoy and TWO stands has clearly gone to his head and he must be stopped.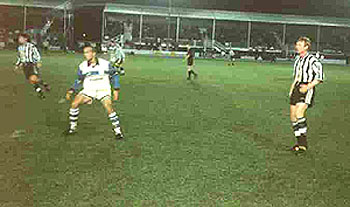 The game itself trundled fairly listlessly along with Perez having to make several saves whilst our lads continue to demonstrate their worrying fear of having a pop at goal. Julio and the Wobbly-man were subbed for Burghall and Burt, but we still showed very little ability to break Huddersfield's defence. The Scottish Manager left 10 mins from the end, which just goes to show that he was never really one of us, because, as anyone knows, no self-respecting fan leaves until the final whistle however dire the performance on display ;-))
When the whistle finally delivered us, it was interesting to see the whole Huddersfield party gathering in the centre-circle in one of those group-bonding sessions. I can't say that I noticed if they came on holding hands at the start. It obviously meant a lot to them, holding us to a goalless draw, perhaps we can recommend a manager to them.